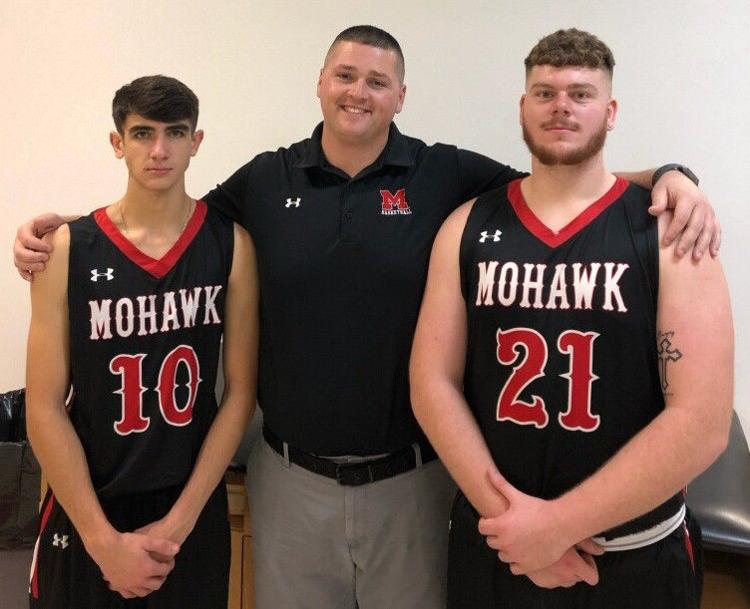 Mohawk High's boys basketball team has a young and inexperienced roster.
But the Warriors have two familiar faces they can lean on in Josh Kurtz and Brett Bobin. Both players started last year.
"Josh Kurtz and Brett Bobin played a lot of basketball for us. They have experience and they understand what we're trying to do," Mohawk coach Nick Marmo said. "They've been great teammates, working with the other guys and trying to help them out and coach the guys up in situations. Their attitude in the way they talk to their teammates is great. That's definitely a difference maker for us."
While Kurtz and Bobin are the two known factors, the rest of the lineup is new.
"With as many young guys as we have, they all get along and all are eager to get out there. They are working and willing. They're not afraid to make mistakes, which is nice to see," Marmo said. "They pick up on things and you don't see the same mistakes again, which is huge, going forward. We'll stay aggressive in coaching them and, if they keep learning, we'll have a chance to be competitive. They want to do well and represent their school. They are proud of it. It seems like basketball is really important to this group.
"We had a better offseason program than before; we had more participation. We went to some camps and were in some leagues and that's paying off for the guys who showed up."
Juniors William Bloom and Jackson Miller will play key roles for Mohawk. Classmate Eric Jones and sophomores J.T. Norge, Garrison Staph, Nick Farmer and Mark Rudesill all should see minutes.
"They're fighting for some time. They know what they're doing, but how will they handle different situations and pressure from other teams? That'll be big to find out," Marmo said. "We think those four sophomores will be really good players for us as long as they stay committed. They are coachable and nice to be around.
"We think we should have at least seven guys we can count on. From what we're seeing, maybe a couple other guys could be in the mix. They are doing their job to make decisions hard for us," he continued. "We're excited with how much we've already put in. It seems like they've retained a lot more and are a little more coachable; it's been enjoyable. What that's going to mean record-wise, we don't know. But, we can already see the kids growing."
The Warriors finished 1-11 in WPIAL Section 3-2A and 5-17 overall. They hope to work hard to top those marks.
"We face a tall task some nights in the section with the teams we play. We'll do our best to put the kids in situations where they can try to be successful," Marmo said. "We'll try to attack other teams' weaknesses. We'll go into every game giving it all we can. You'll have to play hard to beat us; we won't lie down for anyone."