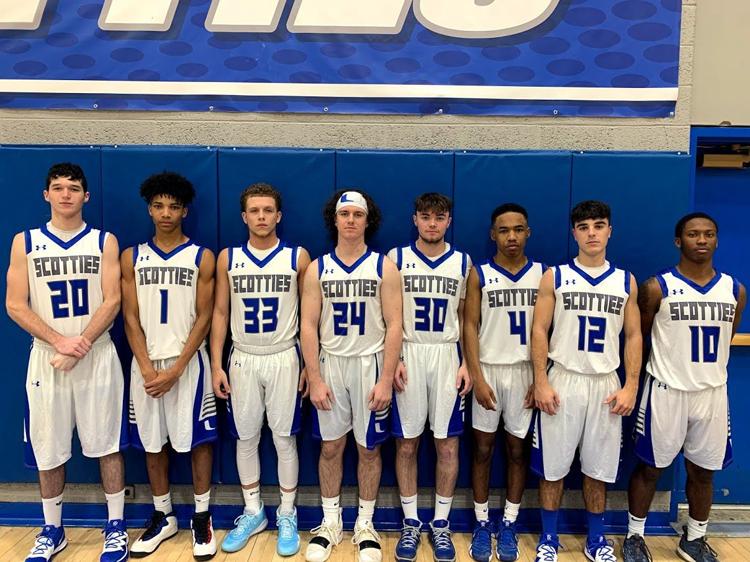 Union High boys basketball coach Mark Stanley needs his players to step up.
In addition to losing second-leading Seth Pinkerton and his 15.6 points per game average to graduation, the Scotties were dealt a huge blow when last year's leading scorer, senior Nate Meeks (17.3 ppg.), suffered an ACL tear while playing ultimate frisbee in gym class about a month ago and is out for the year.
Meeks was the team's leading 3-point shooter with 86.
"Nate was 120 points from 1,000 for his career, so that's a blow to us," Stanley said. "He had surgery and hopes to be back for baseball season in the spring.
"Our others players are going to have to step up," he added. "Michael Flowers (5.6 ppg. last year) is very capable of scoring a lot of points. We're going to need to rely on him."
Flowers, a 5-8 guard, will be joined in the starting lineup by fellow seniors Vince Fuleno (5-8 guard), Sean Louis (5-11 guard), Tyler Benedict (6-1 forward)) and Nick Pasquarello (6-3 forward-center). Fuleno finished as the team's third-leading scorer last year at 9.3 ppg. and also is the team's top returning sharpshooter with Meeks on the shelf with 46 3-pointers.
"Everyone's got a little more responsibility," Stanley said. "One person can't replace Nate, we will have to do it as a team."
It will not be an easy task for Union to improve upon its 17-8 record. The Scotties finished fourth in WPIAL Section 1-1A at 10-4 behind Vincentian (12-2), Nazareth Prep and Cornell (both 11-3). Nazareth Prep beat Vincentian for the WPIAL championship, but Vincentian went on to play for the PIAA title losing to Sankofa Freedom Academy 83-61 in the title game.
The Scotties beat Clairton, 76-69, to open the WPIAL tournament, but fell to Nazareth Prep, 49-38, in the quarterfinals. They earned a PIAA tournament berth, but lost to Shade, 67-46, to finish 17-8 overall.
"Our section is loaded," Stanley said. "We've got Vincentian, Nazareth Prep, Cornell and Eden Christian. Four teams go to the playoffs and it will be no small task to get there. Our feeling is that if we can get into the playoffs, there will be nothing we haven't seen. If we do get there, we'll definitely be tested."