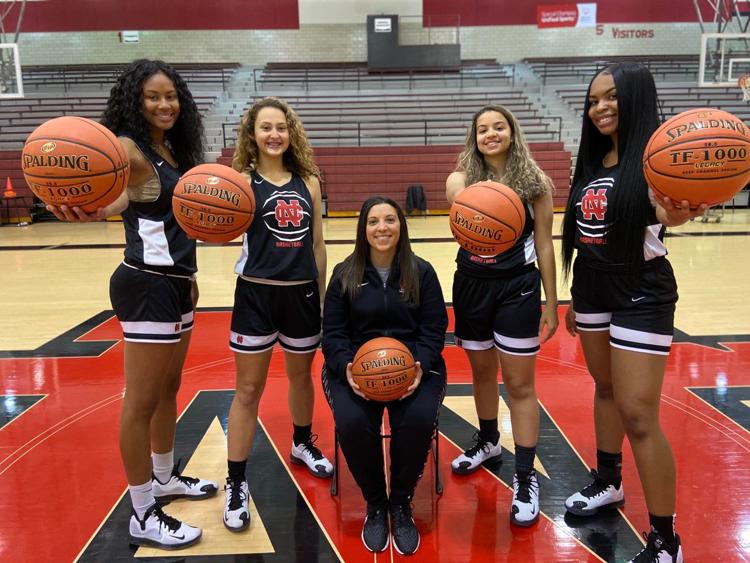 The improvement and growth of the New Castle High girls basketball program is noticeable for third-year coach Kara DiNardo-Joseph.
The Lady 'Canes produced a 9-13 record last year after going 5-17 the season before. But it's much more than wins and losses for DiNardo-Joseph.
"Just seeing the numbers go back up. I have 15 girls," DiNardo-Joseph said of the program's continued development. "If you asked me a couple of years ago, we had nine or 10 girls, now we have 15.
"We have people that want to play and want to make a difference and make the community proud. Just being a part of that with this group of girls is everything I could ask for."
DiNardo-Joseph will have to replace two girls that graduated — Lindsay Frabotta and Olivia Valenti. Frabotta led the team last year with 16 points, 9.1 rebounds, 4.2 steals, 3.9 blocks and three assists per game.
"They were leaders by example," DiNardo-Joseph said of Frabotta and Valenti. "Lindsay was a four-year starter for us. We watched her grow up on the court. She was a tremendous player for the New Castle basketball program.
"I don't think anyone could match the heart of Olivia Valenti. Her heart and Lindsay's desire and work ethic put the New Castle program back on the map. It got people to want to play. To lose two leaders, it's hard for any coach."
Seniors Dashonna Drew, Kerri Lyles, Alaya Respress and Raquel Rivera return to lend leadership for New Castle.
"Lyles and Respress lead vocally," DiNardo-Joseph said. "Drew has got much better. You can see an improvement in her.
"Raquel works hard no matter what."
The Lady 'Canes' starting lineup could change game to game.
"We're locked in on about three or four of them. But a lot of the times our lineup will be based on matchups. It wouldn't be out of character to start four guards."
Junior Mia Graham and sophomore Aayanni Hudson also figure to play a role for the Lady 'Canes.
"Graham started the whole year for us," DiNardo-Joseph said. "Hudson is an all-around basketball player. She just brings an energy to the team that is refreshing.
"At the beginning of the year, we brought Hudson off the bench. Once she was able to stay out of foul trouble, toward the middle of the year, she was starting for us."
DiNardo-Joseph acknowledged her team's strengths and weaknesses.
"I think our strength is we have a new slogan. The meaning is I am who I am because of you," DiNardo-Joseph said. "We're only as good as our weakest link. I think our strength is believing in one another and believing that there is never a day that you can be all you can be.
"Winning is new to the girls. In a sense, that is your weakness because you're not used to winning so much."
New Castle is bidding for its playoff berth since the 2011-2012 season.
"We definitely want to be in the top three or four teams to make the playoffs," DiNardo-Joseph said. "That's a long-term goal.
"The short-term goal is to come in each day and make everybody better. Getting out there and getting after it, no matter what the score is. Just play the game you love."