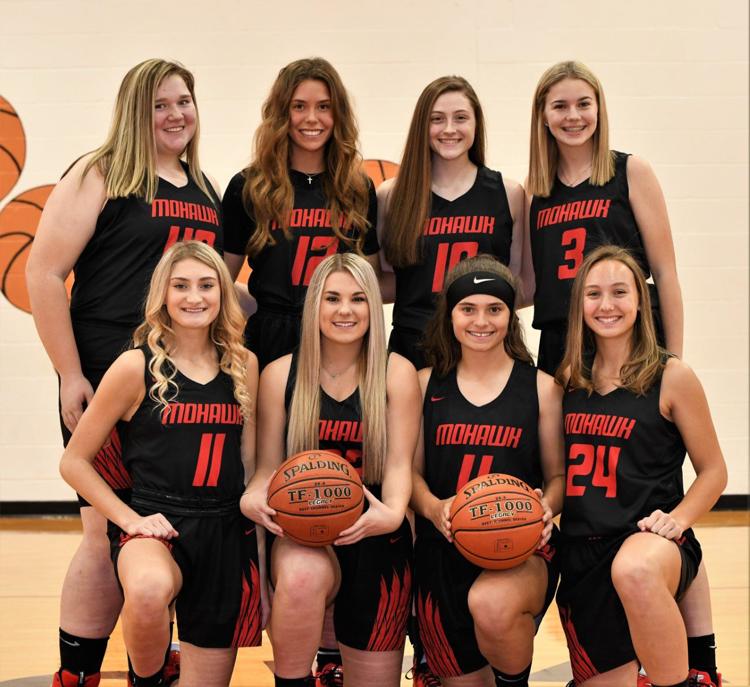 Mohawk High's girls basketball team dipped to 7-16 last season.
The Lady Warriors have a chance for a redo this winter, though.
With everyone returning from that squad, Mohawk is ready to rebound. And, with a healthy Karly McCutcheon, the team hopes to be a factor in the WPIAL Section 1-3A race after last year's 6-8 finish.
"Things are going well this year," Mohawk coach Mike O'Lare said. "We went through a little bit of a rough year last year. Now, everyone is back and it's a little bit easier when you have everyone there."
McCutcheon, a West Liberty basketball recruit, injured her knee in the team's first scrimmage last year. While the injury didn't require surgery, the recovery time kept her out of every regular season game. She returned for the team's 58-45 loss to Washington in the WPIAL first round.
"Losing her experience hurt us," O'Lare said. "When she went down, we started games with five sophomores or four sophomores and a freshman. The rest of them had to go through a grind last year. You never want to lose anybody, but I think the rest of them had to grow up on the job since there was no player to defer to.
"We can see it paying off now. What Karly does outside of being a very good player, she is such a good leader on the floor. The tireless work ethic and great leadership qualities are irreplaceable. You just can't have that beside you on the bench."
With McCutcheon healthy and another year of experience for the other players, Mohawk has high expectations.
"The energy in the gym is very positive right now. They are super-excited to open the season," O'Lare said. "They know what we're capable of doing. I think they are very eager to see what becomes of it."
Junior point guard Nadia Lape, an all-section selection, and junior guard Paige Julian return to the starting lineup.
"Nadia brings incredible energy. It's nice having a true point guard out there. She had to do a lot without Karly last year. She had a really good year in a tough year. The growth she showed will really pay off this year," O'Lare said. "It's nice to have Paige back. She stepped up for us. Those two girls, we expect some big things from them this year."
Junior Hannah McDanel returns as a starting guard.
"She was a 3-point threat for us last year," O'Lare said. "This offseason, she has developed into an all-around player. She is starting to get comfortable with the game."
Junior Abby Shoaff and sophomore Jordan Radzymynski are battling for the fifth starting spot. Both will play extensively.
"The way we want to play, we're trying to get six, seven or eight kids on the floor each night," O'Lare said.
The Lady Warriors hope their experience and overcoming adversity will benefit the team this year.
"That's a huge asset for them. Some of those kids did play on the team two years ago and they were on a really good run as freshmen and sophomores. They know what it takes and they've seen it," O'Lare said. "They are really champing at the bit to get there. They know what's there. I think they want to get out there and make it their team and their identity. They're very capable. This is the quickest and most athletic team I've had. If we can bring it all together and stay injury free, I really think this could be a really, really big year for them. They sense it."
Still, Mohawk realizes it faces a long road.
"You don't go from seven wins to 22 wins with just luck. We have to earn everything we get. We have to work really hard at it and, to their credit, they have been," O'Lare said. "We have a lot of work to do to prove ourselves. We know the talent is here."