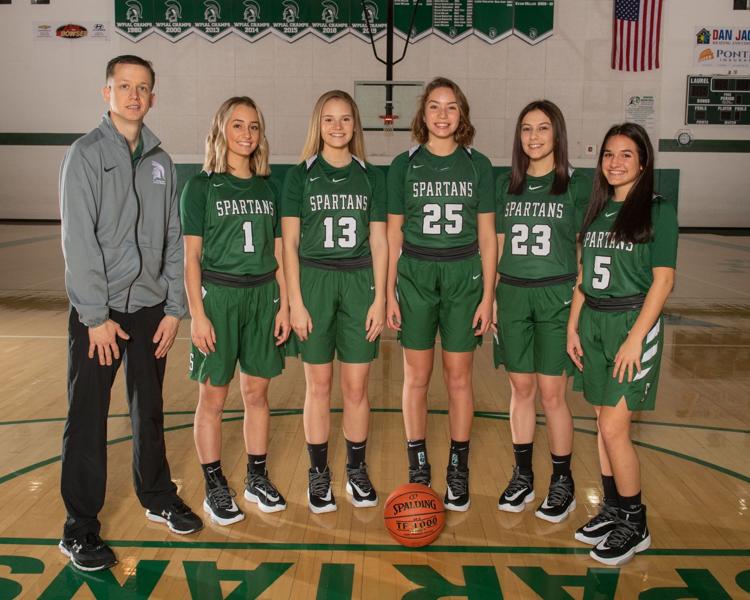 Laurel High's girls basketball team made program history last year.
The Lady Spartans captured the program's first section championship and established benchmarks with 14 consecutive wins and a 20-6 overall mark.
They hope to make even more progress this winter.
"We're hoping to keep the momentum going. The girls who are seniors now were freshmen my first year here. That is huge. They come in knowing the expectations and what we're trying to accomplish and do," Laurel coach Matt Stebbins said. "We had so many firsts in program history last year and we've been in the state tournament the last two seasons. We're just trying to continue that drive. It'll be a little different style we'll start playing with this year."
Laurel graduated two key seniors in Caroline Gibson and Makenna Collins, so the team will have to alter its play a little.
"These younger kids coming in see what we lost and see the chemistry we're trying to replace," Stebbins said. "We're hoping to replace them and keep rolling."
Seniors Faith Gibson, Mikyla Slater and Breagan Fedrizzi return to the starting lineup. Senior Anna McGee and sophomore Lucia Lombardo lettered last year.
"The four seniors have been a part of two playoff runs for us. They have had eight playoff games of experience. That is huge, especially trying to help these younger girls out. Lucia was our sixth man last year and scored almost 100 points as a freshman coming off the bench," Stebbins said. "We're trying to have these older kids become leaders with the younger kids and trying to mold them together."
The Lady Spartans hope younger players step up into key roles, too.
"We're hoping to go deeper. We have a slew of some very good freshmen that have come in — seven of the 13 girls are freshmen," Stebbins said. "It's hard to replace those two seniors and the numbers they put up. But, I think we'll be deeper than last year. For any given game, we hope to go eight or 10 people deep. That's the goal."
Laurel had one of WPIAL Class 2A's top offenses at 54.2 points per game last year. The Lady Spartans hope to reach that mark again.
"We lost two fantastic guards to graduation, but we have a little more height this year," Stebbins said. "We'll try variations on offense. We'll try to play fast and try to play big. We'll try to mix and match some things."
Defensively, the squad had one of the WPIAL's top units as well at 33.8 ppg.
"We pressured the basketball and ran floor well last year," Stebbins said. "Expectations are pretty high this year also."