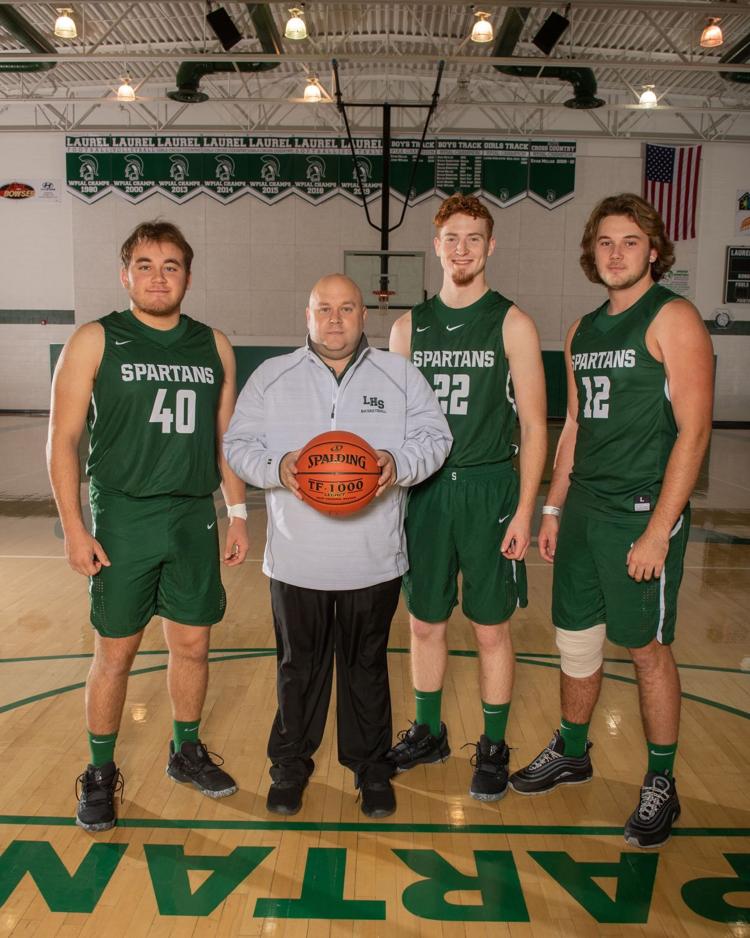 Laurel's boys basketball team is ready to shrug off last year's frustrating campaign.
Injuries hampered the Spartans as they finished 6-16. However, the resulting lineup shuffle set the team up for this season. Senior Dom Wade and juniors Marcus Haswell, Sam Haswell, Luke Barker and Landin Esposito all started games a year ago.
"We have the experience coming back, which is nice," Laurel coach Ken Locke said. "Anytime you can return five starters, for the most part, that's something to be excited about."
The team got a boost with the return of Will Shaffer, who missed last season with a knee injury sustained during football season. The Youngstown State baseball recruit averaged 15.2 points per game as a sophomore.
"He is a Division-I athlete. His size, presence and leadership will go a long way," Locke said. "Just having him on the court, in general, is huge for us. When you can put a 6-foot-3 guy in there who can play — we lacked a little bit of size last year. He is a big factor."
Barker, who led Laurel at 17.0 points per game and with 27 3-pointers, was hurt during the season and missed the team's last six games. He is healthy now.
"These guys have been playing all their lives. For Marcus, Sam and Luke, basketball is their main sport," Locke said. "It's just a matter of us jelling together and coming along together. If we can do that, we feel pretty confident we can have a successful season.
"We haven't proven ourselves, though. It's their time now and time for them to step up and get after it."
Laurel expects senior Derreck Brest, junior Bobby Dicks and sophomore Kobe DeRosa to contribute as well.
"We want to be a team that has to go eight or nine deep," Locke said. "We have high expectations for those three. Hopefully, they can step up."
With Barker, Marcus Haswell (15.3 ppg, 13 3s) and Sam Haswell (12.2 ppg.) and Shaffer on the floor, the Spartans aren't too concerned with putting the ball in the hoop. They just want to prevent other teams from doing the same.
"I think we're going to get up and down the floor, depending on who we're playing. In the open floor, our guards are good decision makers. Offensively, we have guys who can put the ball in the hoop and shoot," Locke said. "The focus early on is going to be on our ability to get stops at tough times and dig in defensively. If we can be good on that end of the floor, the sky is the limit."
Laurel went 3-9 in WPIAL Section 3-2A. The Spartans know they face another challenge in the loop this year.
"I think it's the toughest section in Double-A. We feel, if we can get through section play, that gives us a real good opportunity. Getting a playoff berth is the first goal. When you have Sewickley and OLSH in your section, it's always a battle. You never know who is coming or what," Locke said. "We have to go with the guys we have. We know what we're up against. You'll be battletested if you can get through it and make the playoffs. To be the best, we have to beat the best. Let's play them and see what we can do."