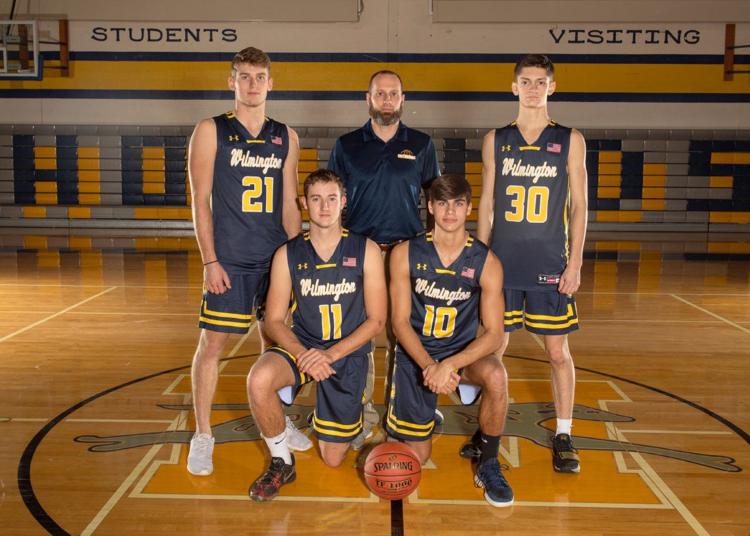 A total of 13 football players joined the Wilmington High boys basketball team earlier this week.
Greyhounds coach Mike Jeckavitch is used to this scenario due to the yearly success of the football team and he has learned to adjust.
He also has learned how to be patient as the bulk of his players transition to basketball.
"That seems to be our MO the last few years," Jeckavitch said. "We know the football players will be feeling the effects of a long football season. There are bumps and bruises that need to heal and we have to be patient with that."
Jeckavitch has had six team members at practice in recent weeks and will debut five new starters after the graduation of seven seniors, including the team's top five scorers in Tage Kelliher (11.4 points per game), Danny Hanssen (11.1 ppg.), Robert Pontius (8.8 ppg.), Colton Richards (8.2 ppg.) and Jacob Yohman (7.7 ppg.)
Hanssen and Pontius were second-team all-section all-stars.
The Greyhounds finished 17-9 last season, falling to Farrell 48-46 in the District 10, Region 2 championship game. They lost 38-36 to Ridgway in the PIAA second round.
There are just two lettermen on Wilmington's team in senior Shane Cox and junior Caelan Bender.
Jeckavitch's projected starters are Cox, a 6-foot-2 forward; Bender, a 5-9 guard; 6-3 senior forward Junior McConahy; 6-0 senior guard Ian Sullivan; and 6-2 senior guard Austin Lisowski.
Sullivan and Lisowski were not members of the football team, but the other three were.
"With basketball being such a skilled sport, we will have to give them time to get back into basketball shape," Jeckavitch said. "For the month of December last year, we shot 21 percent from the floor. After December, we shot 44 percent.
"These guys are dealing with not touching a basketball for that long and it just takes time," he added. "We've found that normally after the holidays, they get back into basketball shape and things start to come around."
Two members of the football team — 6-2 junior forward Weston Phanco and 5-10 sophomore guard Luke Edwards — suffered knee injuries late in the football season. Phanco played in the 'Hounds PIAA semifinal loss to Avonworth, while Edwards was held out. Phanco likely will be out for the first three weeks of basketball season, while Edwards is expected to be sidelined for a month.
"We'll give them time to heal," Jeckavitch said. "The good thing is that the football players put in a really good offseason until they left for their fall sport. They didn't forget about basketball. So hopefully that will carry over."
Phanco will be one of the first players off the bench when he heals. Others who will come in to spell the starters are 6-3 junior forward Braxton Shimrack; 6-0 junior guard Mason Reed; 5-9 junior guard Ethan Susan; and 5-7 senior guard Jason Hess.