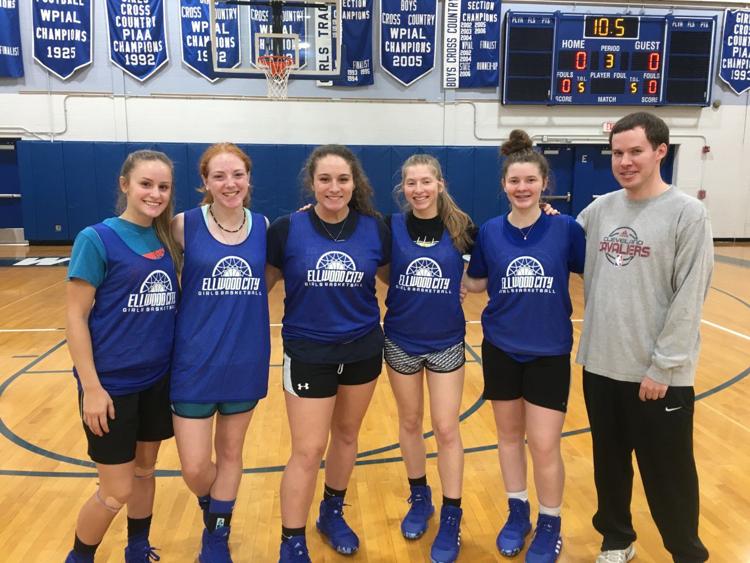 Ellwood City Lincoln High's girls basketball program is on the rise.
The Lady Wolverines broke through for a WPIAL Class 3A playoff berth last year. While a 44-39 setback to Carlynton ended the team's postseason, the squad finished with a 13-10 overall mark.
"We're coming off our most wins in over 15 years. Getting to the playoffs was big for us last year," said second-year Ellwood City coach Marc Heil. "The level of excitement is very high. The kids and parents are looking forward to basketball season, which I don't think has been the case the past five years or so."
Ellwood City graduated just two seniors and returns three starters in juniors Olivia Battaglia and Maria Ioanilli and sophomore Kyla Servick.
"We graduated two seniors and they were our top two leading scorers, so we have some big holes to fill," Heil said. "I am eager to see how we will be able to fill the holes of the kids we lost last year."
Servick is the point guard, while Battalgia is a guard and Ioanilli is a forward. Junior Chloe Sturgeon, a forward, was the team's sixth man last year. Junior forward Emily Borroni lettered last year as well. Sophomore guard Grace Balin is expected to see time.
"Last year, we played mainly six kids in a typical game," Heil said. "We will need to develop some depth this year, just out of necessity. That means some kids will get thrown into the fire. This year, we hope to go seven or eight deep. Last year, our options were limited. This year, we have more options."
The team has a unique mix as no seniors are on the roster.
"It is a little weird. With how the team has generally struggled the last 10 or so years, we don't have any seniors on the team," Heil said. "The good thing is that I'll have this group together for the next two years, which is exciting."
Since the Lady Wolverines graduated their top offensive threats, they are seeking replacements. In the meantime, they hope to minimize those losses with a strong defensive effort.
"I really feel like we'll be a strong defensive team. Last year, we were pretty solid, defensively. I could rely on the two seniors to help carry the scoring load. This year, we have to be even tighter on defense. We have the speed to do it," Heil said. "We're not going to have starters over 5-foot-8. I feel like they can fly around and pretty much all five of my starters can guard all positions. We can press, play half-court and zone. We'll have to focus on the defensive end if we want to do what we did last year.
"After the two seniors, we had pretty balanced scoring. We had a few kids that averaged 6- or 7-point range that are now expected to score more," he continued. "I am going to rely on Kyla Servick and Maria Ioanilli to fill the roles of the seniors we lost. I feel like we have five evenly skilled starters. I think any one of our starters could leads us on a given night. That makes it harder for other teams to prepare for us."