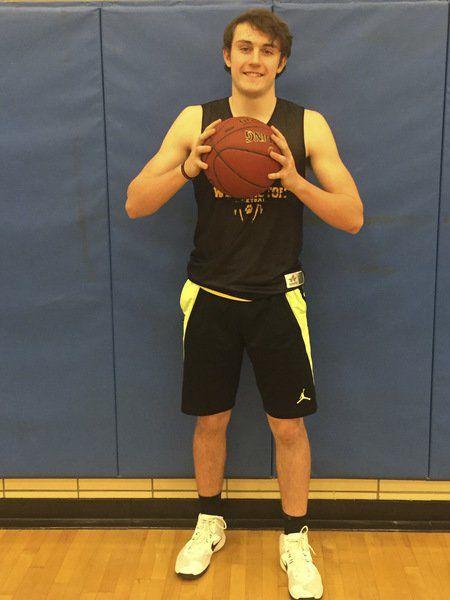 For Wilmington High junior basketball player Jacob Yohman, the basket must have looked like an ocean Friday night.
Yohman, a starting forward for the Greyhounds, went 12 of 12 from the field and scored a team- and career-high 26 points in Wilmington's 80-38 victory over Maplewood in the opening round of the District 10, Class 2A playoffs. 
For his efforts, Yohman was named the Lawrence County High School Athlete of the Week sponsored by Washington Centre Physical Therapy and selected by the New Castle News sports staff. 
"I've had a game like that in AAU, but no one keeps track of stats in AAU," Yohman said. "But in my high school career? No, I've never had a game like that before.
"You just feel like you're not even out there in a playoff game. You just feel like you're playing backyard basketball with your friends." 
Yohman's previous career-high was 10 points, which he hit twice this season.
"We have so many shooters on the team that it opens up the middle a lot and it gives me a lot of opportunities," Yohman said. "So I take my hat off to those guys for giving me the looks that I got. In the first quarter I wasn't keeping track of my points, but I knew we were going to win.
"At halftime people were telling me what I had and I was just like 'oh, well this is going to be a big game.' "
At 6-foot-5, Yohman is an imposing presence in the post. Wilmington coach Mike Jeckavitch is trying to work him into the offense more routinely and Friday is a result of those efforts. 
"He's been kind of trending up as the season has gone along," Jeckavitch said. "He's a guy that's always trying to get better. From last year to this year he asks questions, he asks how he can improve his post game, what he needs to do on the defensive end and he's first and foremost a team guy.
"So whether he's coming off the bench or starting for us, it doesn't matter with him he just wants to win. He'll do whatever's necessary. If it's gathering 10 rebounds he'll do that, if it's getting 26 points he'll do that. Whatever we need he'll bring and that's the kind of mentality and the kind of player that he is." 
One area where Yohman has improved greatly from his sophomore to his junior year is his physicality. Jeckavitch credits his work in the weight room for that change. 
"Last year he didn't get as much varsity time as he would've like and as I would've liked," Jeckavitch said. "So we really talked about getting him into the weight room and, you know, he does play football. I think the success that he's had in the weight room, he's gained 20 to 25 pounds since last year and has gotten a lot stronger physically and mentally, has really helped him." 
Jeckavitch added that Yohman's presence in the post makes life much easier for the rest of his team.
"When we can kind of feed the post and play your old 80s-style basketball it's nice," he said. "We can surround him with shooters on the perimeter. So he really opens up a lot for us."