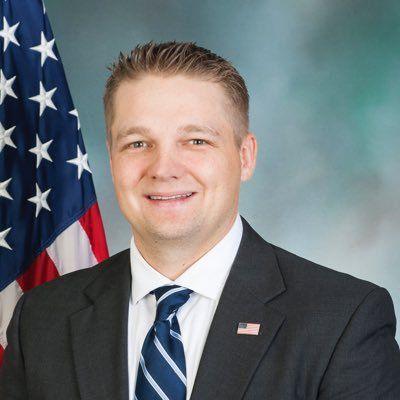 HARRISBURG – Legislation announced Tuesday would make landmark changes to the rules governing high school sports in Pennsylvania, including the creation of separate state playoffs for private and public schools.
Under House Bill 1600, all schools, public and private, would continue to compete against each other in regular season and district-level playoffs. But after the district playoffs, private schools would compete in one playoff and public schools in another. The champions in each of those playoffs would then compete in a final grand championship.
The change would apply to football, baseball, softball, basketball, volleyball and soccer.
"This is the first time in 40 years that both sides have sat down in a non-adversarial setting to resolve these challenges and understand each other's goals," said state Rep. Aaron Bernstine, R-Lawrence County, the prime sponsor of the bill.
The plan has been endorsed by both the Pennsylvania Catholic Conference and a group of public school superintendents who began lobbying for changes to the playoff system last summer.
The Pennsylvania Interscholastic Athletic Association, which governs high school sports in the state, has vehemently opposed the plan.
In a statement released yesterday afternoon, the PIAA called the proposal "ill-advised, contrary to the purposes of PIAA, is unfair to our membership and should be rejected."
In addition to creating the separate playoffs, the proposal includes a variety of other changes, including eliminating rules limiting the reasons students can transfer between schools, and barring public schools from refusing to play private schools.
Under the proposed change, students would be allowed to compete in sports if they change schools before 50 percent of the sport's season has passed.
"It's more than separate playoffs," said Eric Failing executive director of the Pennsylvania Catholic Conference. "I think we've made a lot of positive steps. At the end of the day, people are going to be happy."
While the controversy over providing a level playing field for students competing in traditional public schools and those in private schools isn't new, the debate picked up renewed intensity last summer when a group of school superintendents organized a group to lobby for the type of changes announced Tuesday.
Last July, that group convened an "equity summit" in State College focusing on the controversy that attracted representatives of about 150 school districts.
"House Bill 1600 will bring fairness to all student-athletes across the Commonwealth," said Leonard Rich, superintendent of the Laurel School District, one of the organizers of that effort.
Rich said that while the proposal would provide for a culminating grand championship between the private and public school title winners, it guarantees that public schools will be able to proclaim themselves the statewide public school champion.
In a statement provided by the PIAA associate executive director Melissa Mertz, the association's board said that the move to eliminate existing rules on student-athlete transfers would lead to "chaos."
"It requires little research to see what has happened in states that permit open transfers. AAU teams, shoe companies and other third parties promote consolidation of top athletes at 'preferred' schools, which result in powerhouses where schools simply reload each year with high profile athletes," according to the PIAA statement.
The association also said that the dual playoffs would extend the sports season for "no educational purpose."