James "PeeWee" Thomas just wanted a championship ring.
He earned it — and became a celebrity in the process.
Thomas, a Union High graduate, was part of Navarro College's 14th National Cheerleaders Association national championship competitive cheerleading squad last April. And, camera crews were there to record last year's journey. A Netflix documentary series, "Cheer," chronicles the cheerleading team from Navarro College in Corsicana, Texas.
From the moment the six-episode series debuted on Netflix on Jan. 8, its popularity has skyrocketed. The squad was even invited to perform on the Ellen DeGeneres Show.
"This year is very, very different. A lot of people didn't know who we were before; now the whole world knows who we are," Thomas said. "When I got out to a store now, I am there for 25 or 30 minutes longer just because people come up and talk to me since they recognize me. My personality is always loving toward people and I am a very positive person. I don't mind when people come up and talk to me. But, now I know there we will always be people watching me and I never want people to look at me in a negative manner."
Thomas, a prominent member of Navarro's powerhouse cheerleading squad, has enjoyed the new-found fame.
"I took a screenshot of my Instagram account before the show came out. I had 4,973 followers. Now, I have 43.7 thousand. My follower base has jumped up a lot," he said with a laugh. "People are just DMing me 24/7. I love the support everyone is giving me. Everyone is watching me now."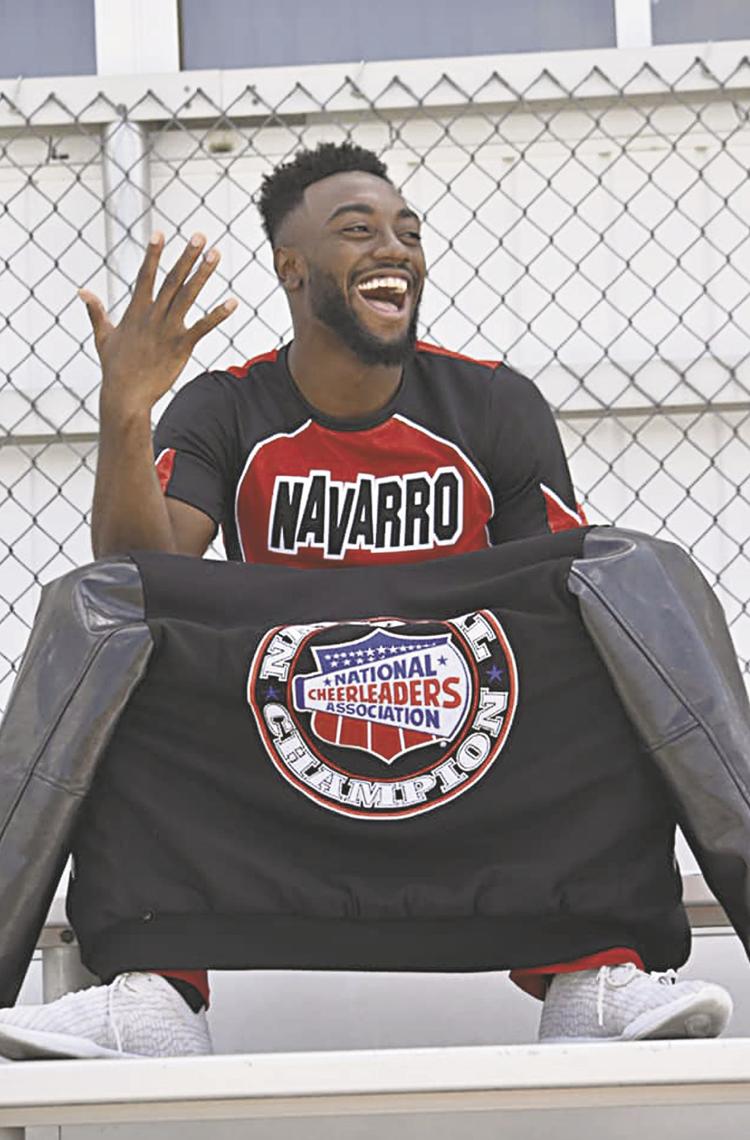 Hailing from a very athletic family, Thomas watched older brothers Anthony and Devonta, now known as Roscoe Savage, star on the basketball court of the Scotties. James wowed crowds in basketball gyms, too, just in a different way with his tumbling and jumping ability as part of Union's cheerleading squad.
"When my parents took me to my brothers' football and basketball games, I found myself really watching the cheerleaders. That was back when I was in fifth and sixth grade," Thomas said. "I found that more interesting and amazing than two basketball teams dribbling up and down and the court."
James began his cheerleading career locally at Natalie's Cheer and Tumble, where he trained relentlessly, and was part of the NCT All-Stars competitive cheering team.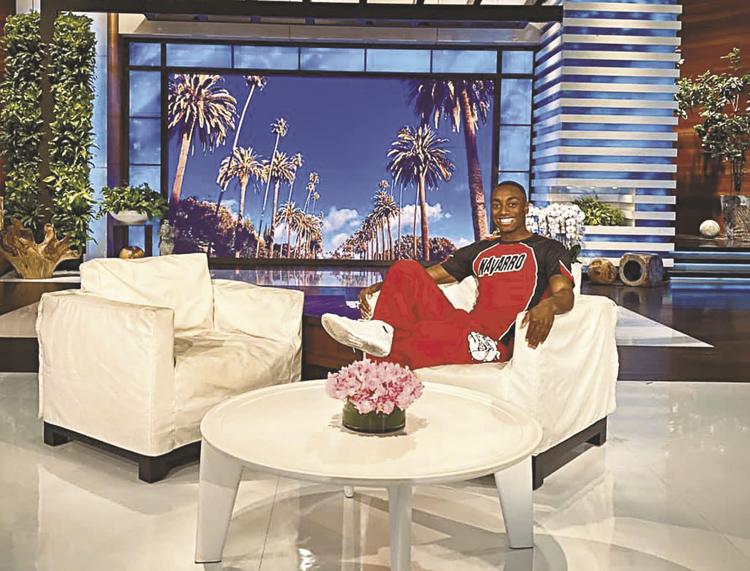 He enjoyed success at track and field for Union as well, He claimed multiple WPIAL Class AA championships and state medals. That drew interest from Eastern Michigan University and Thomas went there after graduating in 2017 to participate on the track and field and competitive cheerleading squads. After a year at EMU, Thomas was ready for a change.
"After I ended up quitting track during my second semester, I knew I was just going to cheer," he said. "Going to college nationals, I had seen Navarro and I knew that, if I wanted to be a top-notch cheerleader, I needed to go to Navarro. After all the training I did, I knew I had to do it. I just applied, tried out and prayed for the best."
When he came to Navarro in the fall of 2018, Thomas learned just how serious the program emphasized preparation. Led by head coach Monica Aldama, Navarro, a junior college, has won five grand national cheerleading titles as well.
"We practice so much that, honestly, at the beginning of the year, you forget you're there to compete," he said. "Coming into the second semester, our whole world changes and it's Daytona season. Being a part of the process and the legacy Navarro holds is a huge honor.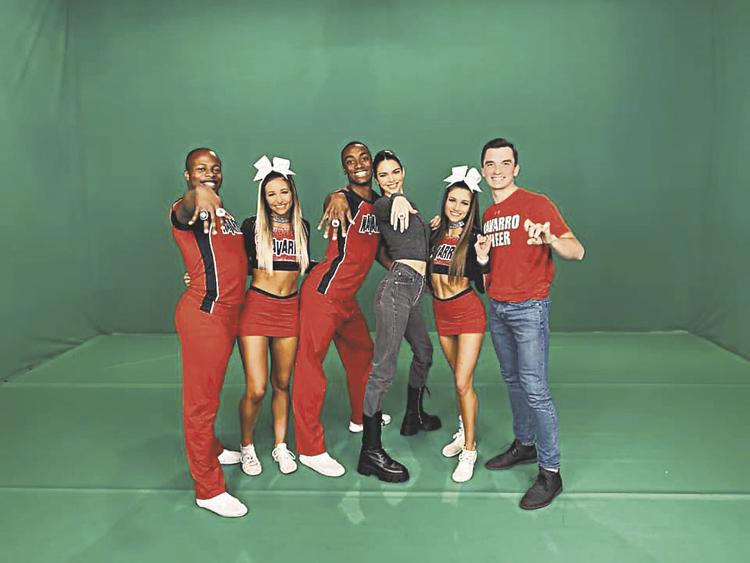 "When I got there, all I could think was, 'Wow I am actually here.' Going through the process of mat tryouts and making mat, then going full out once or twice a day. It was just insane," he said. "Honestly, I didn't notice all the cameras half the time. You're so focused on what doing with the routine and everything Monica is trying to get done that you didn't even know the camera crew was there at all."
Netflix's cameras were there to document the Navarro cheerleaders' preparation for the NCA and National Dance Alliance Collegiate National Championship in Daytona, Florida. Once there, Thomas was on the mat as Navarro captured a second-straight national title.
"It was amazing. It was the first cheerleading championship I've ever won," he said. "I told all my friends that I am not coming back without a ring. Being there and hearing your name being called for first was amazing. To have my mom there to watch me win that ring and hug me afterward was heartwarming."
Thomas believes the popularity of Cheer will only boost the sport of competitive cheerleading.
"It's having a huge impact. People always said that cheerleading is not a sport. My brothers had no idea what I went through my whole life. Now, they watch the series and they see it," he said. "Now, celebrities know who we are. People realize how hard competitive cheerleaders work – just like anyone on a basketball or football team – to display the talent you need. It's not just standing around doing sideline cheers."
Known as a "stumbler" Thomas lifts and holds cheerleaders for parts of routines and also displays his acrobatic tumbles, jumps and flips.
"I love to perform," he said. "I love the athleticism of cheerleading."
Now, Navarro's nearly 40-member squad is focusing on learning its routine to defend its national championship in April. Only 20 cheerleaders may be part of the group that takes the mat at Daytona for the allotted 2:15 performance.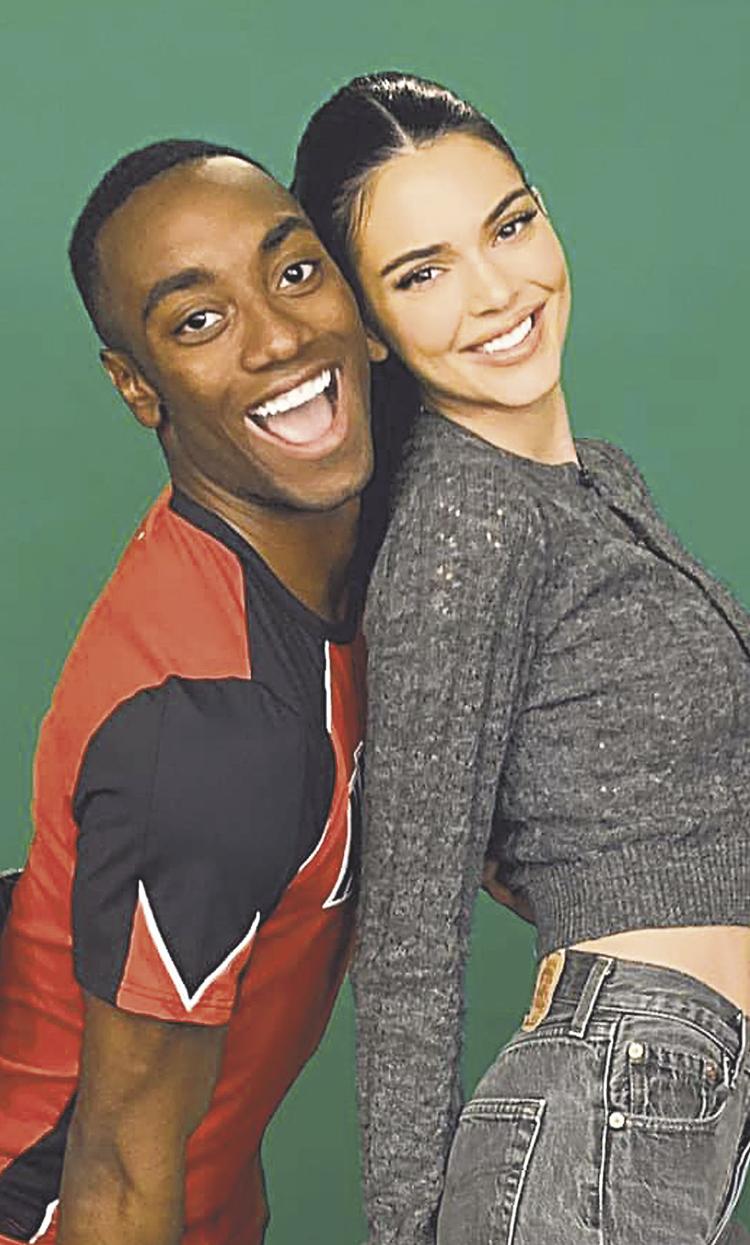 "We just got our routine. I thought last year's routine was hard — this routine is crazy, like nonstop moving," Thomas said. "I don't think I have time to even breathe."
The show's skyrocketing popularity, plus its drive to win another national title as well as academics (Thomas is studying business), can present overwhelming demands, at times.
"Our schedule is packed. We practice Monday through Friday, including twice on Tuesdays. Usually, we'll cheer at basketball games on Wednesdays. If we have an appearance we have to make, it'll usually be on a Saturday and we cheer at football games on Saturdays, too," he said.
"If there's something extra we need to do, we'll add it in before or after practice. We go to local elementary schools on Fridays for 'High Five Fridays' to greet and encourage students. We do mentoring on Fridays for younger students, too. Now, with the show, we have people reaching out to us for appearances, in addition to getting ready for Daytona, plus all our classes."
Thomas is on track to earn his associates degree after this semester, but could return to Navarro next year for his last year of junior college cheerleading eligibility.
"I don't have a full plan yet," he said.
"I could have a third year here. I am applying to Texas Tech to be part of their cheerleading team and to get my bachelors degree. I haven't decided yet.
Netflix has yet to confirm it is working on a second series of Cheer.