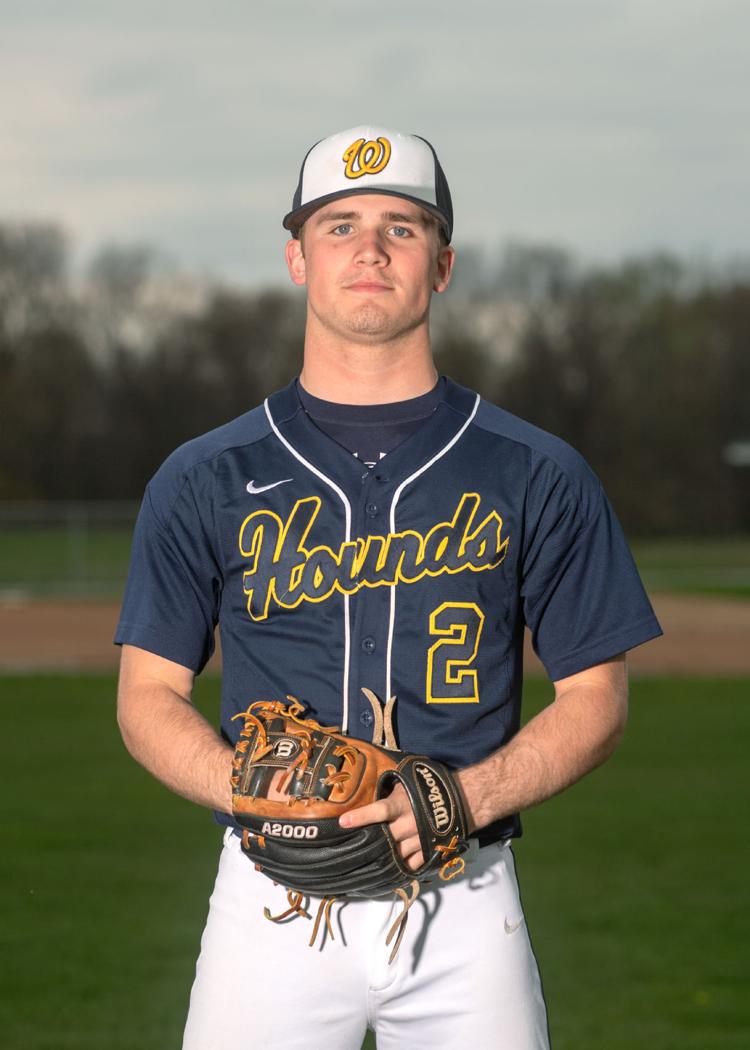 Cameron Marett has been surrounded by sports his entire life.
That's what happens when you're the youngest member of an athletic family.
Whether watching siblings Colton, Cassidy or Haley at games, practicing with his father, Kevin, or tagging along with his mother, Amber, a former Wilmington High athletic star and volleyball coach, to practices and matches, Marett has been immersed in a sports-centric household.
It paid off as the Wilmington three-sport star was named the Lawrence County Male Athlete of the Year by the New Castle News sports staff.
"This is absolutely a great honor," he said. "I am very thankful. But, I couldn't do it alone. My coaches, teammates and family played a big part in my career."
FOOTBALL STAR
While Marett was a main cog for the Greyhounds' basketball and baseball teams, his biggest impact came on the football field. A two-way standout, he helped guide Wilmington to back-to-back PIAA Class 2A championship game appearances.
"It was awesome. The group of seniors played together since elementary school and we had a great career together," he said. "We always had that chemistry down and wanted to do something special and go out on top."
While Wilmington fell to juggernaut Southern Columbia in consecutive state title game appearances, those rare setbacks don't tarnish Marett's impressive four-year run.
"We made a lot of great memories – ones that will last a lifetime," he said. "We had a special bond with the coaches and the players had a special bond with each other. Those couldn't be broken, no matter what happened."
On the gridiron, Marett earned District 10 Region 4 first-team honors at running back and defensive back last fall. He led Lawrence County with 1,770 yards rushing on 213 carries. He added 22 catches for 329 yards. Marett paced the county with 31 touchdowns and added a pair of two-point conversions for 190 points scored.
With 3,835 career yards on 455 carries, Marett finished third in program history in rushing. He trails only Blair Sweet (4,451 yards) and Chris Burns (3,991).
In addition, Marett was named the region's player of the year for the second consecutive season. He earned all-state mention at defensive back for the second year in a row.
"From a very young age, Cameron has had a very good understanding of sports. He has the highest football IQ of any kid I've ever coached," Wilmington football coach Brandon Phillian said. "I can't speak enough about the great career he had for us and how much I appreciate him as a person. It is so easy to root for him and to be happy for him.
"When I think of Cameron, the words that come to mind are 'humble' and 'hungry.' He is very humble. You learn a lot about people not only by how they handle failure, but by how they handle success. His humility when it comes to success speaks volumes. He would do anything to help the team win. He didn't care about how he did," he continued. "His work ethic shows the hunger part. I think his work ethic has allowed him to go from being a good player to a great player. One example is that, right after he got back from his senior class trip, I saw him up at the football field running sprints."
Even though Marett racked up the yardage carrying the football or delivered key plays on defense at safety, he served as a great representative for the school.
"He was one of the captains on our football team, and we were very fortunate to have great senior leadership," Phillian said. "He led by example. His focus and intensity, not only in games, but practice, too, is something I'd want all our players to have. He was definitely not afraid to speak up and get a message across when something needed said.
"I think Cameron was a great role model for all the underclassmen on the team and at the junior high and youth football levels. There are kids who look up to him so much. I think actions speak louder than words, and they can see what it takes to be a great player and a great teammate. There were times where he carried the ball 30 times in a game or times where he carried it three or five times or was called on to be a decoy or just a blocker. He did what was asked of him because he was committed to the team first. I've tried to tell the kids to enjoy him while we had him because he is one the finest football players to ever don a Wilmington Greyhounds jersey."
Marett is quick to credit those who paved the way or put him in a position to find success.
"It was a tremendous career, but I couldn't have done it without my teammates and my coaches who have pushed me to my limits and got everything out of me," he said.
His football career isn't over, though. Marett will attend Slippery Rock University this fall and major in sports management and play football for The Rock.
"I am super excited," he said. "I am ready to get together with the coaching staff and the other guys coming in and do something special."
Initially, The Rock plans to use Marett as a slot receiver on offense.
"I am changing positions a little bit, but that's OK," he said. "I'll play wherever they want me to play. I just want to get on the field."
Phillian has no doubts Marett will thrive at the collegiate level.
"People have asked me what he'll be like at Slippery Rock. I tell them that, whatever he may lack in an inch of height or a tenth of a second in the 40-yard dash, he will make up for with his work ethic and competitive spirit," he said. "That's something that separates him from other players."
CAGE LEADER
Wilmington's football seasons regularly stretched in the December. That caused a little bit of a delay for the 'Hounds' basketball team. Nevertheless, that squad enjoyed a successful stretch as well. The team finished 17-9 this season. It fell to Farrell in the D-10 Class 2A championship game and to Ridgway in the second round of the PIAA playoffs.
Marett, a three-year starter at point guard, netted 87 points in 24 games.
"It was always a rough jump from football to basketball — just the difference of the games," he said. "Football is so physically demanding, while basketball is more about conditioning and the mental stuff."
Marett thrived at the mental game as he directed the team's offense.
"It was awesome. Just being able to read the defense and see what other teams were doing was really fun," he said. "I had to slow down my team if we were struggling. It was my job to keep us at a high level all the time."
A majority of the basketball team also played football. So, it was fun for Marett and his teammates to carry on the winning tradition.
"Our group of seniors was pretty good; we've been playing together since fifth grade. We've always had that chemistry and special bond; we were like brothers," he said. "To play with each other and go as far as we did, it was always a blast."
DIAMOND KING
There was no rest for Marett once basketball season concluded. He headed outside to spearhead Wilmington's baseball team.
"There are a lot of kids going one dimensional with sports. That's not the way I wanted to go," he said. "I wanted to have fun with all three sports because I love the games and just wanted to enjoy them with my friends."
A four-year starter at shortstop, he anchored the 'Hounds' infield.
"At shortstop, I just being able to let everyone know what was going on. I was a leader of the team along with the other seniors, but I was in charge of keeping the infield ready and letting them know where the plays were going," he said. "I really liked to communicate with my team and let them know what was going on."
Marett was solid at the plate, too. He compiled a .567 batting average with 38 hits and one home run. He collected 29 RBIs, 28 runs scored and 23 stolen bases. Wilmington recorded a 16-4 record and claimed a share of the Region 3-2A title. The 'Hounds were eliminated by Sharpsville in the D-10 semifinals.
"We had seven seniors on the team and it was great playing with them as well as being able to make more friendships with some underclassmen," he said. "Just being able to go far and win a region title, it was a good time and something I'll always remember."
With his high school career complete, Marett is looking forward to the next chapter at Slippery Rock.
"One of the reasons why I chose to go there is that it feels like a home field advantage for me because we've played so many playoff games there and that field treated us well. Another reason is that I wanted to be close to my family so they could watch and support me. No matter where my games were, they were traveling to see me. I can't do it without their support," he said. "It's' going to be different. But, I am a social person. I like go out and have fun and meet new people."