BATTING (minimum 34 at-bats): Brooke Atkins (Laurel) .629 (56 for 89), Neleh Nogay (Neshanno…
Many games were won. Championships were secured. Records were surpassed. And plenty of fun was had along the way.
Laurel High senior softball standouts Olivia Lombardo, Brooke Atkins, Mackenzie Latess and Kayla Ruperto batted 1-4 in the team's order. And they wreaked havoc on opposing pitchers and coaches.
"I've been with these girls since junior high," fourth-year Lady Spartans coach Frank Duddy said. "They were my first class. These girls have done nothing but play good softball.
"They are just an amazing group. It's very sad to see these girls go."
The quality of play the foursome turned in was instrumental to them sharing Lawrence County's Most Valuable Player award.
Lombardo led off for Laurel and posted a .538 batting average. She added 43 hits, 16 RBIs, 43 runs scored, a home run and 19 stolen bases.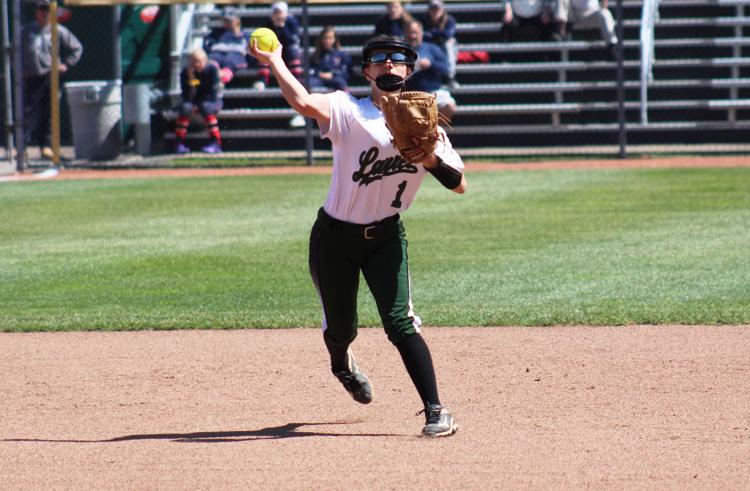 "Olivia has aways been a spark plug for us," Duddy said. "She gets the ball rolling. They feed off of her.
"She just played well the whole season, getting on base and getting it started for us."
Lombardo put the pressure on the defense with a team-best in steals.
"She's a very smart base runner," Duddy said of Lombardo. "She takes advantage of opportunity.
"It was hard to get her a stolen base because Brooke (Atkins) was whacking. Otherwise that number would have been double that. She's very smart and aggressive; always thinking 120 feet instead of 60 feet."
Lombardo was penciled in at shortstop for four years.
"Olivia was very dependable. Very reliable with good range," Duddy said of her defense.
Lombardo will play college softball at Mount Union (Ohio).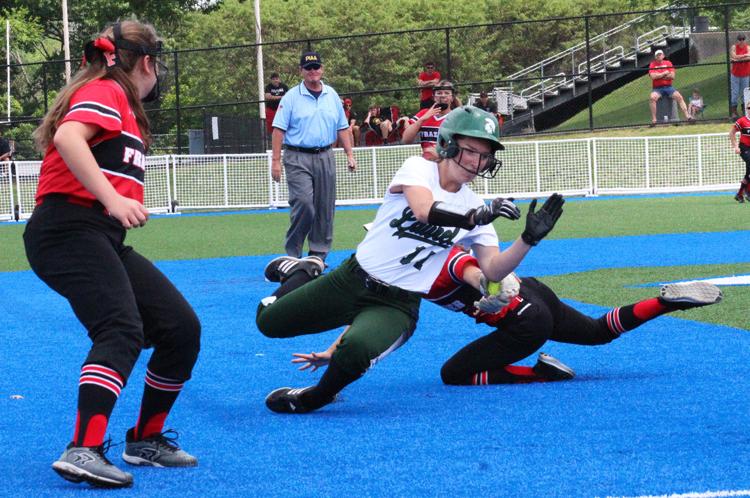 Atkins batted second and compiled a .629 average with 56 hits and 51 runs, all were tops on the team. She added 41 RBIs, seven doubles, six triples, three home runs and 16 stolen bases.
"She was a contact hitter," Duddy said of Atkins. "She was capable of playing small ball. But she seemed to turn it loose and swing away and always found a gap."
Duddy said the opposition constantly played a guessing game with Atkins at the plate.
"She could hit for power and she could play small ball if you needed her to," Duddy said. "The beauty with Brooke is you never knew where to play her.
"Her confidence level went through the roof. She was always smiling, having fun and playing her game. She's very exciting to watch."
A centerfielder, Atkins will play collegiately at Westminster College.
Latess, who batted third, delivered a .589 average with 43 hits, 61 RBIs, 39 runs scored, eight doubles, one triple and 11 home runs. She led the team in RBIs.
"Mackenzie always seemed to hit a home run when we needed it," Duddy said. "She hit the ball hard.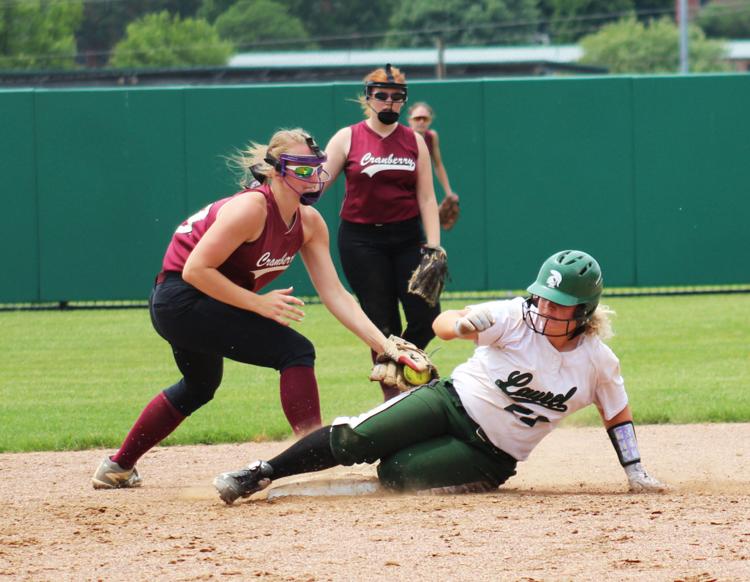 "The two girls in front of her (Lombardo and Atkins) were always on base. The top four girls were the bulk of our offense. Mackenzie was an RBI machine."
Duddy wasn't surprised by Latess' power display.
"She always hit home runs for us," he said. "But never the amount that she did this year.
"She was just relaxed and having fun. All four of the girls were more relaxed and having fun. They were just playing the game the way it was meant to be played."
Latess, a third baseman, will play at Westminster College.
Ruperto fashioned a .605 average with 49 hits, 51 RBIs, 35 runs scored, 12 doubles and a team-best 14 home runs.
"She's another contact hitter," Duddy said. "When we needed a hit, she came through.
"She's a strong, strong girl. She worked hard on it. She's in the gym constantly and she's in top physical condition. Kayla is another RBI machine."
When the opponent finally got a chance to get some hacks in, it didn't last long. Ruperto, a pitcher, posted a 16-3 record with a 1.93 earned run average. She tossed 112 innings and struck out 160 batters.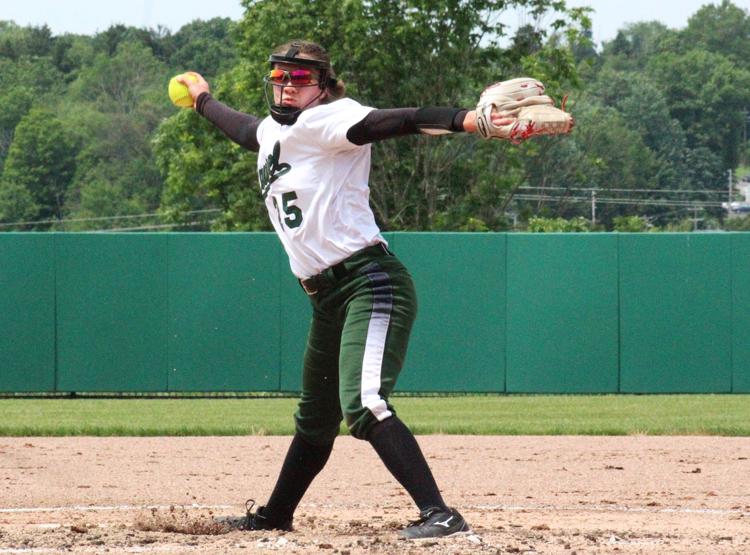 "Kayla pitched so well for us this year," Duddy said. "She missed most of the last two seasons with an injury.
"She was focused and strong and in tip-top physical condition. Kayla was a beast in the circle; she could bring it."
Ruperto kept hitters off balance.
"Velocity and movement were her two biggest attributes," Duddy said. "She changed speeds very well and she had excellent control. She could put the ball where she wanted it.
"Kayla had it all. She was the total package. She was hungry and it showed."
Duddy knew when he sent Ruperto to the circle he could count on getting a strong pitching performance.
"She's a rock out there; very focused," Duddy said. "She's very into her craft.
"I can't remember her getting in to too many jams."
Ruperto will pitch collegiately at Ashland (Ohio).
Laurel finished the season 21-3 overall and bagged its second consecutive WPIAL championship, with both crowns coming against Frazier.
The Lady Spartans outscored the opposition, 271-46. They won nine games by shutout.
"This was a fun team to watch," Duddy said. "These four girls got us to the playoffs all four years and they carried us deep in the playoffs all four years."
Records were shattered by the girls as well. Duddy noted that Ruperto's 14 home runs is a school record, breaking the old mark of six set by Latess last year. Latess owns the RBI standard and Atkins holds the batting average mark. Lombardo owns the record for singles in a season, eclipsing her own mark. Those were just a few of the marks that were established this year by the foursome according to Duddy.
But individual marks wasn't what drove the team.
"We wanted to repeat as WPIAL champs," Duddy said. "We talked about three goals: section champs, WPIAL champs and state champs.
"When we got to the WPIAL championship game, I could see on their faces they were going to have a good game. They jumped them immediately and never let up."
Lombardo, Atkins, Latess and Ruperto helped lead Laurel to a 61-17 record over their four seasons on the diamond. They won two district championships, a section title, made the playoffs all four seasons and the state playoffs each of the last two campaigns.