The Wilmington High cross country teams posted a clean sweep Tuesday.
A pair of individuals captured first place, while the boys and girls teams also defeated their visiting opposition.
Wilmington's Tagg Walker won the boys race in 19:44 to help the team to a 23-36 win over Sharpsville. The Lady Greyhounds' Grace Mason claimed first place in the girls race in 21:20 as the team scored a 23-38 decision over the Blue Darlings.
Akito Hatch finished third for the Wilmington boys in 20:58 and teammate Beau Reed was fourth in 21:10. Ethan Winters (7th, 22:47) and Henry Ochs (8th, 22:49) also ran.
Emma Mason placed fourth for the Lady Greyhounds in 22:14, while Becka Book took fifth in 23:09. Ava Shearer (6th, 23:44) and Maddie DiMuccio (7th, 23:54) also competed.
Boys cross country
New Castle sweeps
The Red Hurricane captured WPIAL Section 5-2A wins over Beaver (19-39) and Central Valley (15-50) at Brady's Run. New Castle finished section competition at 7-1.
Jonah Miller, Lucas Bradley, and Gavyn Hansotte swept the top three spots in the race. Aiden Klik took sixth overall for the 'Canes. Dante Mangieri placed seventh overall for New Castle.
Ben Bryson finished second for New Castle's boys junior high team in 12:11. 
Scarnati leads Lancers
Lorenzo Scarnati placed third for Neshannock in a meet against Laurel, Union, New Brighton, South Side Beaver, Freedom and Beaver Falls on the Tigers' home course.
The Lancers lost to the Spartans, 22-33, but knocked off Beaver Falls (15-50).
Evan Hendry finished fifth for Neshannock in 19:29 and Brian McConahy was seventh in 19:50. Roger Kwiat placed eighth in 20:01 and Eugene Razzano was 10th in 21:09.
The Lancers' Brendan Burns won the junior high race in 8:46.
Wildcats win a pair
Shenango's Christian Maxwell took first in a Section 1-1A meet against Freedom and New Brighton. The Wildcats won both matchups, 15-50 over the Bulldogs and 17-40 over the Lions.
Maxwell finished in 15:42. Shenango's Thomas Presnar finished second in 15:43 and teammate Ethan Krouse placed fourth in 16:41. Anthony Mancino (7th, 17:38) and Tyler Wittmann (8th, 17:39) also competed for the Wildcats.
Girls cross country
Lady 'Canes split
New Castle upended Central Valley (15-5), but dropped a 16-34 decision to Beaver at Brady's Run in Section 5-2A action.
Anna Blundo finished first for the Lady 'Canes, followed by Nina Reider, Summer Barge, Emily Carter and Madison Soukovich.
New Castle's Keara Mangieri placed sixth in the junior high race.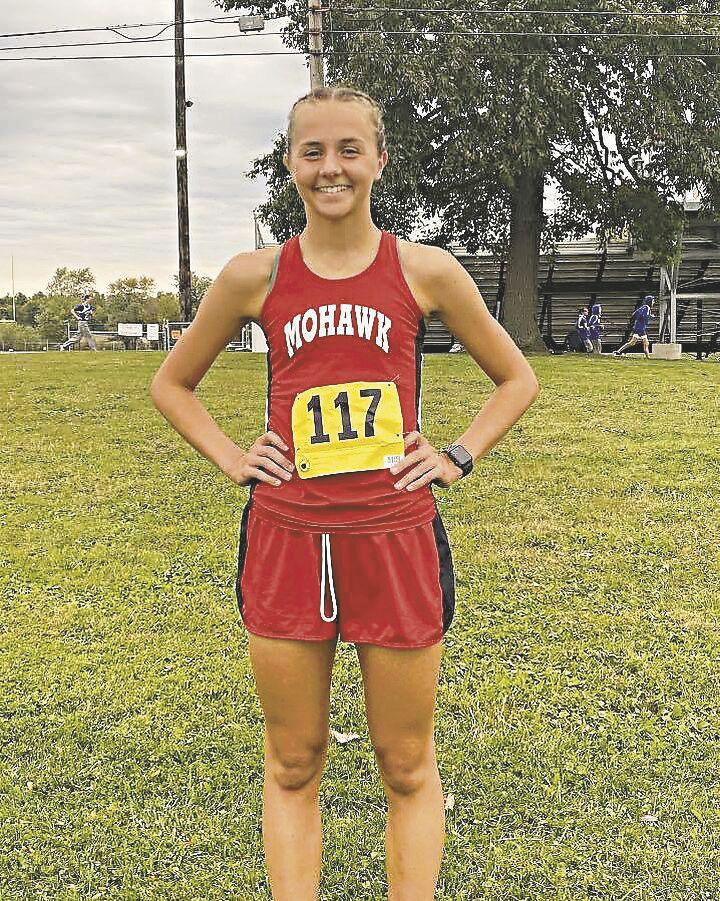 Lady Warriors finish undefeated
Mohawk's Natalie Lape helped lead Mohawk to a pair of Section 1-1A wins. She won the race against runners from Ellwood City and Riverside in a school-record time of 17:38.
The Lady Warriors scored 15-50 victories over Ellwood City and Riverside to finish Section 1-1A action with an 11-0 mark.
Mohawk's Evelyn McClain finished second in 18:37 and teammate Aricka Young was third in 18:58. Lillian McClain (4th, 19:22) and Nadia Lape (5th, 19:42) also ran for the Lady Warriors.
Madi Hervatine finished ninth for the Lady Wolverines in 22:26. Abigail Ellsperman was 10th for Ellwood in 22:32.
Ellie Whippo (Mohawk) was the top runner in the junior high race in 13:24.
Hendry wins race
Neshannock's Autumn Hendry took first in a Section 1-1A meet against Laurel, Union, New Brighton, South Side Beaver, Freedom and Beaver Falls on the Lady Tigers' home course.
The Lady Lancers and Lady Spartans didn't field a complete team.
Hendry won the race in 21:16 and teammate Lindsey Urban was fourth in 21:59. Hanna Kwiat took sixth for Neshannock in 23:36.
Taegan Scheller captured second place in the girls junior high race for Neshannock in 10:37.
Medvit tops field
Shenango's Carmen Medvit took first in a Section 1-1A race against Freedom and New Brighton. The Lady Wildcats won each race, upending the Lady Bulldogs (15-50) and knocking off the Lady Lions (27-28). 
Medvit finished in 17:38. Teammate Riley Bruce was fourth in 19:57 and Morgan Pisula placed fifth in 20:28. Olivia Conaway captured 12th in 24:28 and Josephine Buckel was 17th in 27:58.