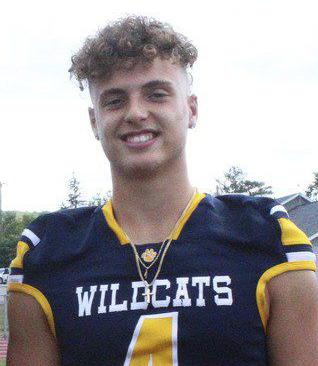 To hear Reis Watkins tell it, he really didn't do all that much.
Nonetheless, it is his name that will go into the Shenango High record books after his 302-yard rushing effort broke a 53-year old school record and sparked the Wildcats to a 49-14 win over Ellwood City in WPIAL Class 2A Midwestern Conference action on Friday night at Helling Stadium.
The junior running back amassed his total on 21 carries, and included three touchdown runs among them. His performance eclipsed the former single-game mark of 294 yards, set in 1966 by John Kary.
"I wouldn't even be near that mark without my line," Watkins said moments after the game ended. "Our coaches coach them so well, they get them prepared every game, week in and week out ... That's the reason I got this record."
Still, while the O line cleared the way for Watkins to reach the second level, he also did his share of starts, stops and cutbacks once he got there to turn apparent short gains into huge ones. He had five 20-yard-plus carries, including three that went for 41, 51, 61 (a touchdown) yards.
"That's all because of Grossetti Performance," he said. "Every day in the summer I was working there. It's all because of them, I give the credit to them for making me who I am now."
Coach Jimmy Graham also praised the offensive line of the 'Cats (3-2 in the conference, 5-2 overall), noting that "they really set the line of scrimmage about three or four yards downfield, which kind of let us run the ball effectively and also throw the ball effectively."
As for Watkins' record-setting performance, he added, "Honestly, we didn't really try to do that. What really did it for us is we really take what the defense gives us. But it couldn't happen to a better kid. He's the ultimate team player, gives me 100 percent no matter what position I put him in. I'm happy for him."
Graham also conceded that he didn't think a school rushing record would be set on his watch.
"If you would have told me when I got hired last year that I would have a rusher break the record for rushing yards, I'd have said you're crazy," he said. "I'm a former quarterback. I like to throw the ball, so I doubt that's going to happen."
Watkins, though, wasn't the only one to enjoy a big night against the Wolverines (0-5, 0-7).
Quarterback Tino Campoli completed 12 of 18 passes for 189 yards with one interception and two touchdowns. Jason Kraner caught six of those throws for 120 yards and a touchdown. Even kicker Aidan Johnston benefited from the 'Cats' seven-touchdown performance as he converted the PAT on each score to tie a school record for most extra points in a single game (Dylan Kleckner also kicked seven in one night back in 2015).
Overall, Shenango rolled up 520 yards of total offense to Ellwood's 143.
The Wolverines, though, were not without a few bright spots of their own. The game marked only the second outing all year in which Ellwood was not shut out, and Tyler Powell rushed for 95 yards on 19 carries, including a 38-yard touchdown run.
Shenango now enters what is arguably the toughest part of its schedule, with a non-league game next week against Southmoreland (a 5-2 squad averaging 48 points per game) followed by matches against conference foes New Brighton (3-1, 5-2) and Neshannock (3-1, 5-2).
"Really, our playoff life started tonight," Graham said. "We needed to win this game and we basically need to win our last two conference games to have a chance to get into the playoffs. Our team is aware of that."
That includes Watkins, who says he'd trade every one of his 302 yards — and more — for a postseason run.
 "I would rush for negative two yards if it meant we could go deep in the playoffs," he said." I don't care about stats. I care about our team and how we're doing. I'll take wins over yards every day."