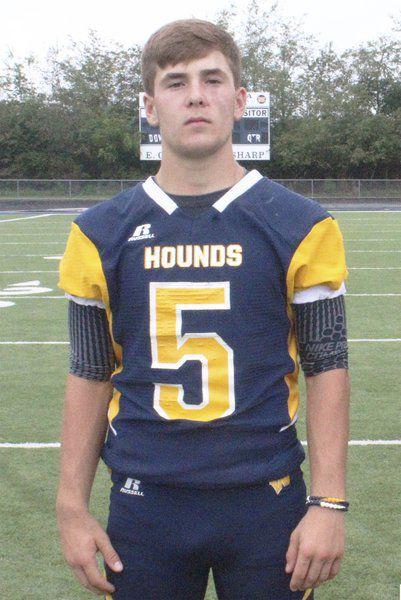 Wilmington quarterback Caelan Bender is a lot of things. 
Last school year, he was elected to be the incoming junior class president. He's a member of the National Honor Society, student council and peer leadership group. This football season, Bender has been tasked with taking over under center for a team coming off two straight trips to the state championship game and reloading for another strong season.
While he's a leader in the classroom, that mentality follows onto the football practice and game field, according to Wilmington coach Brandon Phillian. 
"He's a great leader," Phillian said. "He's a guy people rally behind and follow."
On Friday against Northwestern, Bender showed off his arm — an aspect the traditionally run-heavy Greyhounds haven't displayed in years past. 
"Friday night, it was very clear one of our focal points in the game plan was to throw the football," Phillian said. "What I saw out of Caelan as that game unfolded, while he's only a junior, he's a great leader. He commands the entire offense. He's got total control of the offense and has great poise."   
Bender had his best game of the young season, completing 10 of 19 passes for 149 yards while tossing three touchdowns. He also carried three times for three yards, scoring once, in the 42-14 blowout victory. 
For his performance, Bender — the son of Amy and Joel Bender — has been named the Lawrence County Athlete of the Week as voted upon by the New Castle News sports department. 
"To me, some of the biggest things with Caelan is he's incredibly coachable," Phillian said. "He's a talented athlete in multiple sports. He wants to be coached hard. He's such a competitor. When I think of him, competitor is one of the first words that comes to mind."
Bender replaced Robert Pontius under center, a steady leader on both sides of the ball for Wilmington. In Phillian's first year as a head coach last season, he entrusted Pontius with the ability to change plays at the line of scrimmage based on things he saw before the play. Phillian also has given that responsibility to Bender. The result?
So far, so good.
"As the summer went on, (Phillian) kept allowing me to do it," Bender said. "I was trying to warm up to it and then I finally realized if all of my guys trust me and trust me to make the right call, I have to be confident in what I choose. I like it. I enjoy it. Most guys don't see what I see because they're down or in their stance. When I change it, they trust me."
Phillian added he and Bender are on the same page on the field and share a strong relationship. Watching Pontius — Bender says you would never know if the signal-caller felt overwhelmed or scared — the last few seasons has given Bender the blueprint for how to be an effective quarterback under pressure.
"I've watched Robert a lot and I even told Robert one time that I gave him a lot of credit in an interview," Bender said. "(Pontius) said no, that's all (Coach) Phillian. He does a lot of work. He shows me coverages. Once I was able to read coverages and this and that, things clicked."
For Phillian, the Greyhounds are extra dangerous with an effective runner as well as passer under center — something Pontius and now Bender is capable of doing.
"I think one of the most difficult things to defend in all of football is the dual-threat quarterback," Phillian said. "To see him show off his ability with his arm against Northwestern, I don't think there's any doubt Caelan Bender is a true dual-threat quarterback."
While Wilmington has passed the ball more under Phillian, the Greyhounds are still a run-first team. That can be tough for a quarterback who's charged with doing a lot of handing off instead of throwing downfield. 
"Both guys are unselfish," Phillian said of Pontius and now Bender. "They don't care if they throw the ball 20 times per game or five times per game. All they care about is that the team wins the football game."
Bender echoed those thoughts. If Wilmington is to make another deep playoff run, Bender's arm and legs might be a key reason why. The amount of pass or run attempts for him, however, doesn't matter.
"As long as we win. That's all that matters," Bender said. "I'm only focused on winning and making sure everyone is giving 100 percent and getting the 'W.' "