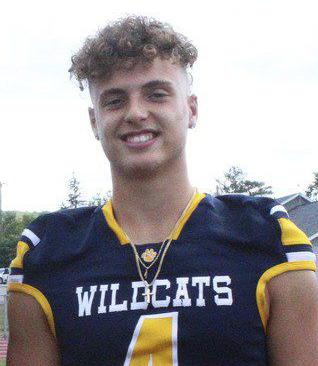 Last year, things didn't go so well for the Shenango High football team. 
The team got off to a slow start, lost its first three games and never recovered on the way to a 1-9 campaign. That was 2018. The Wildcats of 2019 made a statement — at least to themselves — by grinding out a 24-13 opening week win at Union. 
"It meant everything," running back Reis Watkins said. Union won last year's opening-week matchup between the two teams on the Wildcats' home field.
"Last year, they came up here and punched us in our mouth and that just set the tone for the year," Watkins said. "Hopefully this game will set the tone for the rest of our year this year."
Watkins, this week's choice as athlete of the week as selected by the New Castle News sports department staff and the son of Ronda and Bill Watkins, helped lead Shenango by scoring on runs of two and nine yards in the fourth quarter as the Wildcats took control of the game and momentum to earn the victory. 
"The whole week, the coaches gave our line a good game plan," Watkins said. "Our line went out Friday and executed it very well. That's the reason I'm getting this athlete of the week (selection) because our line gave us big holes to run in."
Coach Jimmy Graham said this year's Shenango team will go as far as the offensive and defensive lines carry the team. On Friday, the offensive line, consisting of Jake Stephenson, Colton Ferrucci, Anthony Campoli, Trevor Valenti and Jason Domenick (tight end Will Patton and Alex Suber also make contributions blocking up front) cleared the way for Watkins to carry the ball 30 times for a county-best 224 yards.
"Three of those guys are sophomores," Graham said of Ferrucci, Valenti and Domenick.
"Last year, they were thrown into the fire a little bit and got that experience. We weren't very competitive last year, but I feel we can compete more this year."
Graham noted Watkins' effort on the field.
"I think one of the things that's never in question with Reis is his effort," Graham said. "It was a great effort all night long by him. What really set the tone there was our offensive line really working hard and creating openings for him. A lot of times they don't get a lot of the attention. You can't rush the ball without a good line. Our guys have made tremendous strides over the last year. As well as our line goes, Reis will go. He runs hard every time. I'm very happy with his effort."
Last year, the junior began the season as the Wildcats starting quarterback but then moved to the backfield. On defense, the 6-foot-3, 202-pound Watkins is listed as a defensive back but plays near the line of scrimmage. 
"Reis is one of those kids who would actually play any position you would ask him to play on the offensive side of the ball or defensive side of the ball," Graham said. "We try to give him some rest on certain plays and sometimes he doesn't want to come out. Most of our kids are that way."
Watkins' point of view? 
"Hopefully it stays permanent," he said, "but with our small team, one injury and I could move anywhere. Hopefully, I stay at running back. I think it's best for the team."
Shenango is already looking forward to this week's test, a Freedom team which blanked the Wildcats, 63-0, a year ago. Still, the mood in practice is always a bit more upbeat after a victory, Watkins said. 
"I feel like we're all happy. We're upbeat," Watkins said. "I know we'll have a good practice. Last year, every time we came out with a loss, at practice we were all dead. It's nice to come out to practice with a win. It's higher energy."
So what's the key for Friday's game?
"We go as our line goes," Graham said.