Hayden Hamilton remembers it all.
The play, the feeling — and lack of feeling — in his body, and his conversation with trainers on the field the night of Aug. 31, 2018.
It's been almost a year since the Laurel High football player collided with an opponent from Rochester during the second game of the year in late August. Hamilton was taken from the field by ambulance with a spinal cord injury, transported to Pittsburgh by medical helicopter and endured a lengthy procedure on his backbone.
Time was spent at the hospital before he was moved to a rehabilitation facility before finally returning home in November. His story gained support, first locally, where a prayer vigil was held at Spartan Stadium, then regionally, nationally and into Canada. Videos shared on social media in the following months showed Hamilton's continued progress, all done with a smile on his face.
"When I got hurt, it started off really rough," Hamilton said. "I got floods of support to keep me really positive. I had great friends and family keep me supported so I could keep my spirits up and progress through not only my recovery, but everything else in my life."
Now, Hamilton is going to be the one giving back the support his teammates showed him. He's going to be on the sideline this year for Laurel serving as an assistant coach on Brian Cooper's staff just about a year after suffering his serious injury.
BECOMING A PLAYER
Hayden Hamilton was to be a welcome addition to the 2018 Laurel Spartans. He played some varsity as a freshman, but also suited up for the junior varsity team. In one JV game against Wilmington, Hamilton ripped up his knee, tearing his ACL, MCL and lateral meniscus.
Hamilton was told he'd be out 12 to 18 months recovering, but he was cleared in four to compete for the track team.
"I've been dinged up my whole life," Hamilton said. "I feel like if you're playing hard, stuff happens. I've always just been tough. That was one of my better qualities as a football player. Get up for the next play."
In fact, Hamilton got clipped early in the Rochester game trying to chase down a Rams player on a long screen play that went for a touchdown. He dislocated his shoulder, but popped it back in himself and kept playing.
Get up for the next play.
Then later in the game, he didn't get up.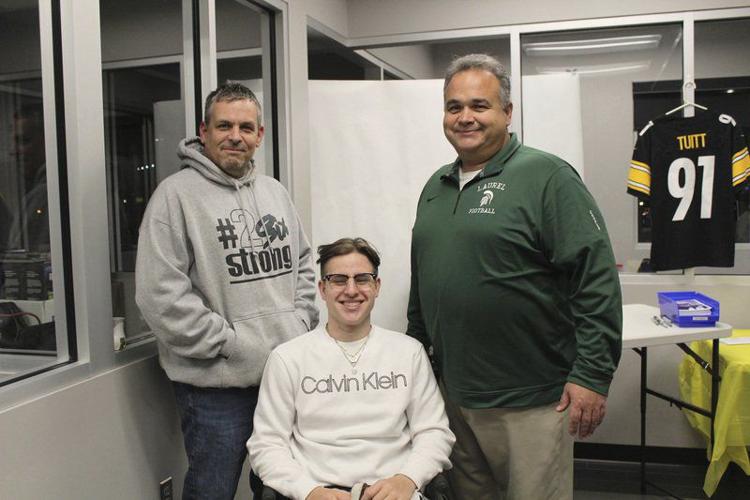 In the third quarter, Rochester ran a toss to the left side. Hamilton, from his outside linebacker position, was blocked by a wide receiver. The receiver tried to hook him, but Hamilton fought to get outside with one arm. He waited to see the runner's feet — that's what your taught, dive at feet.
"I saw his feet go inside," Hamilton said. "I dove, he jumped it, his knee hit my head and he broke my neck."
He lost feeling feeling immediately from his nose down and couldn't feel his mouth.
"I thought I had a concussion," Hamilton said.
He's never had a diagnosed concussion.
"They said 'wiggle your toes' and I said 'give me a second. I'm working on it.' It felt like everything went asleep. Like when you sleep on your hand. It just felt like that everywhere from my bottom down."
There was a delay of more than 40 minutes on the field as Hamilton was stabilized and taken by ambulance to UPMC Jameson and then flown by helicopter to UPMC Children's Hospital in Pittsburgh.
"I wasn't scared," Hamilton said. "I thought it was a stinger. I was thinking about the next week's game. When I got the helicopter, I saw like 50 neurosurgeons and that's when I was like it's a little worse than I thought. I really wasn't scared the whole time. I knew I was in a good place."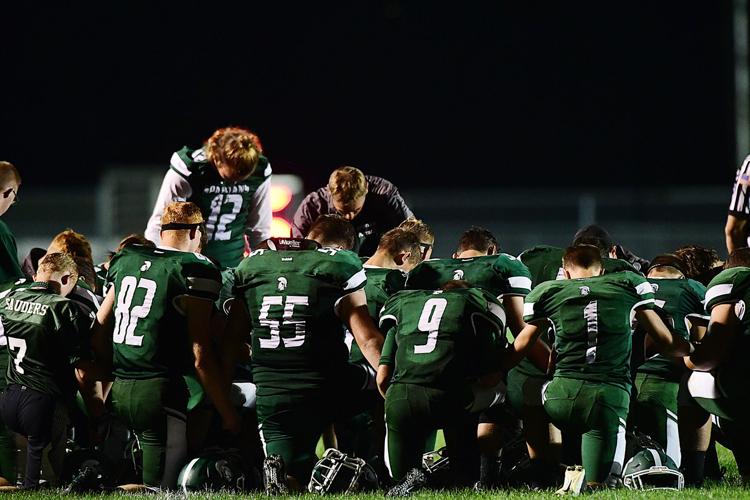 PRAYERS FOR HAMILTON
After Hamilton was taken from the stadium, the game had to continue. In the end, Laurel lost 26-14.
"You're just praying for the best," Cooper said. "You're hoping when he got there it was just a stinger or it wasn't as bad as it could be."
Cooper said it was emotional getting periodic reports from the hospital. Later that Labor Day weekend, he addressed the team and parents about Hamilton. By the Sunday night prayer vigil, Hamilton was already starting to feel some tingling in his legs.
THE SUPPORT
Once the game was over, the Laurel coaches made their way to Pittsburgh. So did teammates and their parents. Hamilton's surgery lasted about nine hours. He said seeing all the support, plus his parents Melissa (who was on the helicopter flight to the hospital) and Chad made him feel safe and at ease.
"None of them would leave until at least after my surgery was done," Hamilton said. "My friends' parents were there too."
The support in the hospital was just an extension of how the Spartans try to stick together on the field.
"That's what a team is all about," Cooper said. "Family. Closeness. This community has been tremendous in its support and I'm sure that means a lot to him. I'm sure he wants to do as much for them as for himself as well."
While this was happening in Pittsburgh, efforts at home in his honor already were getting underway. A car wash and the prayer vigil were planned. A GoFundMe was set up and has accumulated more than $61,000 in donations to help offset medical costs. Teams around the WPIAL and western Pennsylvania took on the moniker of being 26 Strong, a reference to Hamilton's jersey number. Then other teams across the country, and even into Canada, did the same. Laurel painted a 26 onto the field and displayed his jersey on the sideline during games.
"It's meant everything," Hamilton said. "Without that support, I might not be able to stay so positive. I might feel like I was alone in this."
He continued, "I've always been happy. I made a promise to my friends when I got hurt that nothing is going to change. I was making jokes on the field while my breath was running out."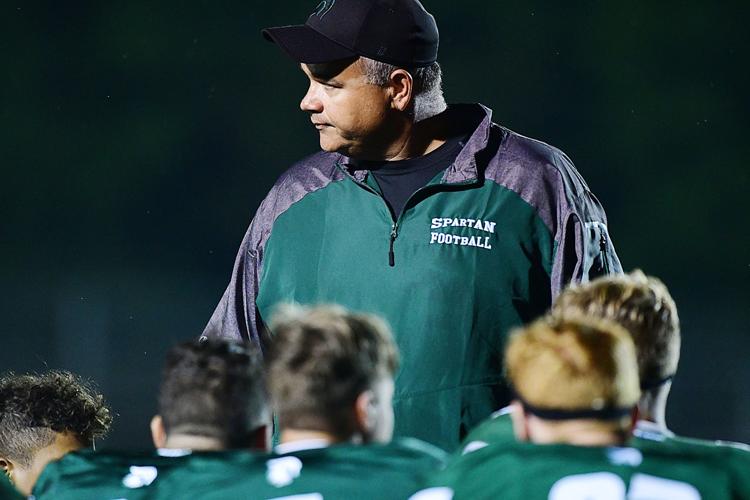 WORKING OUT
In the months since returning home — he has the basement apartment, or his mancave, to himself — Hamilton has been doing a lot of rehab. He works out six days a week and twice a day now, going to facilities in Wexford, Hubbard, Ohio and Grossetti Performance in Shenango Township where he works out with Kyle Piper.
One day while doing rehab work, he tried to walk with braces.
"Most things," Hamilton said, "I either get it real fast or it takes me a really long time. When we tried to brace walk, I randomly brought it up one day, tried it and it went really well. That was the only time I tried it."
Now, he says his feeling is pretty normal aside from some spots where the feeling is "muffled" and he's working on other strengthening exercises in the mean time.
His hands still have a bit of trouble supporting weight, but he said his upper body is still strong and he can do lateral pull downs exercises and curls perfectly fine.
FACING THE PAST
The Spartans held team picture day earlier this month at their home field. While the players were getting ready for the team photo, Hamilton made his way across the field in his wheelchair to the midfield logo where the photo was happening. It meant going by the spot where he was injured.
"It was really tough for me crossing the field and going right past where I got hurt," Hamilton said, "but then I saw my whole team smiling and stuff. It didn't phase me too much after that because they were all there for that too."
The one-year anniversary of his injury is coming up and will fall a day after the Spartans play at Rochester again in the season's second week. Hamilton said he'll likely feel some emotions from the moment, but they'll quickly fade.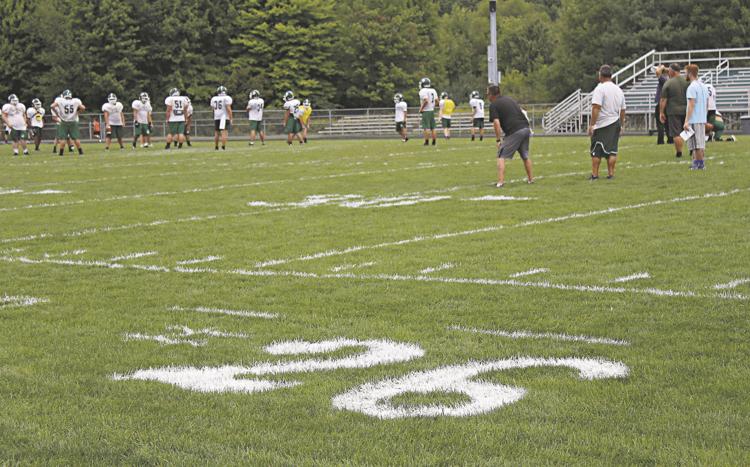 "It will be a tough day, but I know with my friends and everything I'll get through it," Hamilton said. "Most things phase me for a minute. I try not to think about it too much. It will be a year that something happened, but it will be a year that I kept fighting and kept progressing."
KEY CONTRIBUTOR
Hamilton will take on a different role this football season. He's always been one to watch film. Cooper and the coaches last year shared film with him while he was in Pittsburgh, allowing him to stay close and involved with the team and lending an extra pair of eyes to game action.
That will be his role this year, along with helping Logan Ayres fill his linebacker position.
"It's still the same challenge trying to get my team to win," Hamilton said. "That was my challenge before. I just have a different role now. It's almost just like a position change."
Cooper will give Hamilton an iPad to watch instant replays on the sideline during games and when the Spartans are on defense, the two will compare notes and ideas for better offensive execution.
"What made him a really good football player was his ability to break and analyze games," Cooper said. "It's something he's always done. I'm sure it will be different not being involved in the game as a player, but he's still involved in the thing he loved from the game, which was the build-up and getting ready for the game. He did everything that you wanted to do as far as scouting reports go, watching yourself and getting better and analyzing the play. That's coaching. He's done that as a player on himself and now he's going to be doing it and helping out the coaches on the other players and passing that on."
Hamilton will also be going back to school on a part-time basis this year, mixing his days with schoolwork and continuing his rehab. Credits-wise, he was a year ahead in class and didn't get too far behind last year because assistant coach Bill Allman taught him a physics course at home.
"He gave me an adjusted course because I already knew all of it," said Hamilton, who is interested in studying biomedical engineering. "I learn fast. I'm not too worried (about returning to school)."
REACHING FOR THE TOP
It's been a long year for Hamilton, one that seemingly has been filled with nothing but progress since his injury.
The Spartans are projected to be one of the top teams in the WPIAL Class 1A this year. It's a year Hamilton and his teammates had eyed as one the program would have the right mix of talent to make some noise in the district.
"We talked for years about how this was our year to take it," Hamilton said. "We're in a really good position."
By the way he talks, it appears Hamilton is ready to tackle the next challenge of coaching, noting his team "just needs to execute."
In a year spent taking on every roadblock in the way, there's no reason to think he won't succeed at this new challenge.