In past midterm election cycles an event like Wednesday's debate featuring candidates for Pennsylvania governor and U.S. Senate would have been held in one of the state's largest cities — Philadelphia, Pittsburgh, Erie or Harrisburg.
Instead, it took place in New Castle.
On its face, New Castle would seem an odd choice for one of the largest campaign events of Pennsylvania's primary season. New Castle is not one of the state's five, 10 or even 50 most populous municipalities. Lawrence County is not one of the state's five, 10 or even 30 most populous counties.
But the venue was a stroke of genius on the part of Pennsylvania and Lawrence County GOP officials.
As the Republican base, both nationally and in Pennsylvania, grows increasingly white and rural, Wednesday's debates were a case of the GOP knowing where its votes are, and going to where its votes are.
When we say the Republican party is "increasingly white and rural," we're not referring to the candidates. Anyone with eyes to see witnessed a diverse crop of candidates for U.S. Senate and Pennsylvania governor Wednesday night on the Scottish Rite Cathedral stage.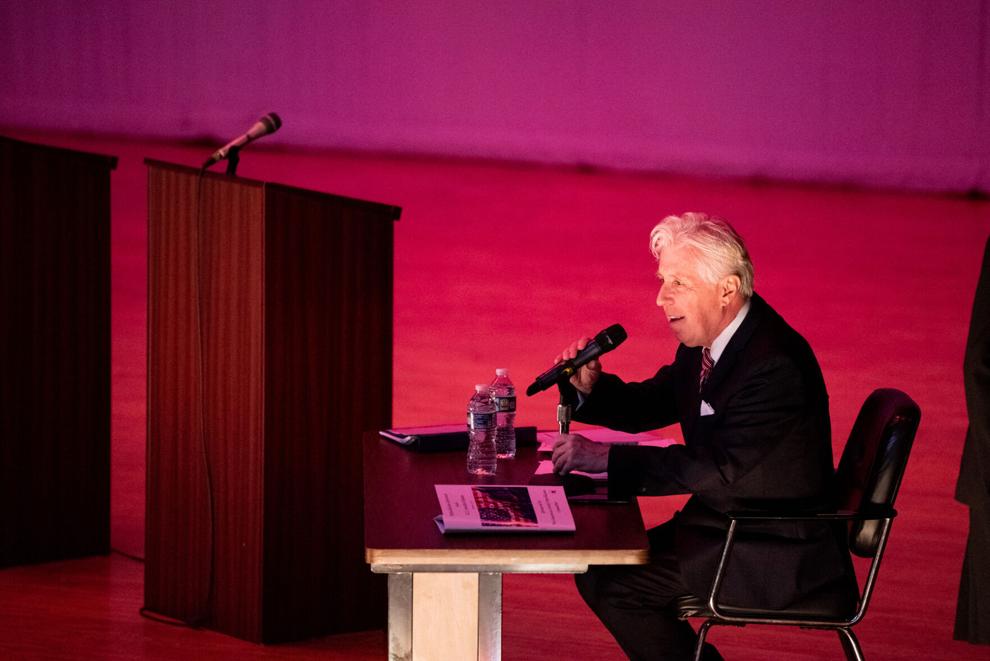 But there's no denying that the GOP's voter base is white and rural. In the 2020 election, former President Donald Trump outpolled current President Joseph Biden in 54 out of 67 counties.
Biden won the state — and its crucial 20 electoral votes — by collecting vote majorities in counties like Philadelphia and Allegheny, both anchored by metropolitan centers, and by cleaning up in the Philadelphia suburbs.
Trump steamrolled Biden in exurban and rural counties like Mercer, Lawrence and Crawford. So it only makes sense that Republican candidates, especially during the primary, would seek out those residents.
By any measure, Wednesday night's event was a success, both for New Castle and for the candidates who turned out.
This may sound like a Little League coach handing out participation trophies, but all of the U.S. Senate debate participants — author and conservative commentator Kathy Barnette, businessman and 2018 Republican lieutenant governor nominee Jeff Bartos, Philadelphia attorney George Bochetto and Elk County law enforcement officer Martin Rosenfeld — had moments where they won hearty applause.
The gubernatorial candidates who turned up found warm receptions as well. That debate field featured attorney Jason Richey, businessman Charlie Gerow, surgeon Dr. Nche Zama, former U.S. Rep. Melissa Hart, former U.S. Attorney Bill McSwain, Chester County Chamber of Commerce President Guy Ciarrocchi, businessman David White, and former UPS executive John Ventre.
If anyone could have been said to have lost the debate, it would be those who stayed away, a list that included some of the two races' most high-profile names.
No-shows on the Senate side were Ambassador Carla Sands, Dr, Mehmet Oz and David McCormick, a hedge fund executive and treasury official in the George W. Bush administration.
Gubernatorial debate absentees included state Senate President Pro Tempore Jake Corman, former Hazleton mayor, and former U.S. Rep. Lou Barletta.
While no more than 1,000 were in the audience Wednesday, they're going to go back to their homes and tell their friends and families about what they saw. They'll say things like "That Kathy Barnette really knows her stuff," or "Martin Rosenfeld will protect the Second Amendment,"
Or they might deploy Bartos' signature quote, "You can't save Main Street if you can't find Main Street," which has the dual benefit of both laying out a small-town-friendly vision for America and taking a swipe at the candidates who couldn't be bothered to show up.
The debate event Wednesday in New Castle might have been a first for the state.
If Pennsylvania Republicans are smart, it won't be the last.
— The (Sharon) Herald