Members of a new and growing Lawrence County 4-H club got some valuable tips on raising chickens from a veteran poultry expert who judged their fowl.
For the first time in nearly three decades, chickens and other poultry made their appearance at the Lawrence County Fair. A large tent occupied by chickens raised commercially by local growers was discontinued in the 1980s because of an outbreak of avian influenza.
But a new 4-H poultry club that hatched last year received the blessings of the fair board of directors to bring back the show of chickens, guinea hens and even a turkey. The club has 24 members who come from throughout Lawrence County and West Middlesex.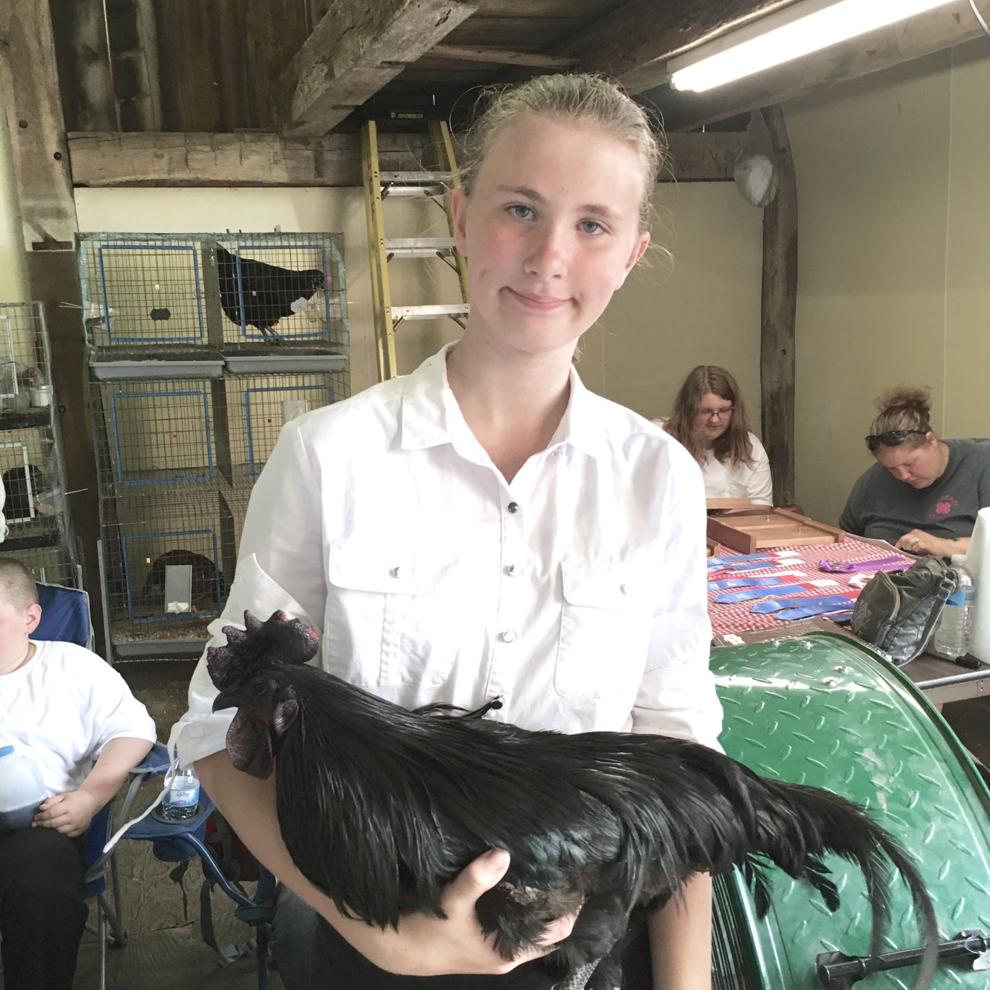 The poultry judge, 84-year-old Bob Rugaber of Butler, shared his knowledge with the members whose birds were in the competition. He sized up the meat pens of chickens first, then went on to judge the exhibition birds.
He advised the youngsters that when showing professionally, they always want to wear a white lab-type coat. That keeps the clothes clean, he explained as one of the chickens squirted its waste product when he picked it up to judge it.
"You'll want to stay out of the line of fire," he warned.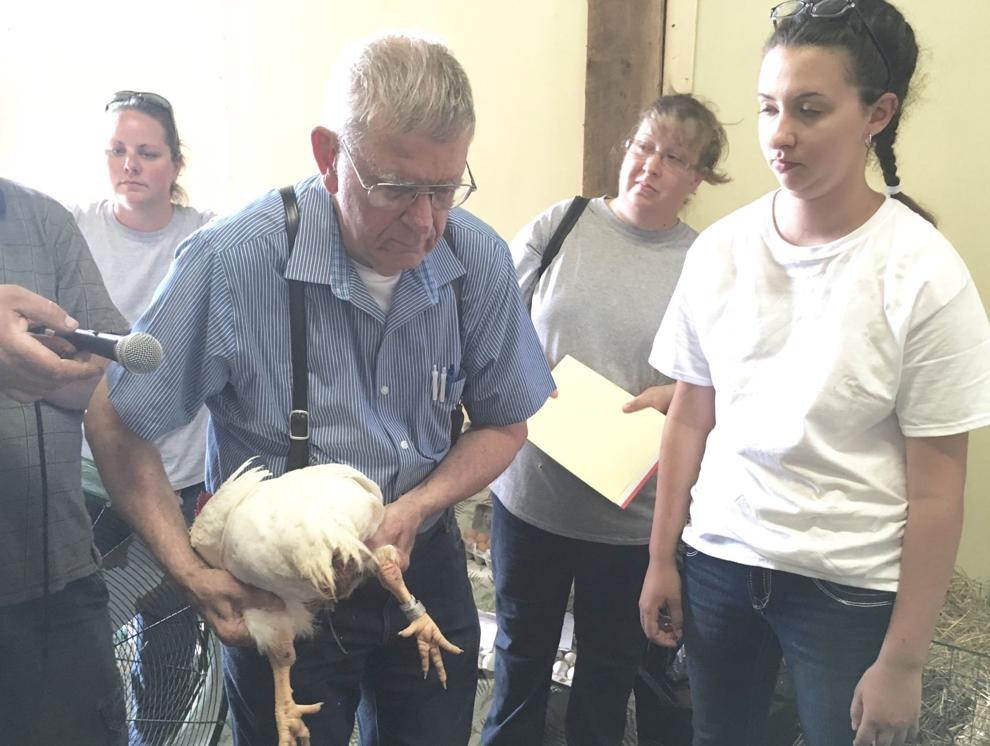 Rugaber marveled at the anomalies that he encountered at Lawrence County's show.
That included one chicken —possibly because of the extreme heat — that died suddenly during the judging. Rugaber held a conference with the group about it and tried to console the broken-hearted girl who showed it, but "she was still in tears when I left. A chicken can die of a heart attack just instantly. It's very rare, but it does happen."
ANOMALY FOWL
Rugaber also was fascinated to see a breed of chicken in the show that he had never seen in his 60 years of judging.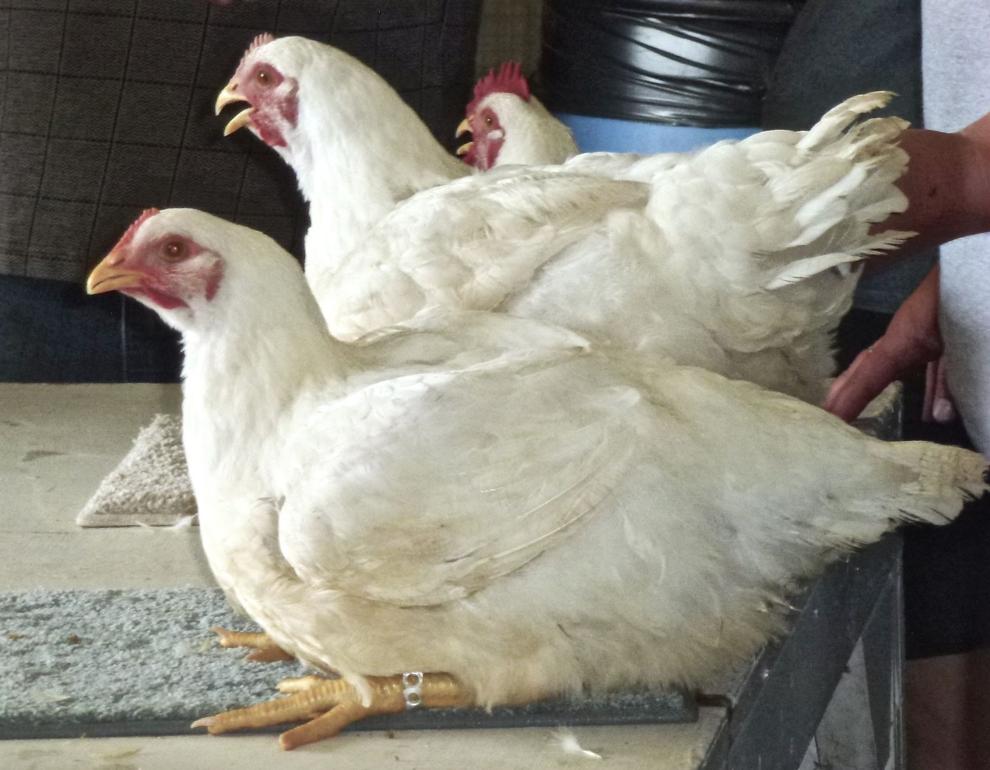 Jordan Haag, 14, of West Middlesex exhibited an Ayam Cemani rooster, revered for being entirely black from head to foot, inside and out. An Indonesian chicken, it has black feathers, black skin, black comb, black flesh, black feet, and even black organs and black bones.
"He looked like you had dipped him in the blackest soot you can imagine," Rugaber said.
Another highlight of the show was the male turkey, appropriately named Tom. Its owner, Stephanie Harshbarger of Edinburg, took him out of his pen and marched him around in the crowd.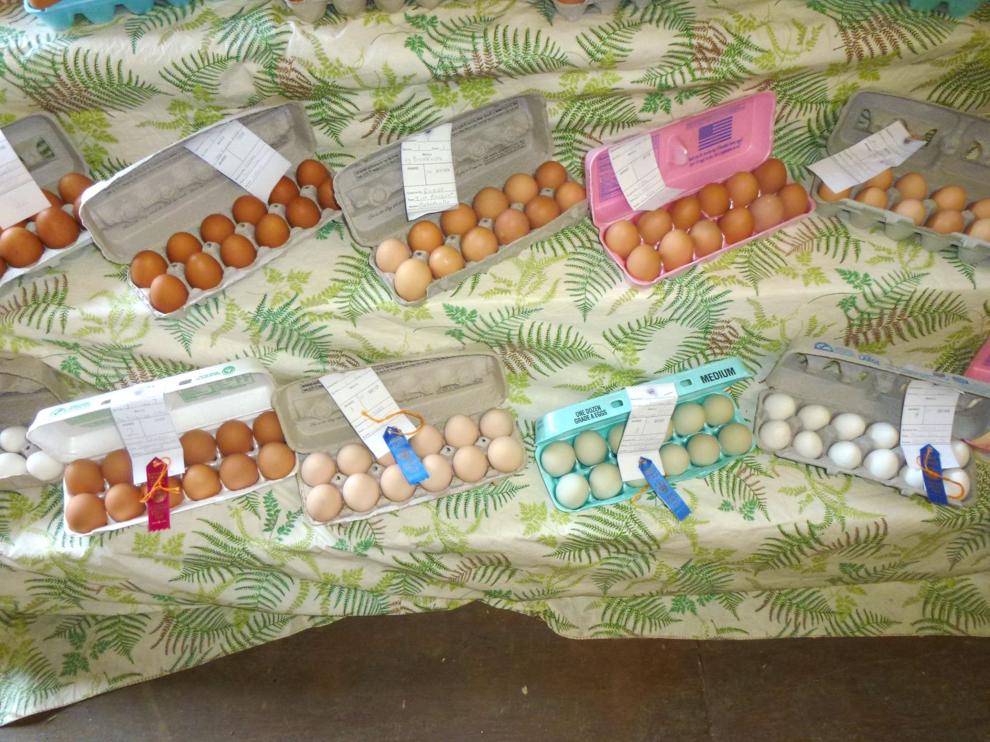 Rugaber graduated from Penn State University with a dairy-related degree, but he's been involved with raising chickens since he was 4 years old. He worked his entire career as a Penn State Cooperative Extension agent in Butler County.
"Because of my academic work, I was a poultry specialist twice for the university as a fill-in, so I was extension poultry specialist as a sideline," he said. "I've always had an interest in poultry, not the big commercial 10,000-bird situations. My specialty has been backyard small home flocks and exhibitions, which fit right in with what I was doing (at the fair).
"I particularly like what I did yesterday, because it was working with kids, and it's a very informal way to judge. I was very impressed with everything that went on. That was a nice bunch of kids, and at least half of them came up afterward and thanked me and were very courteous."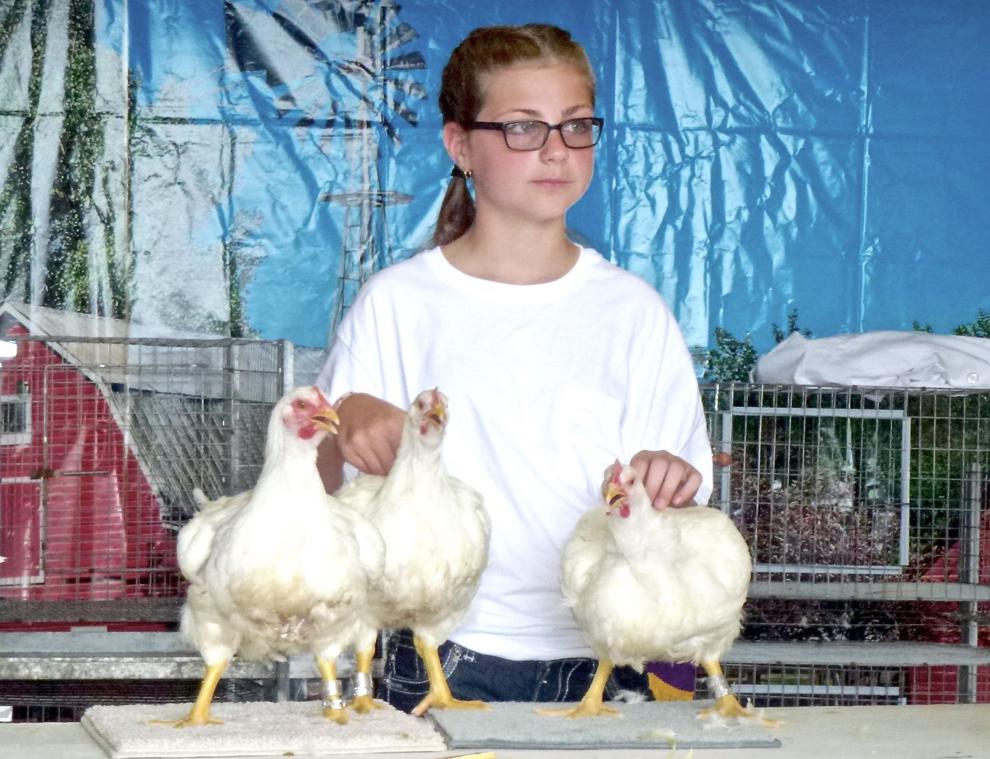 Rugaber, in offering instructions mixed in with his judging, tried to drive home to the youngsters that even though they might not win first place, they're not failures.
"We went by a very relaxed set of standards, mainly because they were new," he said. "It was the kids I was interested in, more than the chickens."
"I thought we were done then, but they wanted to put them all together and pick a champion of everything," Rugaber said. He chose the champion bantam male as the overall winner. The club members all were standing there with their chickens on a table. The overall grand champion nearly met the standard pictured and described in the American Poultry Association book of standards, he said.
A NEW 4-H CLUB
The 4-H poultry club was started a year ago by Terra Harshbarger and her husband of Edinburg. They raise chickens, and have three children in the club. "We're very lucky to be here," Terra said.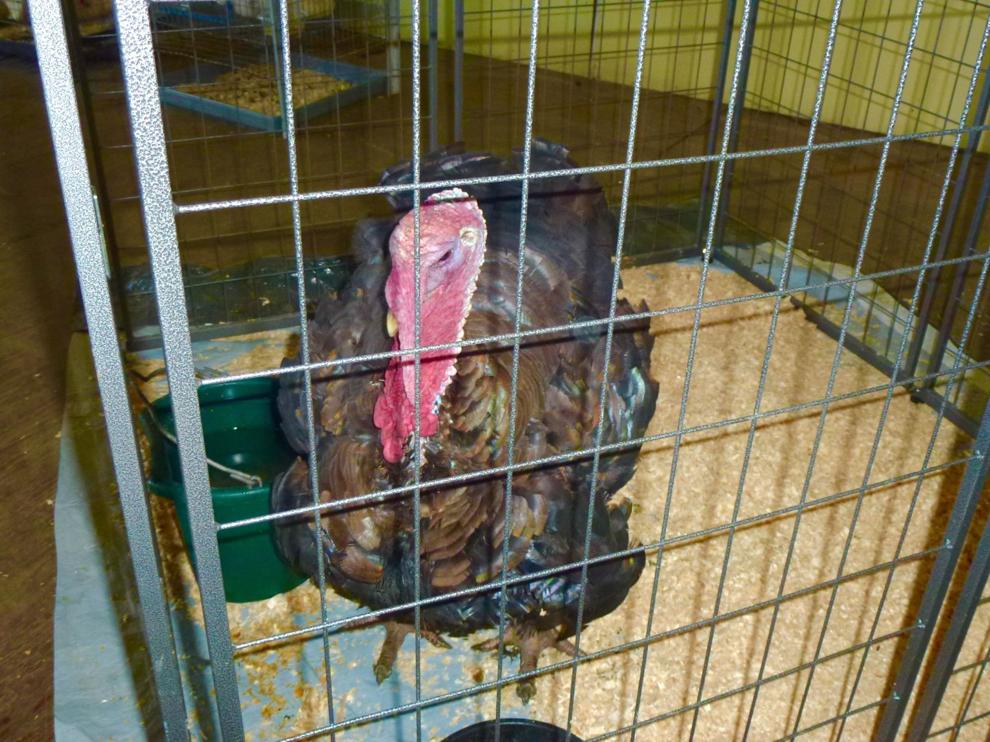 A daughter, Stephanie Harshbarger, said she joined because the club is "fun. I get to share my turkey, plus I enjoy helping the children here to raise them correctly. I think most of the kids are having fun showing off their chickens and taking care of them."
Her family buys around 400 chickens at a time and sells them to people who are looking for laying chickens. They keep about 100 of them, Stephanie said.
The exhibit of eggs of multiple colors were judged early in the week during the fair. Stephanie explained that the different colors of eggs come from different breeds of chickens. For instance, the reddish hens lay light brown eggs, and some breeds lay blue, green or pink eggs.
"The more colorful the egg, the more colorful the bird," she said.