The heyday of rail transport in the past century has waned, but a three-generation, family-owned railroad company in New Castle has been nurturing the rail system locally to handle a growing amount of freight for local industries.
New Castle Industrial Railroad and its rail car and line service, in business since 1992, has been a boon to industries on the South Side of town. On the horizon are more transportation possibilities for the plastics industry once construction of the Shell cracker plant in Monaca is completed.
The company uses 16 miles and owns 11 miles of train tracks as a transport route for various industrial materials being shipped to and from markets nationwide and in Canada.
The company, a Class 3 "Common Carrier," serves as an essential pipeline for local industries, connecting them with CSX, Norfolk Southern and Buffalo Pittsburgh railroads, according to information from its web page. The company offers the cost savings of rail and reduces the number of trucks on roads and highways.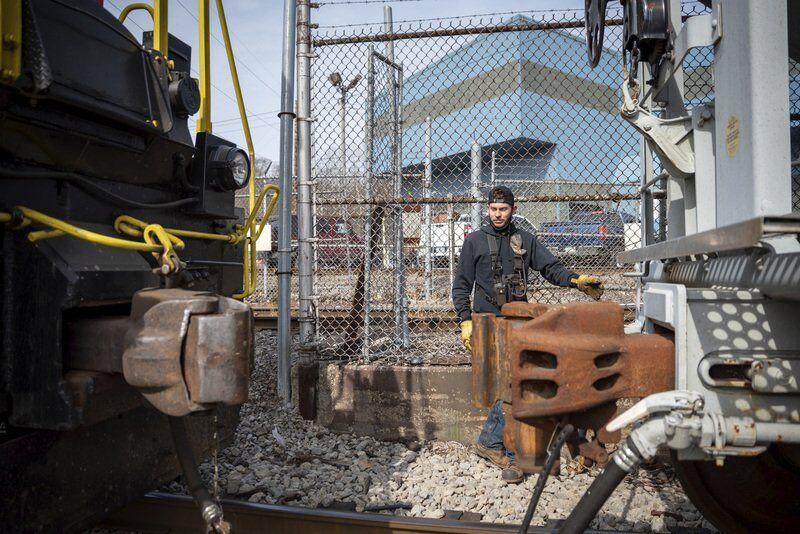 Its owners are Dale Berkley Sr. as founder and chairman of the board, his son Dale Jr. who is president, and his grandson, Deven, vice president, who has an eye on the company's future. Dale Jr. worked many years for CSX in Jacksonville, Florida, before returning to New Castle.
"He's a driver of some of the new thing's we're doing," Dale Sr. said.
Dale Sr. originally worked in operations for the Pittsburgh and Lake Erie Railroad for 25 years. When it was purchased by CSX, he opted to start a railroad company in New Castle.
Located on Moravia Street adjacent to Ellwood Quality Steel, their building houses three hand-painted locomotives, and keeps two of them active daily.
"Our plant is made up of five railroads of the days of yore," Dale Sr. explained.
They are the former Pennsylvania RR, which became Penn Central and then Conrail; the Erie Lackawanna Railroad which ran along West Washington Street to Sharon; the Pittsburgh & Lake Erie Railroad the B&O Railroad, which became the Chessie, then the big CSXT Railroad Corporation, and the Buffalo, Rochester and Pittsburgh, which ran from Cherry Street paralleling Industrial Street.
"Initially, we had investors from New Castle," Dale explained. "We bought an old Pennsylvania railroad line that was a right of way for Ellwood Quality Steel and included a bridge across the river, then we purchased a remaining line that became Conrail."
The company added numerous tracks and acquired the building.
"Our major reason for starting the business was to serve the Ellwood Quality Steel complex," Dale explained.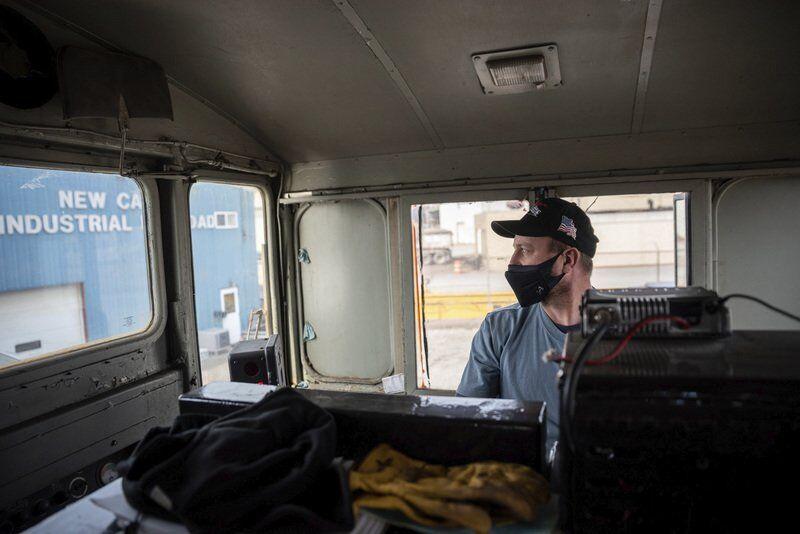 New Castle Industrial Railroad has since expanded to where investors who owned former P&LE Line from Cherry Street to Kasgro Rail yard off the West Pittsburg pad started doing business with the company. Its lines connect with railroad lines near Progressive Ballfield in Mahoningtown.
"We connect customers to major carriers in the United States," he said, namely, Norfolk Southern and CSX Transportation, the two major rail companies in the Eastern United States. A privately owned railroad, GNW Corp., runs from New Castle to Buffalo, New York, and the New Castle firm also connects with it to provide access to the Canadians routes, Dale said.
"The service that New Castle Industrial Railroad provides to our industrial corridor is important to the community," commented Linda Nitch, Lawrence County Economic Development Corp. executive director. She pointed out that the company also offloads salt for road maintenance and sand for gas drilling, and it supplies rail cars for recycling materials transport.
"We are very fortunate within our county to have New Castle Industrial Railroad as our carrier that can connect our businesses with Norfolk and CSX," Nitch said. "Because of that, our local businesses that rely upon rail can negotiate to get the best pricing for their rail transportation."
Other companies it serves include Ellwood Special Steel, Kasgro Rail, McClymonds Trucking and Ben Weitsman, a metal recycler, she said.
As its customer base grows, New Castle Industrial Railroad is continually upgrading its lines, Dale Sr. said. The company recently received rail freight assistance money to rehabilitate a line to CSX and install an adjacent track.
"Since Deven joined the firm, we've grown our business," Dale said, "and we're maintaining through this whole COVID situation."
Deven climbed on board full time in 2015. Since then, its customer base has become more diverse. The company's commodities were focused on scrap metal products from steel mills and line partners for inner-plant switching.
"We've seen growth in the plastics commodities, aggregates linked to the fracking sand business which has been a boon for us and plastics which have been huge," Deven pointed out.
The family-owned company does steady transporting business with such local companies as Adams Manufacturing, Silgan Closures, AMCO Polymers, Shell Corp. and Trademark, he said.
New Castle Industrial Railroad provides a location to unload cars for transloading, so companies can take advantage of cost-effectiveness of long distance shipping so rail cars can be unloaded directly into trucks.
"It's a cost-effective service for them to bring their products into New Castle to serve the greater Pittsburgh area," Deven said.
The company was the middleman two years ago when the Hickory Run Power Plant in North Beaver Township moved three units weighing 600,000 pounds to its new site. The units were delivered to the local short line via Norfolk and Southern. They were removed from the rail cars and placed on trucks that took them to the power plant construction site.
Deven said the new Shell plant in Beaver County will be another customer, which he foresees as "a big, big supplier of plastics.
"Because of the wet bases from drilling operations, many wells are capped, waiting for this to happen," he said. The Berkleys' company provides an unloading facility that Shell maintains and there is a fee for it leasing the track.
"(Shell) can take 100-ton cars and feed off of them, because at times their silos can't handle all the products that come in," Deven said.
Dale pointed out that New Castle Industrial Railroad in August signed an agreement with a rail car repair facility that inspects the cars coming in and repairs them under the umbrella of the American Association of Railroads.
"It's been a big shot in the arm for us," he said, noting that Bucyrus Rail Car Repair is a new customer, which bought the former Hill Railroad Car Shop in New Castle.
"They have been a partner with us to provide mechanical service, and they facilitate our AAR repairs," Dale said. "The partnership allows us to get more repairs done on equipment on our line for safer operating equipment, and it helps us accomplish more with our mechanical department. It's ben a growth driver for us this year."
New Castle Industrial Railroad has 11 full-time employees and it hires occasional part-timers for summer maintenance. Deven anticipates that staff growing.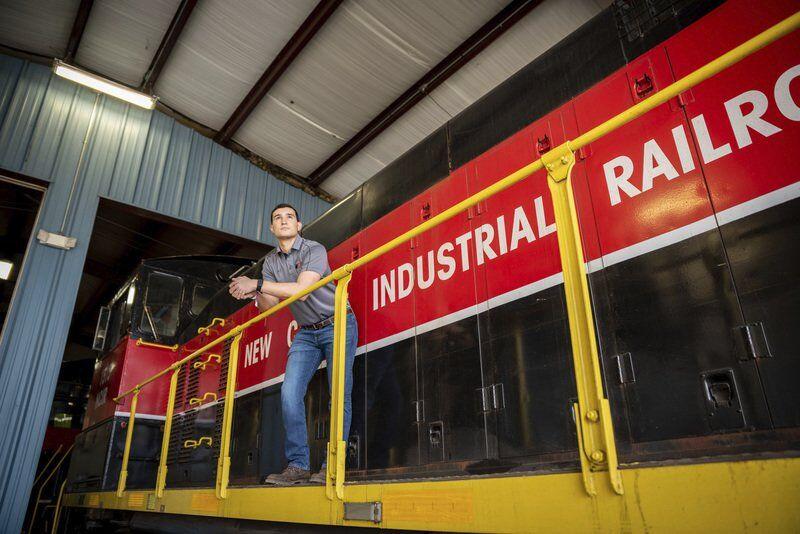 "Gauging the future has been difficult for everyone with the pandemic going on," he said. Before the pandemic started, the company was expecting growth in most sectors of its business, much of it being the plastics commodities with the shell cracker plant opening.
"We really expect that to be an incredible growth driver," Deven said, "not just for the railroad but for the whole whole region."
Deven pointed some unique advantages their company has. They own three carriers that they directly interchange to CSX, Norfolk Southern and the Buffalo railroad network. That gives customers shipping out of or into New Castle a strategic pricing advantage, because railroads have to compete for New Castle freight, and there are more shipping avenues for customers.
"They can reach any rail service site in the United States, Mexico or Canada, and that's a huge advantage for us," he said.
"Another thing we do is to be on the track and repair switches," Dale Sr. added. "The loads today that move can be 286,000 pounds. We've upgraded everything. We're looking toward the future in what we can do.
"What's unique is that we crafted a short line," Dale said. "We're a common carrier and part of the national rail system, and we are under the auspices of the Federal Railroad Administration."
"We self-certify our conductors and engineers in-house," he added.