It's not every day you get to train alongside future NFL players.
Unless, you're training at Grossetti Performance.
The Shenango Township facility, located in Lawrence Village Plaza, may seem like any normal workout place, nestled in by a Pizza Joe's, a Chinese restaurant and Dollar Tree.
However, Grossetti Performance has become a go-to destination for local athletes since it opened in 2014. Its reach goes well beyond Lawrence County, too. Every January, future NFL hopefuls flock to Grossetti Performance for an NFL Draft preparation program to ready themselves for the NFL combine or their respective pro days.
"It's definitely a unique area to offer NFL Draft prep. All my competitors are usually in big cities and a lot of them are in cities with warmer climates. That's the battle we fight every year," said Grossetti Performance founder Terry Grossetti. "In my training career, I've developed a lot of strong relationships with college football coaches as well as NFL scouts and a lot of agents. Indirectly, some of them started recommending their guys come and train with us in preparation for the NFL Draft."
Pro football prospects from all over the country make their way to the area to train under Grossetti, a 2002 Shenango High graduate, and his staff.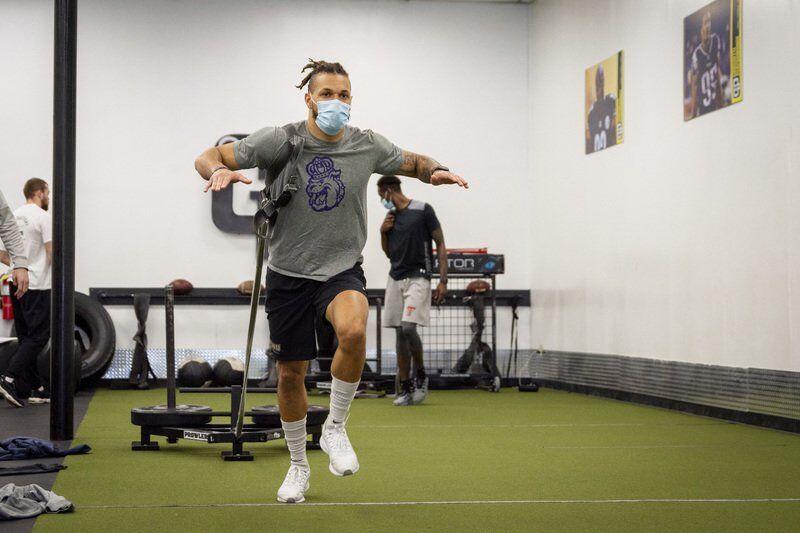 "The combination of having the right connections and providing a really good service has allowed us the opportunity to bring such a unique training experience to New Castle," Grossetti said. "This is our sixth year offering the program and, every year, it's grown quite a bit. We've had five guys invited to the NFL combine and six guys get drafted. Those are pretty good numbers, all things considered, for our location."
Indeed. This year's group of athletes in the program is a little smaller (nine athletes) than normal because of COVID-19, but still draws from a large geographical area. Athletes from San Jose State, Texas Tech and Florida, among others, are in this year's group.
"We don't really get a lot of local guys. We get some, but we really get guys from all over the country, which is pretty unique," Grossetti said. "They know we offer a really high-end training facility that makes financial sense. For a lot of our competitors, their price point is different. We really offer the same things as any other high-level program, but for a price people can afford and they don't have to break the bank."
Athletes arrive in the area in early January for the eight-week program. They stay at a hotel in Grove City and are shuttled to Grossetti Performance each day. Training is done with a holistic approach. Athletes are prepared to do their best in workouts for NFL scouts on the field, but they are trained for all various aspects of life as a professional athlete.
"They come in and go through a big medical evaluation. At that point, we build specific training programs for them specific to preparing for the NFL," Grossetti said. "When they are here, they work directly with a dietician. They train three or four times a day. We do a lot of stuff just to get the guys tougher. We hire former NFL players to do position work with them. We bring in mental coaches and do interview prep. I take them to MMA training, do boxing training – I try to get them around to different places in New Castle and get local businesses involved as much as I can. We'll take them to Pittsburgh to train and to do different things in their downtime. We'll get them involved in the community, too. We do things like read to kids at the Lockley School."
Grossetti, the Director of Performance and Player Development for Youngstown State's football team, leans on his large staff of three full-time trainers, two part-timers and eight interns with the NFL draft prep program.
"It's a pretty big team of people. To be able to do things correctly, we need people wearing a multitude of hats, but who are able to focus on certain things. I rely on my staff heavily. This year, more than ever, I've been spending less time at my facility doing anything. My priority is YSU football, so I get there whenever I can. The best part about my business is the people who work there. I always know things will get done the right way," Grossetti said. "We want to make sure the players' experiences are the best we can. We want to get their minds off everything so they don't have to worry about anything and just focus on training."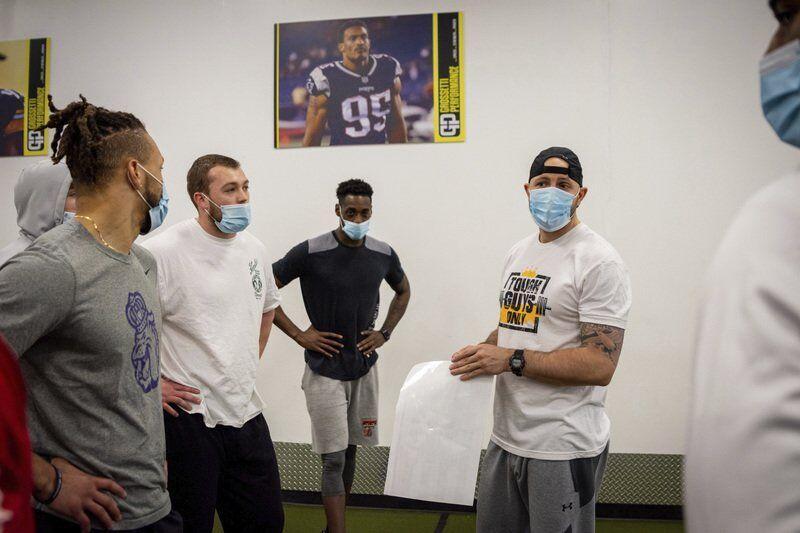 San Jose State product Bailey Gaither is sold on the program.
"I've liked it. Being out from California and not knowing many things out here, it's been good being in a different environment," he said. "I've been working hard and Terry makes sure we are putting in our daily deposits and getting better."
Did Gaither ever think he'd wind up in snowy New Castle training for the NFL?
Honestly, not really. I thought people just trained in Florida. Everything happens for a reason, though. Sometimes, you need a different environment and I've been adapting is well," he said. "When we are here, we are working hard. It's definitely been a good place for me to evaluate myself and soak in the process and coaching points from Terry and his staff."
So, why Grossetti Performance? The lure of training under Grossetti, who has built an extensive resume and contact list since graduating from Slippery Rock University in 2009 after a standout playing career, is huge. Grossetti has fielded calls from all 32 NFL teams about the athletes he trains.
"My agent is friends with Terry and he said good things about this place. A few guys have gotten drafted here and I figured it'd be best for me to go to a place where there are no distractions," Gaither said. "Terry has a good resume and a good reputation. Terry and Kyle Piper run the workouts and they're great."
Gaither, an all-Mountain West Conference first-team selection receiver who led San Jose State with 36 catches for 627 yards and two touchdowns in 2020, knows he made the right choice coming to Grossetti Performance to prepare for Spartans' pro day.
"It has been fun. I have seen improvement. The reason why it's fun is I am doing what I love. I have an opportunity to go to the next level," he said. "Kyle and Terry are not super strict. They allow us to be ourselves. Along with that, I do see improvement. I am getting bigger, stronger and faster. I am doing things you normally don't do, just little things. That's why I came here – to get better at the little things. We're working on mobility, draft prep and watching films, going over technique. We're not just working out physically. Sometimes, we'll have financial advisers come in and just talk to us with about what comes with being in the NFL. It's great."
It's not unusual for the NFL hopefuls to be training alongside and interacting with regulars at Grossetti Performance.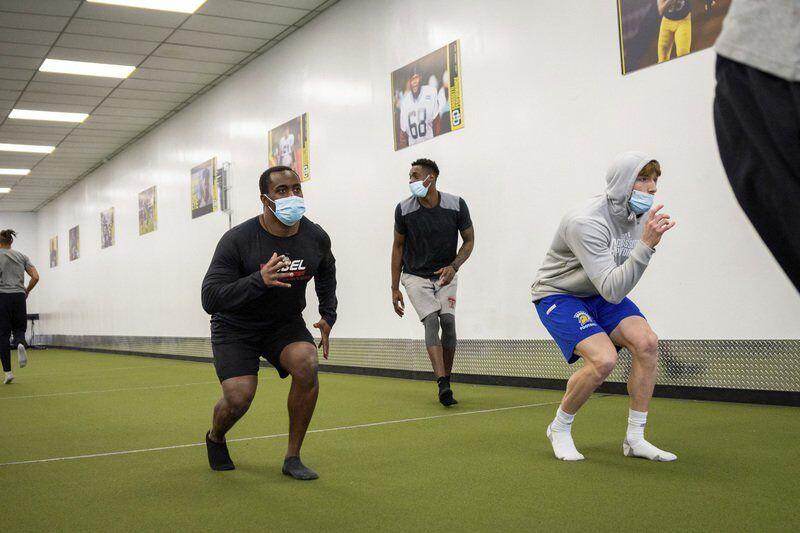 "That's the best part about us. Every day, you're in there with NFL Draft prep guys, little kids, women and men. It's unique that, every year, those guys get to interact with youngsters and people form the community. They get to know these people and then the people get to see them play on TV – they become fans of each other," Grossetti said. "The other day, I was teaching a little kid how to shake hands. As I was talking to him, one of our NFL Draft prep program guys, (Texas Tech's) T.J Vasher, came over and talked about how important it is to shake hands properly. I think being able to do something like that is not only great for the little kid, but for the guy trying to be a professional athlete. Interacting with different people in communities only helps with their career in and out of football."
Gaither enjoys the interaction and support.
"It's cool because we're working and we see these kids coming in here and working, too. It's cool everybody is in an environment where we're all getting better together," he said. "That's why it's important just to be a good person and lead by example. This comes with a lot of sacrifice. It's not easy doing it every day, but we have a lot of people looking up to you. It's bigger than us. We definitely have to lead by example and do the right thing."
New Castle's Joe Anderson is a regular at Grossetti Performance. His wife and three daughters join him often and enjoy the experience.
"All of us are out there in some capacity. It's really neat and cool to see how hard those guys work," he said. "The thing is, the staff out there treats everyone exactly like these NFL Draft prep guys. Kyle Piper and Terry give the same effort to elementary kids as NFL Draft prep guys. That's why it's so successful. If you were just somebody who walked into the gym and didn't know of an NFL Draft prep going on, you wouldn't know. Everyone in there is working hard and focused and helping each other out. These guys are humble, too, with the way they train and the way they work.
"As a father, you want your kids around good people who care about them. That's exactly what you get at Grossetti Performance," he continued. "All these places you go to across the country, sure, you're getting a good workout, but you're not getting the personal attention like you do here. Word gets around. The NFL agents know this and see this and start to steer people this way. It's really impressive. Guys are coming here because they feel it's their best opportunity to reach their dream and, here, you are just a family from the community doing the same thing they are. Terry and Kyle had a vision of this. I am proud of them seeing it come true."
Grossetti looks forward to the NFL Draft prep program continuing to get bigger and better.
"At the end of the day, we've always received phenomenal feedback. We have more of an old school-type of feel to us, and not just with the facility, but where we're located. We're just some nice guys who offer strength and conditioning," he said. "It's a great feeling to be part of it. One of the best feelings is I get to do it literally two minutes from where I grew up. When I started my business, people were hesitant and didn't think some of the things we wanted to do were possible. But, we've had a lot of support in the community."