There's something to be said for being the biggest fish in a small pond.
They started with new.
Now, they're advancing to more.
At least four individuals or agencies established ventures in or near New Castle's central business district prior to 2021. This year, each is adding something to the mix.
They include Alexander Papa, whose Papa Gelateria now offers an Italian Coffee Bar; Tim Fulkerson, who is adding apartments to the upper floors of the former hotel he opened as an event center in 2019; Michael DiSilvio, who brought his family restaurant into the former Eat 'N Park building and last month re-created the eatery's salad bar; and DON Services, which purchased the vacant Central Building in 2019 and opened a drug rehab center in January.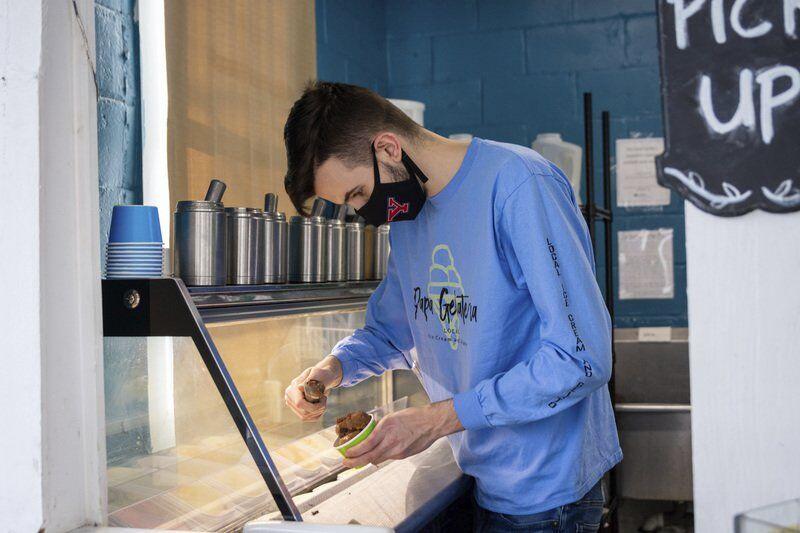 PAPA GELATERIA
Papa, 19, is looking to become a lawyer, just like his father, Chris, and grandfather, Angelo, before him. Also like his dad, the Youngstown State student, opened in 2019 a shop at the rear of his grandfather's building at 318 Highland Ave.
Don't let the address fool you, though; the entrance is actually from the top of the East Street hill. And don't spend any time scratching your head, asking yourself "What is a gelateria?"
Answer: It's a place that serves gelato, where Papa offers 10 flavors of what he describes as "Italian ice cream."
"The gelato has a really, really strong flavor and it's really thick," he said. "I tell people it's kind of like the cheesecake of ice cream. You can really taste the difference. Before I opened this place, we'd get ice cream to take home. Now when we do that, I'm like 'Oh, it tastes like milk.'
"My family are like my biggest customers because it's like, 'I don't want ice cream any more.' "
In January, Papa added another touch of the old country by launching his coffee bar.
"We have family still in Italy, we've visited them a couple of times now," he said. "I went and I had my first Italian espresso over there, and when I first had it — I was 16 or 17 at the time — I was like, 'Oh, my God, this is like drinking gasoline.'
"But as you're walking around over there and everything, it really just grew on me."
Still, it wasn't just family ties that played into the coffee bar. It was also COVID-19.
"In Italy, they have cafes where you can get a quick espresso or a quick latte or something," he said from a small, eat-in area that has been reduced even more in capacity by social distancing. "You walk in, you can sit down or, in Italy, because it's like a walk-in culture where everybody's walking around, you stand, you get your espresso,
"You drink it in like two or three sips and then you're out, you're walking away. I figured this would be the perfect time to introduce something like that because no one wants to linger anywhere right now. "
Papa started with a basic menu of hot coffee, lattes and expressos, as well as Americanos mochas, hot chocolate, teas. On the chillier side, there are iced lattes, coffee and mocha.
The latter come with a twist.
"We have coffee ice cubes," he said. "If you get iced coffee at Dunkin or wherever, it's going to be watered down. First of all, they're going to pump it full of water to begin with, which we don't do, and it's going to be watered down because they're using a ton of just plain ice.
"So as soon as you let it sit for five or ten minutes, and the ice melts, it's watered down more. But when the coffee ice cubes actually melt, it gets stronger; it adds more flavor."
Bags of coffee also are available, and their may be even more choices down the road.
"I'm full of ideas," Papa said, noting that in conjunction with the coffee bar, he already offers pastries from La Mangia on the South Side and even baklava from Bakluva in New Wilmington.
He's hoping to add panini soon, as well as olive oil and balsamics direct from Italy.
Oh, and there's also the view of downtown New Castle, which can be seen from the dining area or, in the summertime, from a spacious deck.
"You can't buy that kind of view anywhere," he said.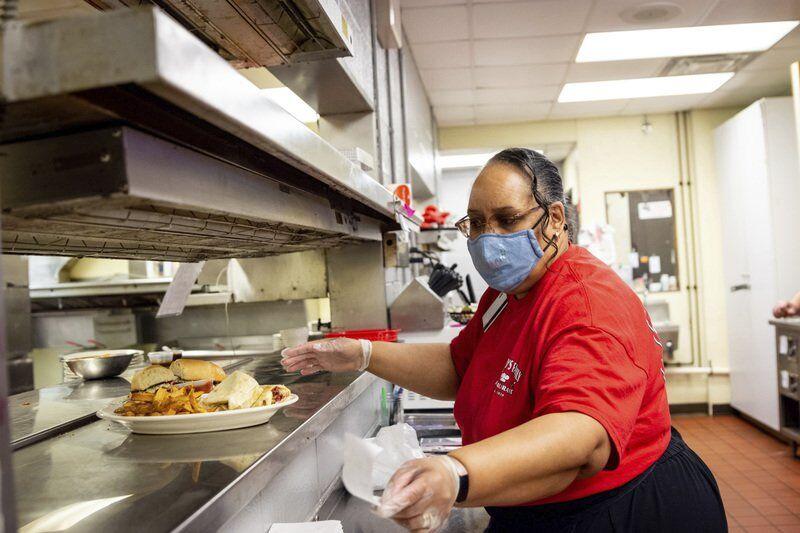 DiSILVIO'S FAMILY RESTAURANT
Plenty of local residents were disappointed when Eat 'N Park, a downtown fixture since 1973, closed its doors in February 2019.
That included Michael DiSilvio, who had been the eatery's general manager. Ultimately, though, he did something about it.
In October, the Hermitage resident moved into the space vacated by the Pittsburgh-based chain known for its Smiley Cookies and opened a second location for DiSilvio's Family Restaurant (the original is in Hubbard, Ohio).
"When we (Eat 'N Park) closed, it kind of left a sour taste in my mouth because we were leaving the town," DiSilvio said. "I thought it was a good area for a restaurant of this quality.
"I really wanted to get back in, so I just kept an eye on the building and when the time was right, I acted … although last October (when the COVID-19 pandemic began to find renewed strength) may not have been the best time to open a restaurant. But I saw it as an opportunity, more than a downfall."
DiSilvio has kept a full menu available since its opening, unlike some other restaurants that cut back in their choices as a concession to the pandemic.
"Our menu is five pages, and I don't plan on cutting anything; maybe even adding a few things here and there," he said, "When you go out to eat, you want choices. You don't want to be limited."
One of those additions is a salad bar, a feature that brought many to Eat 'N Park but which had been absent during DiSilvio's first few months.
"I had wanted to open the salad bar when we opened, but that just didn't happen," he said, adding that since its Feb. 9 reincarnation, the salad bar has been well received.
"I'd say about half of our customers are buying the salad bar, either by itself or with their lunch or dinner," he said. "I was worried that people might be hesitant, but we have all the precautions -- a sneeze guard, gloves, you have to wear a mask and we're constantly changing utensils."
DiSilvio said this restaurant's hamburgers — 17 in all — seem to be the most popular, although the homemade roast beef and meat loves also do well. He offers daily specials, including stuffed peppers, which generally sell out by 6 p.m. on each Tuesday that they are offered.
"Fridays are our fish," he added, "and I think we've gotten a pretty good name in the past couple of months for our fish."
Senior citizen discounts are offered on Mondays and Tuesday, and veterans and active-duty military get a 10 percent discount at all times.
Also last month, DiSilvio's began offering lottery sales.
"I think it's going in the right direction," DiSilvio said. "Our staff is stable. Business can only go upward. I'm very optimistic that it will this year."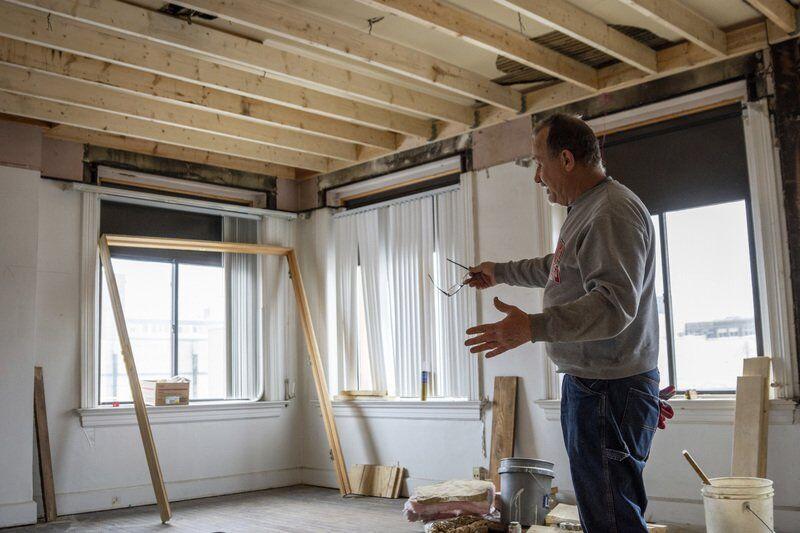 THE HENRY
When Tim Fulkerson sets his mind to something, there aren't many things that can slow him down.
A global pandemic, though, is one of them.
Fulkerson bought a former hotel that more recently had been home to professional and business offices — including Zambelli Internationale until 2018 — and opened it as an event center in September 2019 under its original name: The Henry.
At first, he said, business was brisk, with plenty of holiday parties, a Valentine's Day celebration and bookings for 2020 graduations and smaller weddings.
"Then everything went south," he said. "Everything was going good, and then boom, we hit the virus. We ended up doing only a limited amount of graduations, then we were basically shut down for the fall.
"We started to book some Christmas parties, and all of a sudden, we get shut down again."
Nonetheless, Fulkerson is pushing ahead with his plan to add apartments to the third and fourth floors of the structure. He's aiming for six one-bedroom units on the former, and either two penthouse suites or three apartments on the latter. He's already had inquiries and begun a waiting list.
Each unit will have a private bath with walk-in shower, its own gas furnace and air conditioning and tenants will share a laundry room on the third floor. Everything will be situated in a secure building, Fulkerson said, with a fob required to take the elevator to the upper two levels.
"There will be a lot of exposed brick," he said. "The bedrooms will be drywall, but the majority of the ceilings will be metal ceilings, and the duct work will be exposed to give it an industrial look."
The project, though, is not without its hurdles
"I've got a pile of lead," Fulkerson said. "Removing some of the old doctor's offices you run into the x-ray rooms. There was a dentist office where they had drywall, then they had lead.
"I didn't realize all that. You're opening a Pandora's box."
Fulkerson also found that most of the drainage lines were cast iron, and "it was shot." Thus, he's replacing all the water and sanitation lines, and upgrading the electrical systems.
Still, the pandemic has provided the biggest challenge, forcing cancellation of bookings Fulkerson had counted on to fund the creation of the apartments. He's already taken out one loan, and he and his wife have been dipping into their savings in the hope that spring will bring back the graduation and wedding bookings.
He said he applied for CARES funds, but received none.
Fulkerson, who battled COVID himself in December, hopes that vaccine distribution will increase, opening the door to more events he can host.
"We'll have the apartments done by the end of the year if things break the way we hope," he said. "Right now, it's awful hard."
THE CENTRAL BUILDING
A half-block south of The Henry, another building that appeared destined for darkness when a longtime major tenant departed is seeing renewed life, thanks to DON Services.
DON purchased the essentially vacant structure in January 2019, 10 months after the Pennsylvania Department of Health's Vital Records office — which had been in the building since 1974 — relocated to Neshannock Township.
DON placed an office for its insurance division in the building not long after the purchase, and in January, opened DON Recovery Services there. DON Reclaim, a construction material reuse and workforce development program, also is in the building, as is Pennsylvania CareerLink, which moved into the facility last August, and the Lawrence County Learning Center.
"DON purchased the Central Building in 2019 to avoid another building going dark in the city," Court Hower, executive vice president of community resources and development, said of the building that once housed Disability Options Network. "When the building was purchased, it was pretty much vacant at that point, with no plans of any other business or organization interested in developing it.
"We saw opportunity there," he said.
Since that time, DON has set itself a goal of remaking each of the building's five stories in order to attract more tenants such as CareerLink. In addition to renovating offices and the lobby, DON has put a new roof on the building, put in security cameras and installed a system that requires tenants, employees or visitors to be buzzed in or to have a fob in order to enter the building, which also being made handicapped-accessible.
"A lot of the spaces were dated," Hower said. "We've been going through and updating the building. Multiple tenants are in there now. We've had a lot of interest.
"The first floor is 100 percent occupied. The second and third floors, we've just begun going floor by floor and renovating. Some of the other businesses we're expecting I can't really disclose, but they range anywhere from marketing to insurance to a construction company."
One thing that is expected to stay is a 1970s, third-floor mural depicting a Civil War scene.
"Some of the soldiers on the panel are actually some of the tenants from that time, including Judge (Dominick) Motto," said Philip W. Berezniak, attorney for DON. "His picture is on the thing"
The mural, Hower said, was painted by Michael Kraus, who is now the curator at Soldiers & Sailors Memorial Hall and Museum in Pittsburgh. Kraus was an Edinboro University student at the time who was doing a project for one of his classes, according to Hower.
"We reached out to him about preserving it," Hower said. "Really, it was the recommendation of Kim Koller-Jones (executive director of Arts & Education at The Hoyt) because she was interested in helping us preserve it."
Kraus, However said, came up to take a look at his old piece, and Hower expects restoration on it to begin next year.
"What's kind of neat," Hower pointed out, "is that Michael Kraus is the curator of a museum, which his everyday work is to preserve anything from art to history. Now, he says he's kind of in the reverse role, with someone working to preserve a piece of his art."
SERVAXNET
After standing vacant for 16 years, the former Penn Power building on Kennedy Square appeared to get new life when it was purchased in 2019 by ServaxNet LLC of El Paso.
At the time, the company said it planned to create a data center that would "increase the scale and speed of their managed services through a broader network of geographic locations." Renovations of the center, which would complement existing ServaxNet data centers in Dallas and Las Vegas, began in October 2019, and the center was expected to open in 2020.
That, though, was prior to the arrival of the COVID-19 pandemic, and although work could be seen in progress last year, the center has yet to open. Attempts to reach Chief Operating Officer Dan Romanowski for an update were unsuccessful.
Last spring, a company spokesperson told The News that the data center would take up approximately 17,000 of the building's 42,000 square feet. Other plans for the three-floor structure, the spokesperson said, included rented office space and a coffee shop or WiFi lounge in the ground-floor lobby.