The end of an era arrived Sunday in New Castle, and with it came warm memories of years past, as well as a brave promise of new times ahead.
Wesley United Methodist Church closed out 130 years of outreach to the city's West Side with a disbanding and deconsecration service. The congregation has worshipped at 1204 W. Washington St. since 1954, and before that, in a facility just across the street.
However, rising costs and declining attendance have taken their toll, and the congregation voted in April to close its doors.
Memberships will be transferred to First United Methodist Church in Neshannock Township.
During yesterday's service, both longtime members and former pastors shared recollections from their time at Wesley Methodist.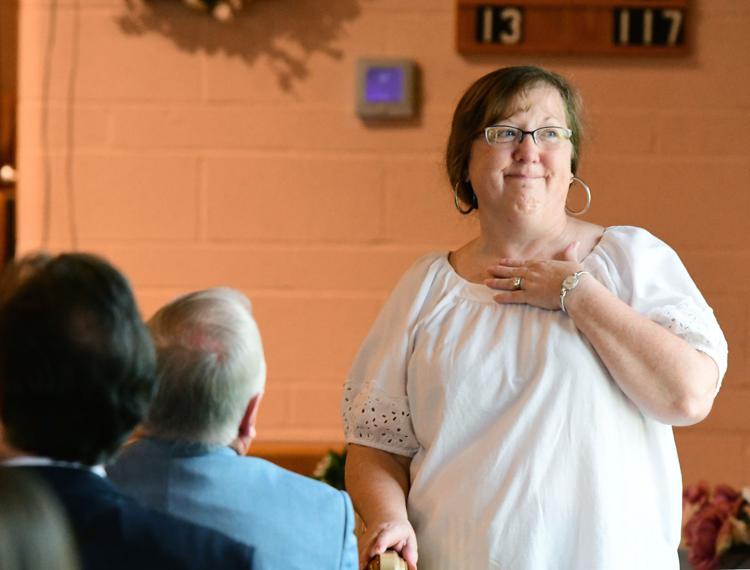 Lynn Hohn recalled her family buying a home just a few blocks away from the church in 1963, which enabled them to walk to Sunday services and other gatherings there.
One of those other times was Wednesday afternoons, when the church offered a program for grade-school children.
"We would eat a delicious supper, and then we would make crafts," she said, recalling two particular items she made as a youngster.
"There was a time I came home from school on Wednesday, and my mom was opening two cans of tuna fish and was washing out the cans. My sister, Patty, and I needed them for youth group that night. We used the tuna cans for a flower pot. We put a handful of Play-Doh in the bottom of the can, then stuck a green pipe cleaner in the Play-Doh. We made the flowers and leaves out of construction paper and stuck it on the pipe cleaner — and there you have it, folks: a potted plant."
Another time, Hohn recalled, two empty bottles of pancake syrup were painted and filled with sand to create a door stop.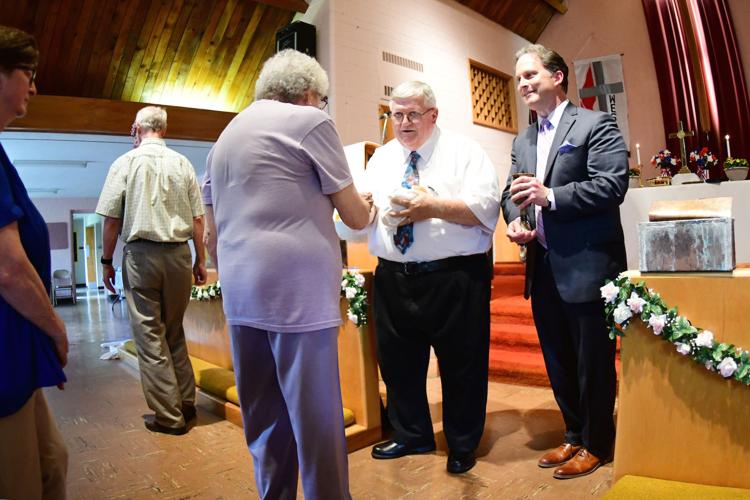 Hohn's sister, Patty Marmo, remembered how a former Sunday school teacher described the arched ceiling of the church sanctuary as the bottom of a boat — "a boat that Jesus taught from, that he was in when he calmed the sea, and what he was walking toward when he was walking on water."
"As a young person, we don't usually appreciate or even realize the beauty of our surroundings, and what we have until it's gone," she went on. "Along with the lessons that I've learned here, I will remember the beauty of the sanctuary that combines modern architecture with an Old World cathedral style. I will remember the enormous cross at the front of the sanctuary that represents Jesus' death and resurrection for my soul."
Among the former Wesley Methodist pastors who spoke was the Rev. Barbara Moore, who recounted how she was supposed to serve as a six-month interim pastor at the church and ended up staying for 11 1/2 years.
"It was fun," she said. "I still keep in touch with several people. Wesley has been a great memory and a great influence on further pastorates after Wesley … Thank you for helping me grow as who I am and I hope I helped you grow as Christians and disciples of Jesus Christ."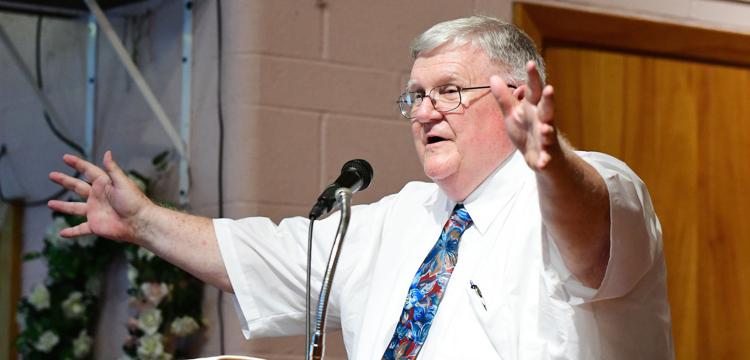 Former Pastor Tom Scott, who spent two years at Wesley even as the church's decline had begun, offered praise to the membership for his experience with them as well.
"During that time, the preschool finally ran out of steam and ended up closing," he said, but added that another church in the district requested Wesley's bylaws for a preschool it planned to start. "So your preschool legacy has lived on.
"You were on the wane while I was here, but you still had a heart and you were still faithful … It was a privilege to serve here. I believe God has really used this church in New Castle … This may be the end of this congregation, but it's certainly not the end of a legacy."
The Rev. Howard Greenfield, another former pastor, echoed that thought.
"There is a true unity and oneness when you serve Jesus Christ," he said. "And though buildings change immensely and some do close, it doesn't mean that the living Christ isn't among his people, in that you can serve him anywhere."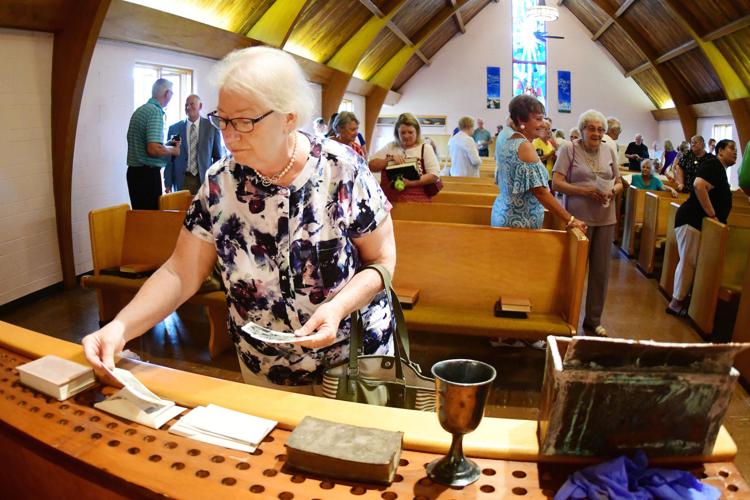 Finally, before leading the congregation in the orders for disbanding and for leave-taking of the church building, the Rev. Eric Park — superintendent of the United Methodist Church's Butler District — acknowledged the sadness of closing a church. But he also offered a hope for the future.
"If death could not hold Jesus Christ," he said, "then you better believe that Jesus will not allow any portion of his church to remain dead. I hope the Holy Spirit is quickening your imagination to think about how new ministry is going to be taking shape in the days ahead. Even as the doors of Wesley Church close, the doors of ongoing ministry will carry on."