Candlelight vigil spreads hope, healing
Ashley Altemus said she was touched by the number of people who turned out to help the families and community heal from recent tragedies with a candlelight vigil and community gathering Wednesday night.
Altemus is the mother of Darren Jevcak, 17, who was brutally shot to death on July 19 outside of a pizza shop on Highland Avenue.
He is one of four youths and five members of the younger generation who lost their lives at the hand of violence in Lawrence County within the past couple of months. They ranged in age from 8 to 23.
Wednesday night's outdoor assembly at the Riverwalk downtown was called to help the victims' families and the community mend and to move forward from isolated acts of violence that have rocked New Castle and its surrounding areas.
"It's great to see the community come together like this," Altemus said. "I hope it makes a difference. I think it's going to take an ongoing effort. It takes a village."
More than 200 people attending the program were given candles to light. The families of each of the slain children and youths each were given a commemorative lantern to light and release into the sky.
There were people of various races and religions, government and school officials, police, firefighters, teachers, ministers and family members of the victims who gathered in the downtown Riverwalk rock park along the Neshannock Creek to listen to music and stories and hold hands in prayer and encouragement.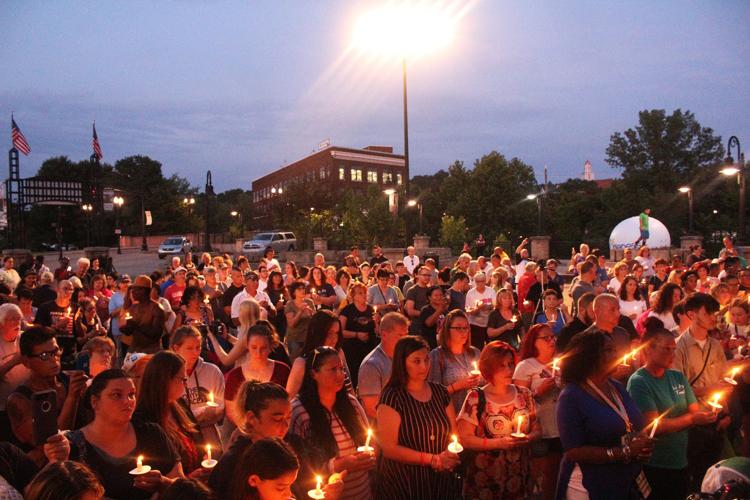 "I think it's wonderful what they're doing," Dale Perelman, a local businessman, commented.
"It's a sad thing," he said, "I'm pleased to see the district attorney and the police chief bring the community together in bad times and in good."
Keith Burley Sr., a local minister and the father of the suspect who stabbed and killed 8-year-old Mark Mason, stood on the stage with Mark Mason Sr., vowing to stand by him and support him through the loss of his son.
"It's a horrific crime," he said. "There always will be a scar, but we want to heal together." 
The Rev. Randy Crum cited the Bible passage of 2 Chronicles 7:14, that says, "If my people, which are called by my name, shall humble themselves, and pray, and seek my face, and turn from their wicked ways; then will I hear from heaven, and will forgive their sin, and will heal their land."
District Attorney Joshua Lamancusa shared a story about an old Cherokee Indian who was teaching his grandson about life. The Indian told him, there was a fight going on inside him between two worlds. One is evil, made of anger and sorrow, self-pity, guilt and hopelessness. The other is made of love, joy, forgiveness, empathy and truth.
The Indian told the boy that the same fight is going on inside him, too, "and it's going on inside all of us."
The boy asked, which will win? "The old Cherokee replied, 'the one that you feed,'" Lamancusa said.
"Everyone has been affected to some degree by the senseless tragedies our city has endured," New Castle police Chief Bobby Salem said.  "As police officers, these tragedies, like all losses of life, weigh on our hearts." 
Since 2010, the city has seen 34 homicides, "that's 34 senseless, unacceptable losses of life that should never have happened," Salem said.
Of those, 32 have been solved, he said, noting that is a 94 percent rate, one of the highest in the country.
"I'm proud of our community, because most of those cases were solved by members of our community calling us and giving us information. In other communities, that doesn't happen," Salem said. "Nothing will match the resource of an officer knowing that the neighborhoods in which we work support us.
"Sadly, there will always be evil in this world, but we can all do better to minimize the occurrences of events," he said. "As a community, we need to rid ourselves of this stupid stop-snitching campaign, which only permits people from being locked up.
"I truly believe and promise the families sitting here today that we will do what we possibly can to try to make sure no other families will go through what you're going through here today."
"I've heard the word 'evil' thrown around a lot lately," The Rev. Chuck Jewell said. He intends to start a program of hope, hosting prayer services every three months in the community. The first will be in September at Riverwalk.
Other speakers at the event offering inspiration and encouragement included New Castle Mayor Anthony Mastrangelo; mayoral candidates and organizers of the event, Mark Elisco and Chris Frye; New Castle school district Superintendent Debbie DeBlasio and principal Ralph Blundo; local ministers; and bereaved family members of the deceased.
Local singer and guitarist Doug McIltrot led the program with songs of healing, opening with an appropriate song, "Get Together," recorded by the Youngbloods.