The "Magnificent Seven" graduated last night to the applause of friends and family who saw them through their year-long program.
Don Kemerer, executive director of Cray Youth and Family Services, called the night at The Confluence "an exciting evening, but a bittersweet one too. We're happy that you have completed the program, are graduating and moving on with your life and to new jobs, but we'll miss you," he said.
Al Boland, vice president of operations at UPMC Jameson and UPMC Horizon, said class members Paul Beck, Susan Bond, Andrew Martin, Mark Seamans, Jaxon Sevier, Laura Stark and Nicholas Tanner taught the Jameson staff as much as they learned over the past year.
"We're proud of you," he told the graduates. "You taught us about trusting each other, about hard work, humility and being kind."
These, he added, are "key behaviors that all employees are being re-coached to do" as UPMC embraces changes in health care to give patients the best experience.
The seven graduates were part of Project SEARCH at UPMC Jameson. Now in its second year, Project SEARCH is open to students age 18 to 21 who are intellectually challenged or have autism. The program serves Lawrence, Beaver and Butler counties.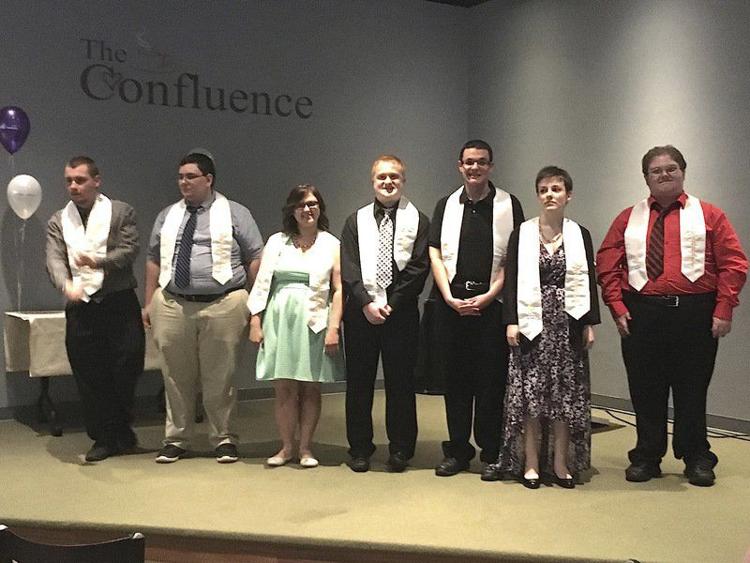 The students rotate through various departments where they learn skills to equip them to find jobs in the community at competitive wages, not at sheltered workshops, said program instructor Colleen Byler.
"They participate in 10 to 11 internships within the hospital including the emergency room, central sterile services, nutritional services and the Hostess Shop, telecommunications, patient transportation, central services which restocks nursing stations, the emergency room and delivers mail, patient relations, engineering and environmental services."
Byler said some additional internships will be added when a new class comes in the fall.
"They also learn life skills like riding public transportation," she added.
"There were rough days but today is one of the best," she said. "The program is so worth it. This is a special day."
She added that the students and employees became so close that many departments held parties when the rotation was completed. Students could be seen "high-fiving" hospital staff in the halls, "And in these last two weeks there has been some tearing up," she said.
Byler said four of the seven graduates received jobs. Seamans was hired at the  hospital, Martin will work at the Shenango Dairy Queen, Tanner was hired at Augustine's Pizza and Beck will work at Goodwill in Shenango Township.
Eight new students will join the program in the fall, including a deaf student and one in a wheelchair. Byler and Lisa Lombardo, senior manager of public relations, internal communications and media relations, said their hopes for the new students remain high.
They said a reunion is being planned for the fall for the alumni and to welcome new students and their families
"The program is great," said Byler. "but without the UPMC Jameson staff,, I don't think that it would be as successful."