A group of more than 20 Slippery Rock Township residents called on their supervisors to draft a letter on their behalf to the Department of Environmental Protection, requesting a denial of the variances outlined in Allegheny Mineral Corporation's limestone mining application.
"If we asked they (Department of Environmental Protection) deny all variances, that the community is concerned, and that's coming from the township supervisors, I think that would hold a lot of weight," said Lynn Merlino, a township resident and member of the local environmental group Friends of McConnells Mill Inc.
An application for a 252-acre limestone surface mine was submitted by Allegheny Mineral Corporation in March. A public meeting was held July 30 at Moraine State Park where residents had the opportunity to ask questions about the potential mining project and to voice concerns about the value of their homes and the impact on their health.
"This really effects people's lives," Merlino said. "We will have people sitting between two crushers breathing in that dust, people with children."
The three variances listed on Allegheny Mineral's application are:
•Six stream encroachments on the unnamed tributaries, which flow into Slippery Rock Creek.
•Direct impact on emergent wetland, scrub-shrub wetlands and forested wetlands.
•A mitigation development plan to include scrub-shrub wetlands and forested wetlands.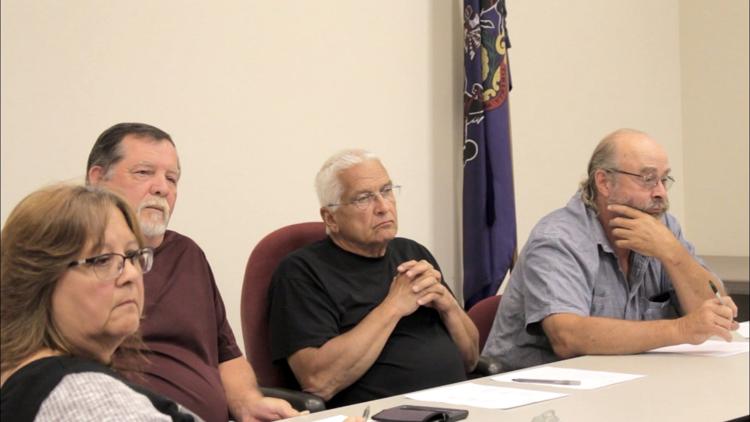 Supervisor chairman Jack Armagost said the township must ask its solicitor about whether they can write such a letter to the department.
Some residents claimed they were told mining would not be occurring in the area for another 10 to 20 years.
Tanni Mitchell, a township resident, referenced a conversation she said she had "off-record" with secretary Laurie Morrison when Morrison said "to (not) bother going up against the mining company because they'll just bankrupt you in attorney fees ..." and that mining in areas around Mitchell's home were many years away from occurring.
Morrison denied she said this.
Other residents claimed to have been told similar timelines. Shelby Hites said she thought mining would occur when her children were close to graduating high school.
"We're going to be within 250 feet of where they want to mine," Hites said. "We can't even sell out house. We couldn't even move if we wanted to."
Some residents also took aim at Supervisor Keith Hunt, who they said sold land in that area to the mining company years ago.
"I have a couple issues with people who benefitted monetarily who work for the township," Mitchell. said "We're paying you guys to run our township and then, in turn, the mining company is going to come and take even more from us by depreciating our property value."
The mining company received an elevated review in late July, which means the department requested the correction of outstanding discrepancies in the application. Allegheny Mineral had until Monday to send in its corrections.
Residents have until tomorrow to submit written responses to the Department of Environmental Protection in Knox with their concerns or objections to the project. Residents should include their name, address and a brief explanation of their objections to the application.
Allegheny Mineral Corporation was incorporated in 1953, and has mines in communities like Murrinsville and Harrisville.
Friends of McConnells Mill State Park is a 501 (c) (3) nonprofit formed in 1999 that aims to protect the park form influences that may negatively effect it.
McConnells Mill State Park is 2,346 acres, which includes a gristmill, covered bridge and waterfalls.
"We're going to get the runaround from everyone, and I think people are just kind of sick of the fact that there seems to be nobody sticking up for us," Mitchell said. "The DEP isn't sticking up for us. The mining company's not sticking up for us, and it seems like maybe the township is lacking a little bit in sticking up for us too."