A widespread opioid addiction that continues in Lawrence County largely evolved from the illegal pill prescriptions generated by a group of pain management doctors who were arrested six to 10 years ago.
Those addictions have widely caused users to turn to heroin when pills became more controlled, according to District Attorney Joshua Lamancusa.
A recent Washington Post investigative report showing the number of prescription opioids dispensed during a six-year-period into Lawrence County coincides with the activity of several pain doctors here in the early 2000s, according to Lamancusa.
The report, which spans 2006 through 2012, shows that 32,474,100 prescription pain pills — enough for 50 pills per person per year — were supplied to Lawrence County. Of those, 6,255,530 were distributed by Cardinal Health and 12,500,700 were manufactured by SpecGx LLC.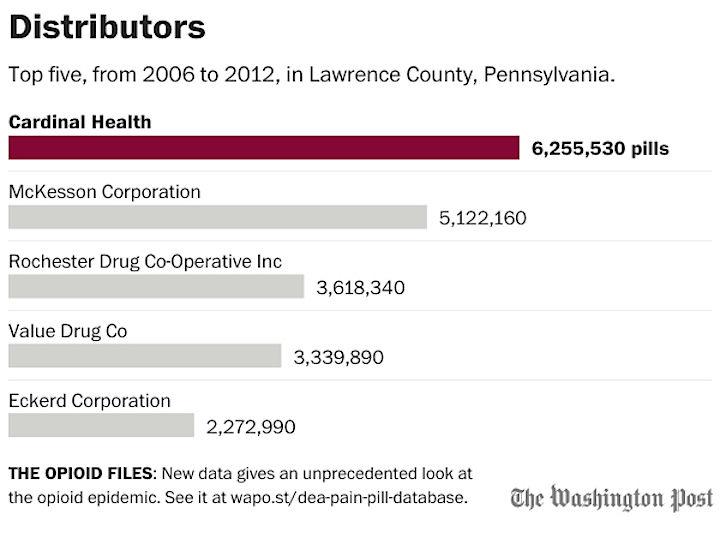 McKesson Corporation, which has a distribution center in Slippery Rock Township, Lawrence County, was the second highest distributor here, doling out 5,122,160 in that time period.
The Hometown Pharmacy in New Castle received the highest number of pills, more than 7.6 million.
About 3.1 million went to CVS Pharmacies in New Castle, 2.3 million pills were filled by prescription at the Medicine Shoppe, 2,073,900 by the Walmart Pharmacy in Union Township and 1.6 million by one of two Giant Eagle pharmacies in the county.
Lamacusa attributes a lot of the county's existing addiction problem to the illegal prescriptions written by Dr. Van Edward Scott, a New Wilmington pain doctor who is serving a state prison sentence of 9 1/2 to 19 years. He was arrested April 8, 2010, and convicted in 2013.
Scott was considered the second-highest writer of highly addictive prescription medication in Pennsylvania in 2009 and 2010. According to court records, he issued more than 2.19 million illegal prescriptions for highly addictive drugs such as oxycodone and methadone.
"He was by far the largest pain pill distributor in Lawrence County," Lamancusa said.
Around that time, narcotics agents and investigators also arrested Dr. Thomas Ranieri of Neshannock Township, who prescribed quantities of oxycodone, fentanyl and Opana ER, all controlled substances, "outside of the usual course of professional practice," according to information from the U.S. Attorney's office. He was arrested by federal authorities in 2017 on a 26-count indictment. His case is still pending in federal court in Pittsburgh, where a plea hearing is scheduled for 2 p.m. Aug. 21.
The arrests of three other doctors — Dr. Thomas Wilkins, Philip G. Wagman and William Mangino, who all were in practice together in Union Township, predates the Washington Post data, but those doctors also were held responsible for the addiction of hundreds if not thousands of county residents. They illegally massively dispensed prescriptions for oxycodone and other addictive narcotics between 2002-03.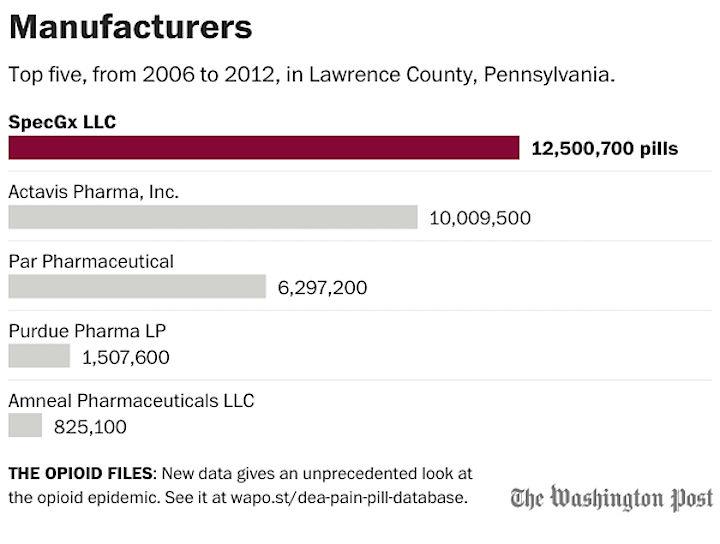 The prescribing of so many addictive pills by doctors nationwide started the opioid epidemic and dependency in the United States, Lamancusa said, and the arrests of these doctors and a crackdown on the pill industry signaled the end of the inexpensive supply of opioid pain medication in our community locally and created a demand for an inexpensive opioid alternative, Lamancusa said.
"As the availability of pain medications started to dry up, those who had become addicted turned to heroin or other illegal narcotics," he explained. "That created a need in Lawrence County for an alternative source for it, and heroin has filled the void."
A 2013 report by Lamancusa at a pain seminar shows that the most common opioid drugs of that era were oxycodone, roxycodone and Vicodin, and the average cost for the pills was $20 to $30 each.
Lamancusa reported that there were more deaths from prescription pain pills then, than from cocaine and heroin combined, and that misuse of prescription pain medication was responsible for more than 475,000 emergency room visits annually at the time. He noted that more than 12 million people reported using prescription painkillers for non-medical reasons in 2010.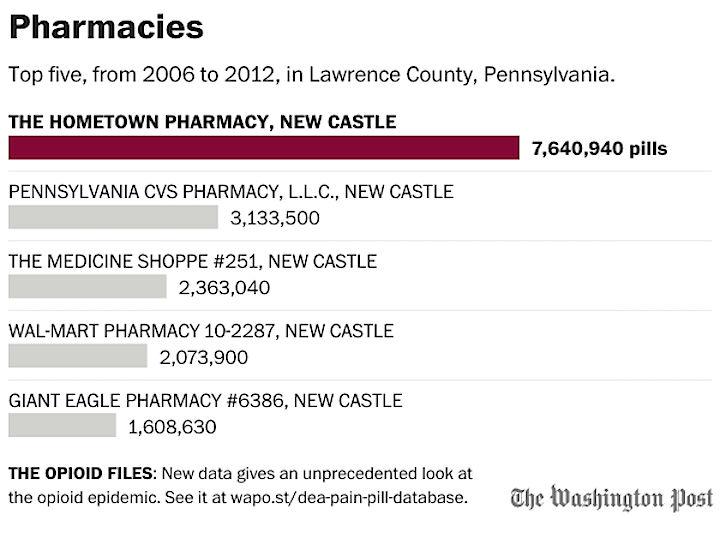 In 2010, the Centers for Disease Control had classified prescription drug use as epidemic, his report said. The epidemic was driven by fundamental changes in the way healthcare providers prescribed opioid pain killers, he said.
In 2013, there were 22,767 deaths nationally caused by pharmaceuticals, Lamacusa reported, and Lawrence County was ahead in the national trend.
A lot of controls were being put in place and the federal government started overseeing the distribution of them and federal law enforcement started targeting doctors who were overprescribing, he said.
"The operation grew, the numbers escalated and the federal and state governments cracked down on these doctors," he said.
What's happened since is that opioid painkiller abuse has leveled off, and the number of prescription drug overdose deaths has dropped nationally, Lamancusa said. But as a result, beginning in 2015, heroin deaths doubled, because the cost of opioid pills became unaffordable to a lot of users, and heroin became a more affordable choice, he said.
Lamancusa, in testimony he gave to a House and Senate Joint Task Force panel in 2016 and 2017, said that in 2012, "heroin firmly became the most prevalent drug in the county" after Scott's arrest.
Statistics provided by the federal Drug Enforcement Agency, compiled from county coroners, showed that in 2016, Lawrence County reported 40 overdose deaths, and in 2017, there were 54 overdose deaths.
Since then, the drug naloxone has come into widespread use to counter the effects of opioid overdoses.
County deputy coroner Rich "R.J." Johnson said yesterday that statistics show so far this year — with half of the year gone — that there have been 18 confirmed drug overdose deaths in Lawrence County, and two more confirmations are pending lab results. Those were largely from heroin, cocaine and fentanyl, he said.
Those also are the main drugs that caused the most overdose deaths from 2013 to now, according to statistics compiled by the federal Drug Enforcement Administration.