Summer has just begun, but already Dr. Carlos Flores has encountered tick bites and Lyme Disease.
"I've seen three cases already this week," said the pediatrician whose office is on Wilmington Road in Neshannock Township. "I'm sure other doctors are seeing them too and I'm sure this is going to be a bad season for ticks and possibly for Lyme disease."
A fourth "possible tick bit" patient came to his office as he was speaking.
According to a Penn State study released last month, the blacklegged tick — the primary vector of Lyme disease — is now the dominant tick species in Pennsylvania. Blacklegged ticks now are found in every county in Pennsylvania, the study reports, although their highest prevalence rates occurred in northcentral Pennsylvania counties such as Elk, Forest and Cameron.
Flores urges all parents, guardians and anyone who comes into contact with children to be able to identify a tick on a child or pet and to carefully inspect children, pets and themselves when coming in from outdoors. And to be vigilant in doing so.
A tick bite, he said, results in a classic red bulls-eye halo with the bite in the center. The next step, he said, is when the coloration coalesces into one mass. 
"When you see this, generally Lyme disease is present," Flores said. "At this point there is no doubt."
Other complications to look for include Bell's palsy, which is a paralysis seen on one side of the face, and joint pain generally in the knee but possibly in the shoulder or elbow.
The joint pain, Flores said, might be overlooked in children whose play and "growing pains" result in frequent complaints of aches and pains.
"But the bites, the classic bulls-eye halo, and then the rash, those are something that should be looked for and treatment sought," the doctor said.
Flores said not all tick bites result in Lyme disease — an inflammatory disease characterized at first by a rash, headache, fever, and chills, and later by possible arthritis and neurological and cardiac disorders, caused by bacteria that are transmitted by ticks.  
"But if you see the rash, the paralysis, action must be taken."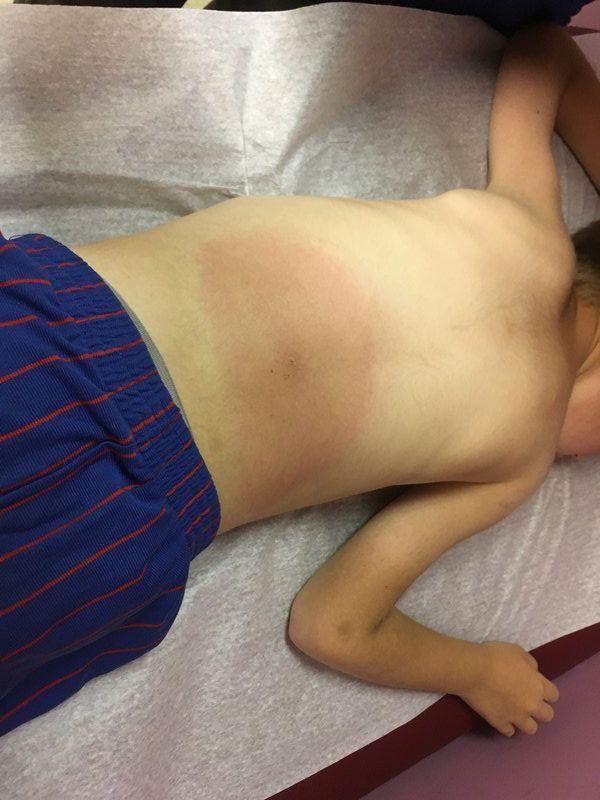 If a bulls-eye halo tick bite is seen on the child's skin, Flores said, there is a blood test can be done to determine the presence of Lyme disease.
However, he said, if the test is given too soon, a false negative reading might result. Generally, he said, a patient should wait for 15 days to several weeks to be tested.
But in the case of 5-year-old Nicholas, who showed up Monday morning with a rash, "there is no need for the test. This is a positive sign."
Nicholas, whose last name is not being used to protect his privacy, was bitten  while playing outside at his home in Shenango Township, Mercer County, near Pulaski.
"I didn't see the tick," his father said. "But he complained of pain in his knee and on Friday night I saw the bulls-eye and now the rash."
Treatment, Flores said, is generally a 21-day regime of antibiotics. This is what he provided for Nicholas, and told the boy's father to bring him in in a week to check progress of the rash.
Flores said last week two brothers — ages 7 and 9 years from the Ellwood City area — came in.
"One had facial paralysis, the other had joint pain in the knee," he said. "The two had been swimming in a creek."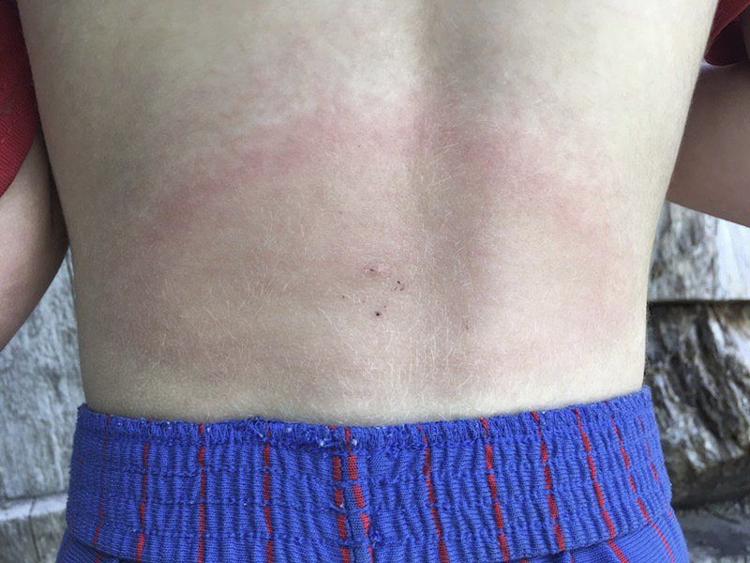 He advises anyone going outside or hiking, to cover up with long-sleeve shirts, long pants tucked into socks and to apply insect repellant frequently. He reminds anyone swimming in a creek to frequently reapply bug spray since it washes off in the water.
He does not recommend saving the tick to be sent to a lab.
"Some people pull off the tick and put in in the freezer to be tested at a lab. It's not worth it," he said. "But if you see the halo indicating that a bite has happened, keep the site clean so it does not  become infected. Look for facial paralysis and/or joint pain."
He said he'd recommend waiting a week or two before testing so as to not to risk a false negative result.
"But check your kids when they come in from outside. The public must be made aware  that the conditions are right for Lyme disease and do all they can to protect their children. This is shaping up to be a bad year for ticks and possibly for Lyme disease. I've seen three cases this week. I believe I'll see more and this is just the beginning of the summer."