Kissing an ox isn't something people normally do, but there's an exception to that at the Lawrence County Fair.
Children and adults will likely be lining up this week to shower kisses on Lee, a 3,295-pound ox owed by Doug Drewes.
Drewes, the owner of Ox Dynasty Drewes Farm in Mifflintown, Juniata County, is on the fairgrounds with his two oxen, Lee and Yule, which together weigh nearly 6,500 pounds.
Drewes believes his oxen are the largest team east of the Mississippi River, "and I'm quite sure they are the largest team of oxen in the United States, he said, challenging anyone to come up with a duo that is larger.
"I keep waiting for someone to say they have a bigger one," he said.
Lee was last weighed in January, Drewes said, because weighing the oxen is a production. Lee stands 6 feet, 2 inches high at the hip. Yule weighs 3,200 pounds and stands 6 feet, 3 inches high. So even though they are docile, their size and their widespread horns can be a bit intimidating.
Drewes will charge $5 per person for people to kiss Lee tomorrow, Friday and Saturday next to the milking parlor on the fairgrounds. Part of the proceeds will be donated to the Lawrence County 4-H clubs, he said. The rest will go to an outgoing 4-H girl who is willing to corral fairgoers into going over to smother their affection on Lee.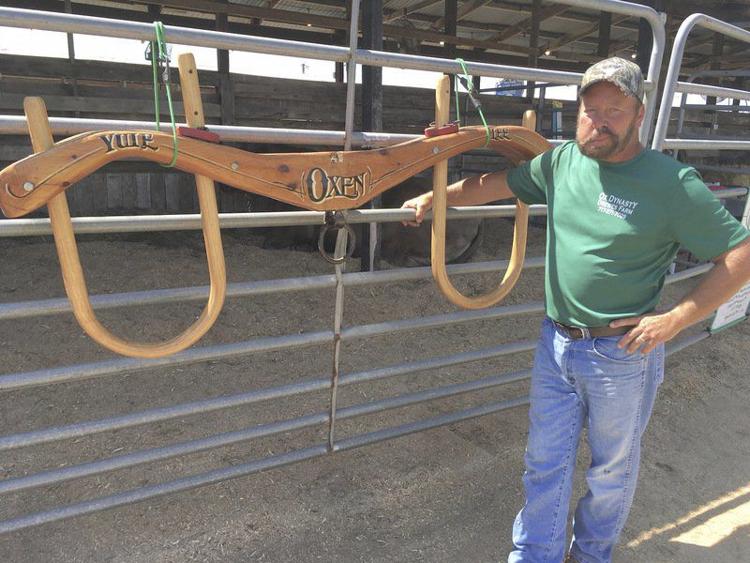 Drewes has trained Lee to lie down and let people kiss him. Yule is not quite ready for that.
Drewes said that when he hosts has "kissing" nights, it's not just the girls who line up to give Lee a smooch, but the men stand in line, too. At one fair, he raised $400 in four nights that he donated to 4-H.
"Now any fair we go to, we raise money for 4-H," he said.
Tori Davis, 11, who attends Mohawk Area schools, got the chance to plant a kiss on Lee's forehead Monday morning while she admired the animal in his stall in the dairy barns.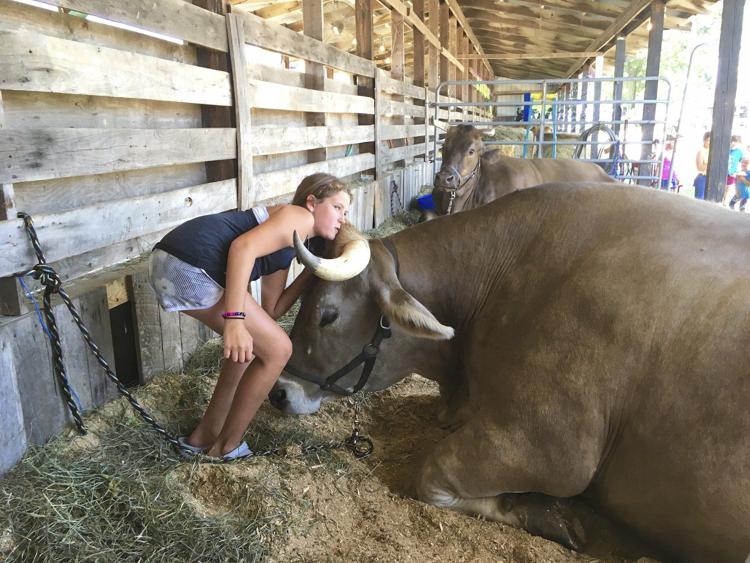 "They need to keep bringing them here," she said excitedly about meeting Lee and Yule. "They're so fun."
Drewes, 62, has a 33-acre farm in Juniata County, and he decided he needed a hobby.
"I thought it would be interesting to train a pair of cattle to become oxen," he said.
When he bought his duo, both from the same farm, he was told by a guy who has written books that "these are are going to be really big. At six months, they were off the chart in size, weighing more than 1,000 pounds each, compared to a regular Brown Swiss cow that typically weighs about 600 pounds at that age.
"I started this project about eight years ago," he said, noting that was when the two Brown Swiss breed calves were born. Lee's birth date is Nov. 24, 2011, and Yule was born on Christmas Eve that same year. He bought each of them when they were two days old.
Drewes explained that all bull cows are born with horns. Farmers typically burn them off when they are young, so they don't hurt each other, the farmers or anyone else.
But the horns are left to grow on oxen, and Drewes explained why.
"The yoke sits behind their ears. If they're pulling a load, the wagon would push on the yoke. If there are no horns, the wagons would hit their heads and kill them," he explained. "The horns serve as a braking system to slow the load down."
"Those horns are never to touch anybody," Drewes said, adding that he disciplines the oxen. "I never could stop a 3,000 pound animal, never. but they don't know they're 3,000 pounds. You have to be in control."
"I've read book after book and watched videos, trying to get it right," Drewes said. He hauls Lee and Yule to different shows in a trailer, driving carefully so it doesn't overturn. He typically has a helper with him. His friend, Don Page, who is with him this week, goes along to half of his shows.
He chose oxen to raise because "I love history, and the ox was an integral part of our American history in settling in this country and moving it forward," Drewes explained. "During the 1800s, there were tens of thousands of teams of oxen, but as things progressed and oxen moved to horses, and horses moved to tractors, that piece of history was gone."
He took Lee and Yule with him in 2016 to the 100th anniversary of the Pennsylvania Farm Show, which featured more than 6,000 animals as the largest indoor agricultural exhibition in the country.
There, Lee and Yule became a piece of history as they helped to represent 100 years of progress in America.