An abundance of local races make next month's primary election a highly anticipated one. But perhaps even more keenly awaited, at least among the county's Catholic faithful, is an announcement by Bishop David A. Zubik of the Diocese of Pittsburgh. Zubik could officially proclaim seven Lawrence County parishes as one as early as May, and reveal the name he has approved for the consolidated entity.
(Second of three parts)
More than three years ago, the Roman Catholic Diocese of Pittsburgh realized it couldn't go on the way it had been.
A declining number of priests and parishioners made it plain that 187 separate parishes were no longer needed nor cost effective. And so it launched On Mission for the Church Alive!, with the ultimate goal of merging its nearly 200 parishes into 57. After three years of planning and discussions, groupings were announced and the timetable for each one to become a single parish began Oct. 15.
Undoubtedly, the plan will solve many of the diocese's logistical and financial challenges. But what about evangelical ones?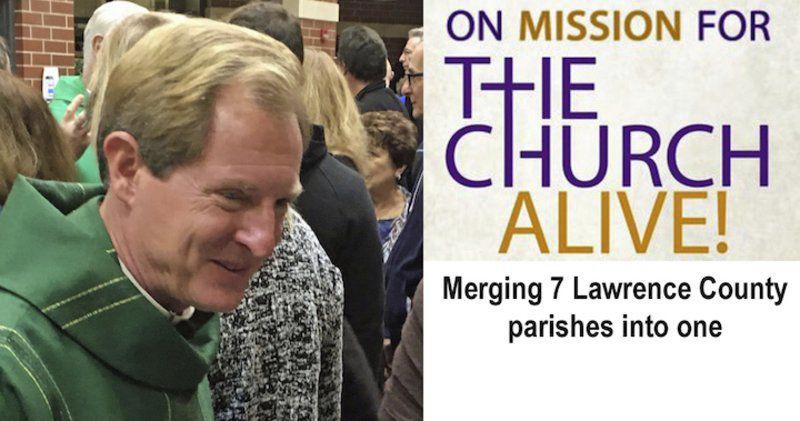 "I think we're just putting Band-Aids over the collapse," said Chris Papa, an attorney and New Wilmington resident who worships at a Tridentine Latin Mass Catholic Church in the Youngstown area. "My question is, are they actually changing anything that got them to this point?
"I just don't think they are. I think they are just not going to see the bigger problems."
THE CASE FOR TRADITION
In Papa's view, those problems began in the 1970s following the implementation of Vatican II, the 21st Ecumenical Council of the Roman Catholic Church that took place from 1962-65. Out of that council emerged revised decrees that leaned toward more liberal viewpoints, according to brittanica.com. These also included widespread use of vernacular languages in Mass instead of Latin, and encouraged contemporary changes in liturgical music.
"All of a sudden, the liturgy changes," Papa said. "Doctrine doesn't change but it's not really emphasized … the church sort of goes down the path of 'we're going to go with the spirit of the world; we're just going to go along to get along, more than stand for timeless principals.'
"In an effort to be relevant, they kind of made themselves irrelevant. The church is trying to be hip with kids, and you lose all your vocations, you lose all your Mass attendance. So you're left with collapsing churches, collapsing communities."
Papa believes the Catholic church needs to embrace a return to its roots and "what made us compelling to begin with." And he may not be alone in that thought.
In a May 2018 article in the Denver Catholic, Father James W. Jackson, pastor at Our Lady of Mount Carmel Parish, told the publication that "If one wanted to experience the older liturgy, it would have been quite difficult when I first started to say it in 1992. There were around 20 places in North America where one could attend the older use and be in full union with the local diocese and the Holy See.
"There are now around 475 churches which use it, increasing at a rate of about three new parishes per month. That growth is not phenomenal, but it is significant."
Papa believes the Catholic church as a whole should take note.
"I feel the current hierarchy, though, is sort of doubling down on 'we have to be more with it. We have to water things down even more, and then people will come back,' but there's no precedent for that.
"The (Latin Mass) church I go to in Youngstown, we have big families, kids in their 20s, kids in their 30s. They love the reverence, the beauty, the tradition — it's something to cling to in the world. It's not 'we change our doctrine to suit the times.' "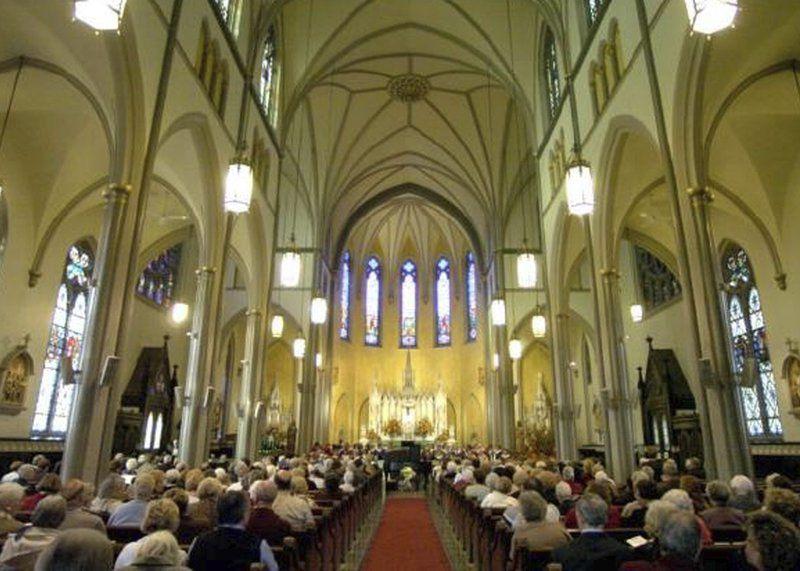 PURSUIT OF RELEVANCE
The Rev. Joseph McCaffrey, pastor of the seven county parishes that are about to become one, would not argue the idea that the church must make itself more compelling to parishioners.
However, he sees a different path.
"We're spending a lot of time right now looking at our faith formation programming, how to answer the needs of the folks here, these young families, and trying to get them back at worship," he said. "The thing is, why send your child to religious education and then not be at worship? It seems like an oxymoron, but it happens — way too much.
"What we're trying to do is, first of all, make the education productive and goal-oriented in terms of instilling faith in the people and helping their understanding. But on the other hand, we want them to come and worship and grow in their relationship with Christ. If that's not happening, then we're not succeeding at all."
McCaffrey and his staff are working on a plan to provide faith formation for both adults and children. The idea would be to have a weekend Mass, with faith formation opportunities before before and after.
"The Mass itself will be like a school Mass, it will involve the kids and it will involve their parents," he said. "So they'll be participating in major ways in the liturgy. So we're trying to engage them in the worship itself and in their relationship with Christ in a real practical way at worship."
The parish would continue its other liturgies as well, he said, but "we're going to be probably a little more creative in terms of options and different things like that, trying to engage the young people in the Mass. I think that's the important thing that we have to do, but we would certainly be following liturgical norms that are permitted to do that."
Still, he's not entertaining ideas of taking any big swings toward either traditional or liberal worship,
"If somebody wants to be extreme on one end or the other, they're not going to find it here," he said. "We're not extremists. We're pretty central. We respect our Catholic faith and the norms that govern that."
DIVIDING DUTIES
Along with the consolidation of Lawrence County parishes, Ann Antognoli believes there should be a restructuring of duties.
"One concern the priests in Lawrence County might address is ministering to the faithful more, rather than managing clerical/business concerns," she said. "The clergy have been good about commissioning lay parishioners to perform certain religious duties: lectors, Eucharistic ministers, and training altar servers.
"It's time they consider hiring lay faithful for business concerns, organizing meetings, and making financial decisions to free priests to lead religious services outside of Mass. With fewer churches, perhaps there can be more Masses to address people's concern for convenience."
And attending Mass, she added, should be a priority.
"Many encourage an individual relationship with God," Antognoli said. "While having an individual relationship with God is good, it reminds me of Aldous Huxley's idea 'Christianity without pain' in his novel 'Brave New World.'
"Relying on an individual relationship may be convenient, entertaining, make one feel good, but it lacks an important aspect of Christianity: If one is a part of the Body of Christ, one must share the sufferings with the body, the Christian community, in order to rise with Christ."
(Tomorrow: The future of Lawrence County's lone Catholic school.)