New Castle High graduate Malik Hooker sat anxiously in his seat.
Hooker, black bowtie neatly in place on his long-sleeve white shirt, was surrounded by family and friends. They, too, were waiting anxiously.
Pick after pick went by.
Malik Hooker is an Indianapolis Colt.
And then Roger Goodell strolled to the podium in Philadelphia just moments before 10 p.m.
"With the 15th pick in the 2017 NFL Draft, the Indianapolis Colts select Malik Hooker, defensive back, Ohio State."
Hooker's selection was greeted with a thunderous roar by those in attendance Thursday at The Villa Banquet Center in Shenango Township. Those in attendance immediately stood to applaud the selection, and Hooker stood up to give his mom, Angela Dennis, a big hug.
Youths shot basketball hoops and threw footballs in the gymnasium.
"They called me when the Eagles were on the clock," Hooker said. "The secretary called me and told me the Colts were going to draft me. I talked to the GM (Chris Ballard) and the owner (Jim Irsay). From there on out, I was just in the clouds. It was so amazing knowing they were going to draft me.
"This isn't even for me. This is for my family. We've been through so much that everything I do, I want to give back to them. This is my way of thanking them for being there for me."
Hooker's table was right in front of a big-screen television. A grouping of 32 NFL hats, one for each franchise and provided by the NFL, was placed on a table right below the television.
When Hooker's phone rang, the Colts' hat was ready to be grabbed by him and put on.
"I wanted to let everyone know," Hooker said of the team ready to pick him. "There was just so much emotion going through your body. You get that phone call and you know it's a team and you're getting drafted.
"I just said give me the playbook tomorrow."
Said Dennis of her oldest son's draft selection, "It was just sheer excitement. I can't even explain it. It was just a very, very exciting moment."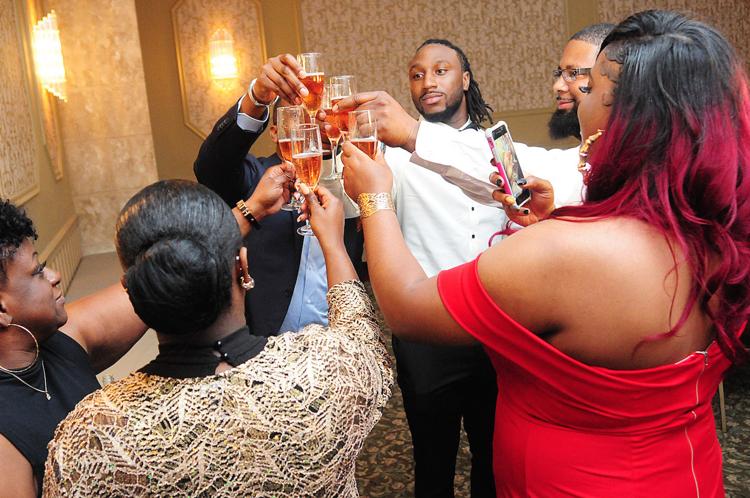 Hooker competed at Ohio State for two seasons, including one as a starter. He departed Ohio Stadium — known as The Horseshoe — and will now wear a horseshoe on both sides of his new, white Indianapolis Colts helmet.
"It's like being right back in Columbus. That's fine with me," said Hooker, who had a big smile. "I was shocked. I never thought this day would come. I've been thinking about this day since I was eight years old.
"For it to be here and play out the way it did and me be one of the top players in the draft is definitely a blessing."
Current Red Hurricane football coach Joe Cowart served as Hooker's coach. Hooker didn't play football as a freshman or sophomore, but he played as a junior and senior.
"It's certainly exciting for us, but also for our community as a whole," Cowart said prior to the draft hitting the air at 8 p.m. "Malik has been a part of putting this thing back on the map. Tonight, we're just cheerleaders. We're cheering on a guy, a native son to the land and we love him. It's a special night for him."
Greg Schiano, the associate head coach/defensive coordinator, coached Hooker at Ohio State and compared Hooker to former NFL great Ed Reed when he attended a New Castle boys basketball game late last season. Schiano coached Reed at the University of Miami.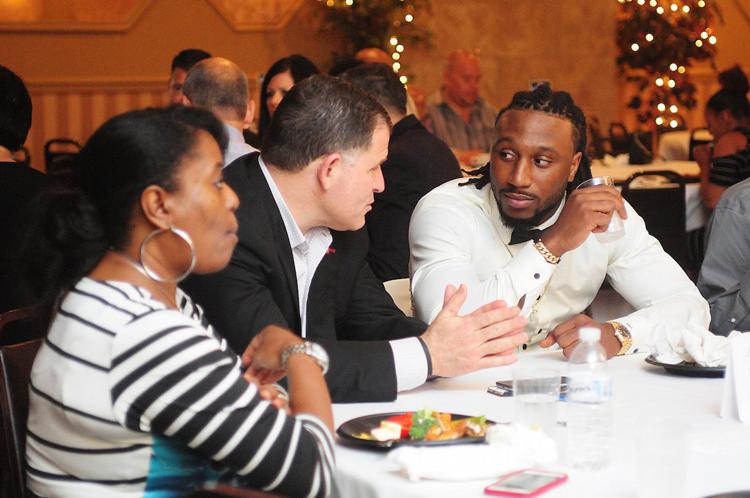 Hooker, who came in as a first-round draft prospect, was afforded the opportunity to attend the draft in Philadelphia. But he elected to decline and instead stay in New Castle with family and friends.
"Before I even made my decision, I sat down and talked to my family. I wanted to make it mandatory that my family was present for this type of environment. I felt it was what I owed them. They're my support system. It was only right for me to come back here and have this here and celebrate together.
Ralph Blundo completed his seventh season as New Castle's boys basketball coach this year. Blundo coached Hooker for four years, winning a state championship together in 2014. He acknowledged Hooker's decision to stay in New Castle was an easy one.
"New Castle has been special to him," Blundo said. "I think he wanted to do it for his family. He wanted everybody to be a part of it. For Malik, his impact on this community is important to him. He doesn't have to do it with dollars. But he knows that his presence means a lot to the kids and the people in this community."
It was a decision that Hooker knew was the right one just moments after being drafted.
"It was definitely what I thought it was going to be," he said. "Everybody that was there from the hard times and supporting me long before I became the player I am today. I wanted my grandmother (Rosetta Cox) to see this. My grandmother made it out here today, so today was a great day for me."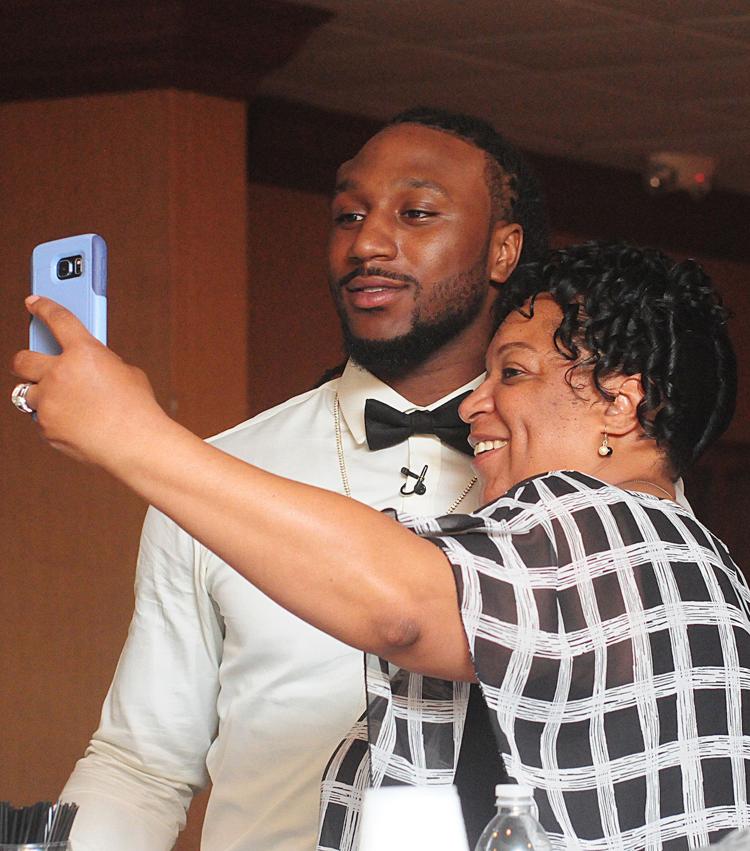 Bruce Clark was the last New Castle product drafted in the first round. Green Bay tabbed Clark with the No. 4 overall pick in the 1980 draft. But he declined to play for the Packers and jumped to Canada to play for the Toronto Argonauts of the Canadian Football League. Clark eventually did compete in the NFL, suiting up for New Orleans for seven seasons and Kansas City for one.
Hooker will leave for Indianapolis on Friday to meet with the Colts.
(Email: rponiewasz@ncnewsonline.com)