On a warm, summer night at Cascade Park, it's not uncommon to find people playing bocce, cross country runners preparing for the season or those cooling off with some Italian ice. 
Lately, though, the park has been home to thrice-weekly yoga sessions. In the grassy area between the miniature train station and the Vietnam memorial, 2008 Laurel High School graduate Sarah Parish leads two different styles of yoga for groups ranging from a handful to upwards of 20. 
"With COVID, studios were closed," Parish said. "I wanted to do something good and outside. I know they have had classes outside in Cascade. I talked with (New Castle city councilman) Bryan Cameron and he pitched it to the board members. They said yes and I started having classes."
The ages go anywhere from young children and recent high school graduates to working age and older. 
"I've had probably seven-year-olds to 70-year-olds," Parish said. People walking about in the park have stopped by and joined or inquired about the next session. Word is mostly shared through social media, where Parish posts updates on her Facebook and Instagram pages.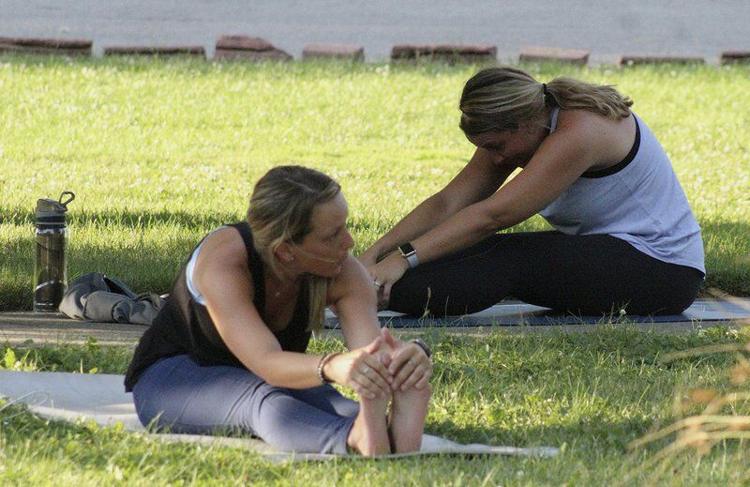 "A lot of beginners are coming, which is why we're doing what we're doing," said Parish, a Titusville Middle School art teacher and Westminster College cheerleading coach. 
The classes are put on for no charge to participants — who bring their own mats or beach towels — but are donation-based. Donations go into a large glass jar and are collected for two-week periods for a specific charity. The first collection was taken up for a yoga instructor who was undergoing chemotherapy and radiation. 
The second donation was given to the Convoy of Hope, which donated food and supplies to the bi-weekly giveaway at Shenango Elementary School on July 22. 
"I kind of just wanted to do something good," she said.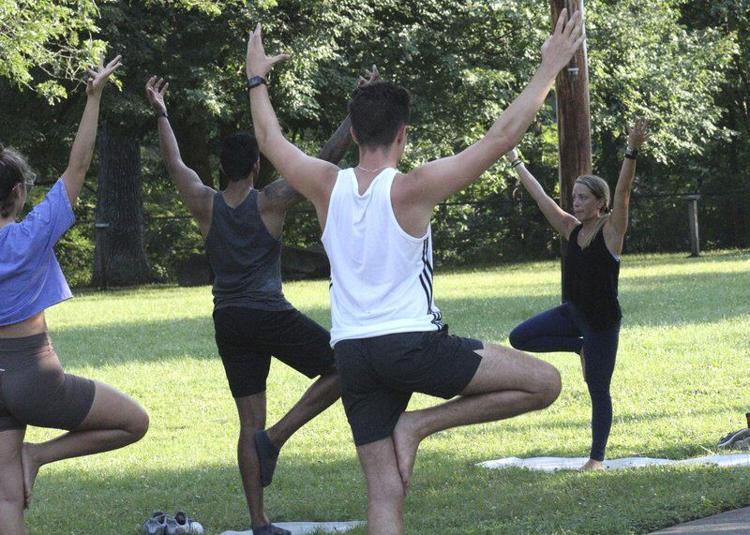 Parish got her start in yoga after doing a Beachbody workout. Afterward, her friend said she was going to yoga; Parish had never been to a class before.
"I went along with her and fell in love," she said. 
Four years of practice later, she finished her certification in May and focuses on power yoga, although she's trained in everything. Her Cascade Park classes typically include two gentle sessions and one power. Gentle focuses on deep stretches and breathing, while power is one breath per movement. Many of the attendees are beginners, she said.  
"Everything focuses on body, breath and mind," Parish said. "Yoga is for everyone of all ages and all levels. It's really good for helping people age well. I practice with some 80- and 90-year-olds who are way more fit than I am."
She also noted its the stress relief and mental aspect. The sessions are accompanied by a light soundtrack featuring artists like Billie Eilish, John Mayer and James Taylor. 
Upcoming classes are a power session on Monday and a gentle session on Wednesday. Both start at 6:30 p.m. in Cascade Park. 
"Everyone I meet, I just want them to do it to," Parish said. "I've had such a good interaction with yoga that I want to share that with everyone."