As a lifelong Miami Dolphins fan, Garry Gates knows all about quarterback Dan Marino's inability to win the Super Bowl.
Gates, a Westminster College graduate, used some of his Dolphins fandom to help shape his approach at this year's 50th annual World Series of Poker, which was held May 28 through Tuesday at the Rio All-Suites Hotel and Casino in Las Vegas.
"(Marino) always joked that he thought he'd be back time and time again," Gates said of the quarterback, who led Miami to the Super Bowl XIX in 1985 in his second pro season then spent the next 15 years searching for a way back to the title game.
"The World Series of Poker Final Table is a lot like the Super Bowl. I tried to make the most of it and play to win."
The Main Event — poker's biggest 10-day game of no-limit Texas Hold 'Em at its biggest event of the year — is the tournament broadcast every summer on ESPN. Going all-in on a bet with his hand on Monday night, Gates was the last cut before competition moved to its final day, finishing fourth overall. His payday? A cool $3 million.
"I'm a millionaire now," Gates said to reporters in his post-event interview Monday. "My debt is gone. I can buy a house. I can buy a ring for my girlfriend and take care of my daughter. It's amazing. My future is a whole heck of a lot brighter now."
It's a stark contrast to when he started his life in the desert. At that time, he didn't own a cell phone and drove a 1999 Honda Accord. Since then, he's survived one mass shooting, grown in his career and, of course, became a millionaire.
"Fortunately, 15 years later, things have worked out pretty nicely," Gates said.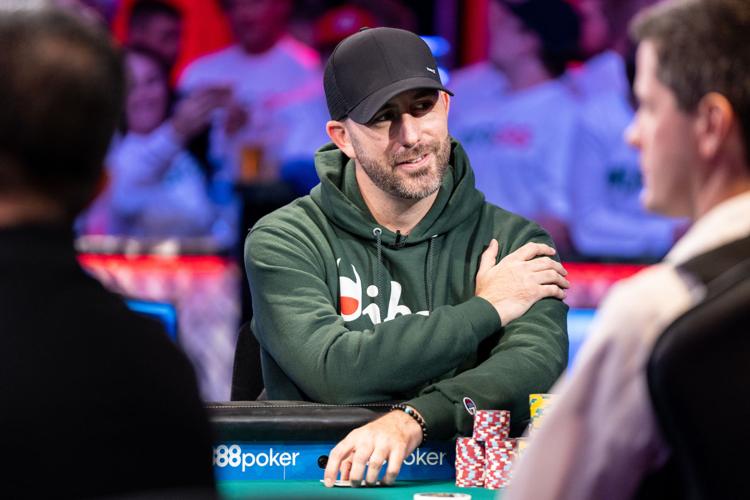 'PULL TO THE CITY'
Poker and Las Vegas are two things Gates is familiar with.
"My family had always had an affinity for Las Vegas," Gates said, adding his dad and extended family would visit Las Vegas for March Madness. While attending Titusville High School, Gates said he fell in love with the early 2000s NBC comedy-drama "Las Vegas."
"I had this weird gravitational pull to the city," Gates said.
His father introduced him to cards early on in life and he would play in a weekly Thursday night home game at the Titusville Elks club.
After high school graduation, Gates enrolled at Westminster College to study creative writing with an English concentration, where he took full advantage of his surroundings. He became a proctor in one of the campus computer labs and made use of the computers to play internet poker, which his father introduced him to at 18. This meant his "Westminny crew" at times could find him holed up in his room with a bunch of caffeinated drinks, playing against virtual opponents.
The Thursday night games back home continued through college, when he would drive home to play then make the hour return trip for Friday classes. And it wasn't like Gates was a novice.
There was one weekend in college when he won a few thousand dollars online and decided to make an impromptu trip to Las Vegas and California.
"Back then, my friends probably thought I was crazy," Gates said. "But poker allowed me to pay my way through college and have those experiences."
There was another time when he was home and won some online poker money on New Year's Eve. He turned and said to his father, "I said I think i'm going to go to Vegas tonight."
Sure enough, he touched down a few hours later in Las Vegas with fireworks in view.
"I stayed and played poker at the Mirage by myself for a few days," Gates said.
He graduated in December 2003 — after his "super senior semester" — and returned back to Titusville to work as a waiter and bartender. After six months, he decided to make his move across the country to the place he knew best.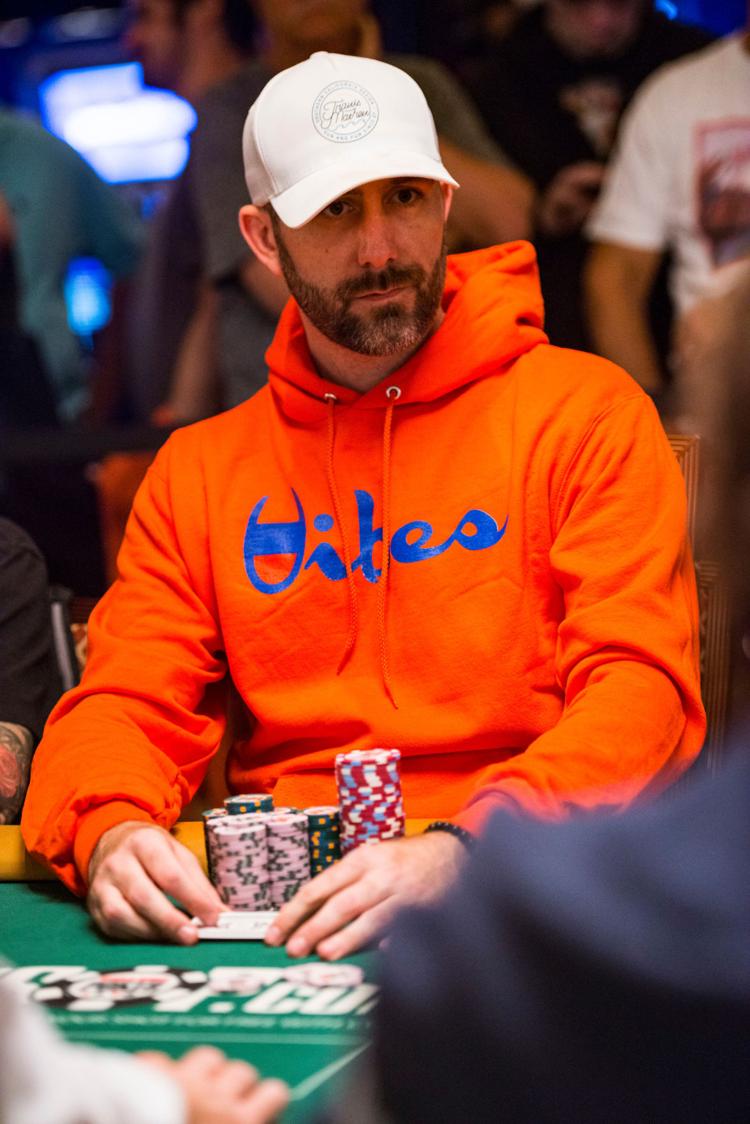 PLAN B
Now a full-time Las Vegas resident, Gates enrolled in the education department at the University of Nevada, Las Vegas as a backup plan if poker didn't pan out.
"Looking back, I had zero interest in being an educator of any kind," Gates said.
He got his official start in the poker industry when he worked with Poker News, working with the reporting team covering the WSOP. For the last nine years, he's been employed by Poker Stars as the company's Senior Consultant of Player Affairs, meaning he works with live events and marketing campaigns.
"I'm essentially the company's player-facing bridge to our customers," Gates said. "On a day-to-day basis, I'm often working with the same poker players I was competing against in the World Series."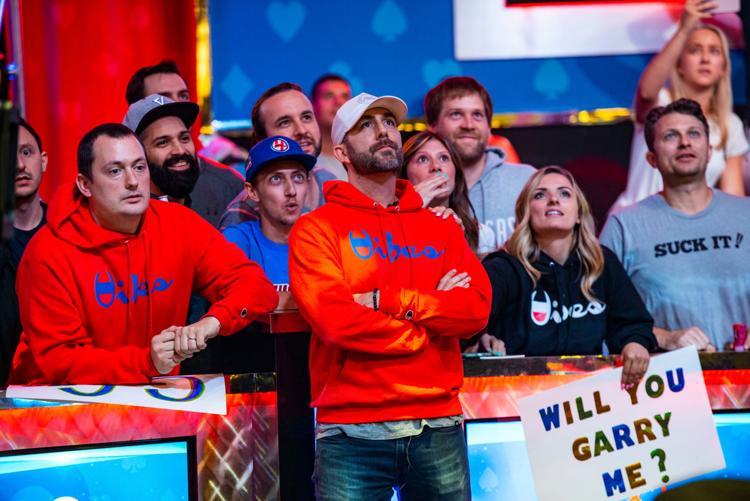 TRAGEDY
The Route 91 Harvest festival brought together country music's biggest stars for the three-day concert on the Las Vegas Strip in fall 2017. As Jason Aldean finished a song on the final day, a lone gunman from the nearby Mandalay Bay Hotel began shooting into the crowd just after 10 p.m., killing 58 and injuring hundreds more in the largest mass shooting in American history.
Gates was one of the thousands in attendance for the Oct. 1 finale.
"It was one of those things that you can't prepare for," Gates said of the shooting, which is referred to locally as 1 October. "When it happened, it shook our whole world. It shook Las Vegas as a community and our family and friends.
"It was a tough time for me, no doubt. I try my best to leverage that experience and modify that approach to life as someone who is always grateful and someone who is always appreciative of the moments that come my way."
Gates said part of living a life full of gratitude means taking advantage of his opportunities while he can.
"With this poker tournament coming a couple years later, not everyone gets to play a $10,000 buy-in tournament where you can win $10 million and change your circumstances," Gates said. "The deeper I got into that tournament, seizing that opportunity was a powerful motivator."
In one of the early days of the WSOP this year, a nearby 7.1-magnitude earthquake shook the Rio hotel where the event was being hosted.
"I'm literally sitting at the poker table playing for millions of dollars and I started getting queasy and nauseous," Gates said, adding the hotel chandeliers started swaying.
"My thoughts went back to the Vegas shooting a little bit," Gates said. "I think I'm strangely calm in those situations. Life's been throwing curveballs. I feel like i'm a survivor in all the ways."
FELL SHORT
Gates — who had to let someone in the ESPN graphics department aware of a mistake listing him as graduating the Westminster College in Utah — was aggressive until his last hand.
On the ninth day of the Main Event, he pushed all his chips to the center of the table with a pair of 6s in hand, betting against Canadian Alex Livingston's pair of queens. He stepped away from the table to be closer to his many friends, family and fans — all of whom were wearing white shirts in support of him — to watch the final reveal of the five community cards in the center of the table. Needing a six to win, Gates' was eliminated from the competition when his hand came up short.
Gates' fourth-place finish meant a big payday for him as well as a friend. Because the tournament requires a $10,000 buy-in to play, players sometimes have outside investors pay their entry fee while collecting a share of any winnings.
"I wasn't even the biggest financial winner of myself," Gates said. "Jason Mercier is a guy I've known and loved for years and years. He gave me this opportunity. He's believed in me before. To be able to call that guy up and hand him a couple million bucks, come on. That's pretty awesome."
Germany's Hossein Ensan won the tournament Wednesday morning . He defeated of Dario Sammartino of Italy in a heads-up showdown to claim the $10 million first prize and a World Series of Poker gold-and-diamond bracelet.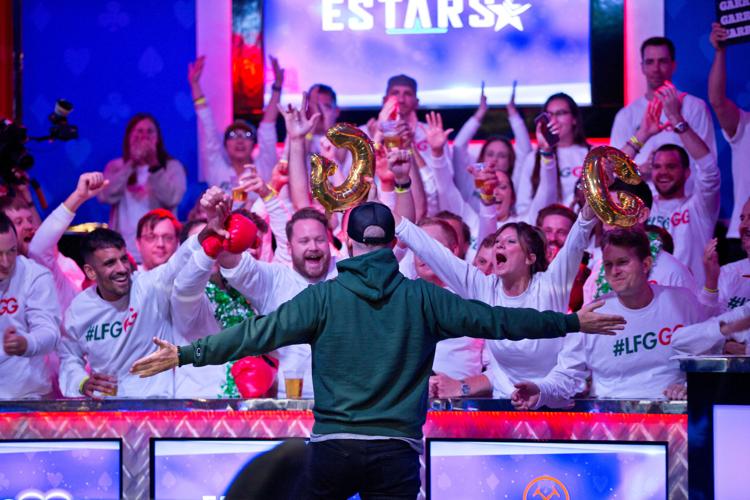 'MASSIVE RELIEF'
Gates said he's never been someone to manage money very well, but has gotten a lot better in recent years. His career earnings before this year's WSOP topped just over $200,000 in 15 events, the biggest being a $64,000 payday in a 2012 tournament in Atlantic City, New Jersey.
"Starting in my college days, taking out too many loans and not thinking about interest. Accumulating bills," Gates said. "Now when I look at my financial circumstances, it's just such a massive relief to know I'm not going to have any debt now and ensure the future for my daughter and I can get my girlfriend the house of our dreams."
For now, it's getting back into a routine for Gates, but not before going through his many messages and well-wishes he received throughout the competition.
"I've had a chance to spend some time with friends and family to soak in the moment and read messages," Gates said. "I got to watch the ESPN broadcast and see myself on national television, which was kind of weird. I think when that wire hits my bank account, that will be the moment things will get very real for me."