The advertisement caught Mitch Riggs' eye.
The social media post pictured a magnetic underwater metal detector used to find World War II-era Russian and German helmets. A military re-enactor, the 26-year-old Pulaski resident gave in to the sales pitch and purchased the device, planning to use it in Erie's Misery Bay, where many ships were sunk during the War of 1812.
But first, he decided to test it closer to home in the Shenango River, near the Nashua Bridge.
"I figured being between New Castle and Youngstown, somebody dropped a pistol in there. I'd end up finding a murder weapon and having to call the cops," Riggs said.
Noting that his first tries yielded "boring stuff" like pieces of construction material left behind from bridge repair projects, Riggs decided to drop the device into the water one more time.
On his final try, he hooked a set of dog tags with a P38, a military-issue can opener, still attached.
"It was rusted," Riggs said, but he could easily make out the owner's name, Martin R. Fornell, and decipher through codes on the tags that their owner was in the regular Army, received his tetanus shot in 1941, had type A blood and was Catholic.
Wanting to know more and, perhaps, find Fornell's relatives, Riggs turned to the internet, including searching an online history of the Pulaski area as well as checking genealogy sites. He also posted a comment on Facebook.
Barb Iorio, a former Pulaski area resident now living in Kennerdell, Venango County, saw the post. 
"She responded in about three minutes, letting me know that her husband, Martin, was (Fornell's) nephew, and was named after him," Riggs said.
He also learned that it was because of Martin Iorio that the tags ended up in the Shenango River in the first place almost 70 years ago.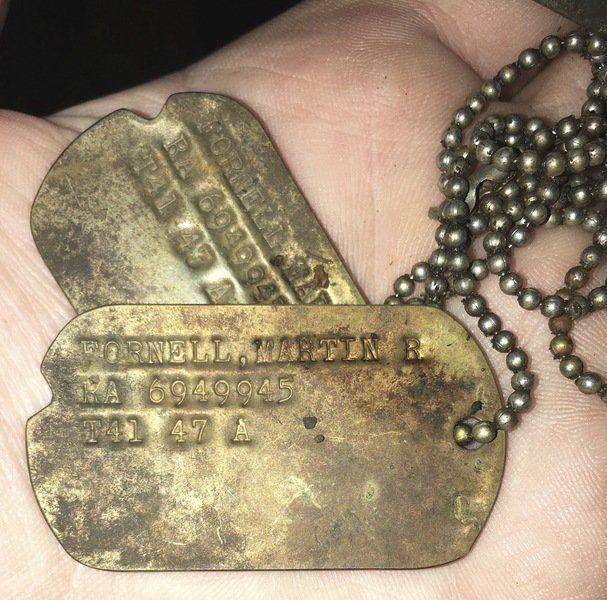 "I was a little leery at first. Was this some kind of scam? Why was someone asking about him?" Barb Iorio said, adding that she is glad she decided to respond and grateful for Riggs' actions.
"My uncle was a master sergeant and was always giving me and my brothers military pins and things. I ended up with the dog tags," Martin Iorio said. "I was young at the time and didn't think about their importance. I wore them swimming and that was the last time I saw them. I completely forgot about them. I'm 82 now and was about 14 or 15 then, so that's how long they've been gone."
The couple's daughter, Nancy Iorio, recalled her great-uncle, who was Martin Iorio's mother's brother, as something of a character.
"He had this old Victrola that he'd play old country music on," she said of Fornell, who died in 1998. "He lived in a shack on the family farm without electricity, but he'd always crank up that Victrola. He never married. My dad and his brothers were his family. "
While swapping Facebook messages with Riggs, the Iorios learned Riggs' grandfather, Alvin Adams, was an old friend.
"We've known him forever," Martin Iorio said. "But we haven't seen each other in probably 50 years."
"Probably more than that," Barb Iorio interjected. 
Last week, the Iorios renewed their friendship with Adams, stopping by his home to pick up the tags. Job responsibilities prevented Riggs from attending, but, the Iorios are grateful for his find.
"It was a really nice thing for him to do," Nancy Iorio said, explaining that the family plans to display the tags along with a photograph of Fornell, who served 25 years in the Army during both World War II and the Korean War.
Finding the family was something Riggs, who has a "little museum in my bedroom" of military artifacts, felt an obligation to do.
"It's a way to honor my grandpap and others who have served," Riggs said of Adams who got his grandson interested in military history, taking him to Gettysburg "ever since I can remember."
"I've collected a lot, but nothing's my family's," Riggs explained. "That's why as soon as I found (the tags), I wanted to find his family. I know how much I'd love to have anything that belonged to my family."