War effort 2 local men served in World War II, never fired a shot
Two local men served abroad in World War II and never fired their weapons.
The Hepler brothers — Don, 98, of Volant, and Glenn of New Bedford, who will be 103 on Dec. 16 — went to war but neither fired a gun or engaged in combat with the enemy. Each, however, provided services that assisted soldiers who did.
Drafted into the U.S. Army after the invasion of Pearl Harbor on Dec. 7, 1941, Don served with the Third Army Headquarters in Europe with Gen. George S. Patton. He made "situation maps" that located towns, roads and various Army divisions. Glenn, a welder even before he entered the army, bounced from island to island in the South Pacific with the 260th Ordinance Unit.
After the war, both men used their talents to secure peacetime professions in Youngstown, Ohio, until their retirements.
Don entered the army on Aug. 9, 1942, a virtual newlywed.
"Mary and I were friends," he said of his wife of 77 years. "We hadn't talked about getting married but after Pearl Harbor we agreed if I was called up we'd marry."
The couple wed on July 3, 1942, right after Don received his induction notice.
One of seven children raised during the Great Depression in Timblin, located in Jefferson County, Don said he knew about hard work and loving his country, but did not know he could choose which branch of the service to enter. He let himself be sent for six weeks of infantry training. Then, he said, the 150 men in his unit received orders to go to Fort Sam Huston in San Antonio, Texas.
"I was the only one without travel orders," he said.
After two weeks training new recruits, he was summoned to a review board and told he was to attend officers' training school.
"I said 'Sir, I decline.' which I repeated. He told me 'You're dismissed.' and I learned the meaning of Shanghaied which is to get sent someplace that you don't want to go."
Two weeks later, he said, he received orders to join his buddies in the 93rd Infantry Division in the South Pacific islands where Americans were being killed.
Don said he arrived at the Texas base at midnight, the only man to step off the train. A military police officer, realizing that Done was lost, asked to see his papers which listed his profession as a draftsman.
"He took me to the Third Army headquarters, to the Army Corps of Engineers. I just about danced my way there. I knew I was supposed to report to the infantry division."
Also drafted, Glenn entered the Army on Jan. 2, 1943. After basic artillery training, he said, "They called my name, told me to pack my stuff, I was leaving."
A troop train arriving Camp Reynolds, which is north of Hermitage, took him to San Francisco where he boarded a ship and spent 33 days at sea.
Glenn was told he was part of the advanced guard and was handed a loaded rifle, stationed on the roof and told to shoot anyone who did anything. He never did.
The ship, he said, carried 3,000 troops on one end and tons of freight on the other. Two weeks out, he said, the ship encountered a storm.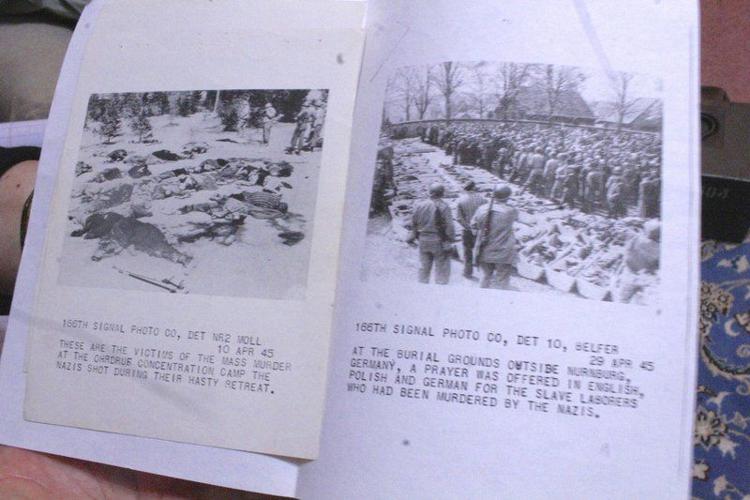 "The captain said couldn't steer around the storm, that he had a course and an escort and wasn't going to take a chance to be sunk by the Japanese," he said.
The ship landed at New Caledonia, a place which became the distribution center for the South Pacific. But Glenn heard his name was called and he was off to Guadalcanal, the Russell Islands, then he went to Palau, which the Japanese had used as an airplane terminal.
"They had airstrips that would have made LaGuardia jealous," he said.
Some of the islands, he said had been a "hot spot" of fighting. Japanese troops were living underground until the Army came in with flamethrowers.
"They just cooked everything," he said  
He remained with the same unit throughout the war.
"There was nothing that the army had that at least one man among us couldn't fix, no matter what," he said.
The Third Army headed for Europe soon after Don 's arrival, crossing the Atlantic Ocean in nine days, landing in Scotland and traveling to the south of England where they learned General Patton would take over command.
Don said everyone had heard of Patton, the general who had led the Army through North Africa and enjoyed being as close as he could get to the front lines to inspire the troops. They also knew that while visiting a hospital Patton backhanded a young soldier who had told the general he couldn't stand combat which made him nervous and afraid.
"Patton had told him 'Everyone is afraid.' But the government heard about the incident and Patton had disappeared. When we learned he was our commander we were scared to death."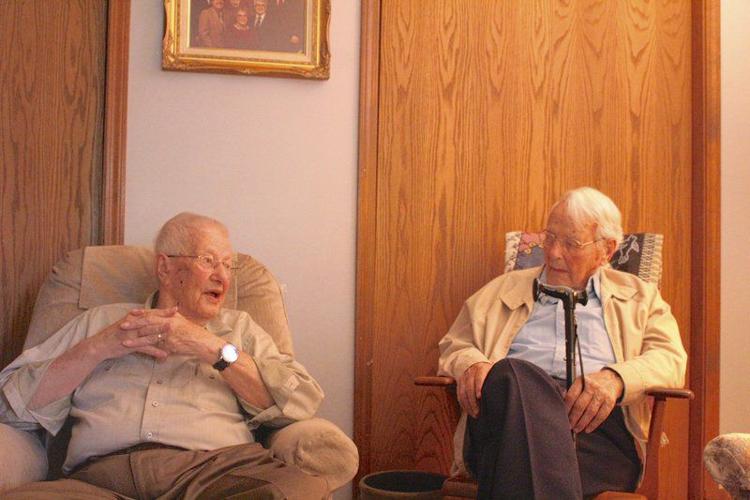 Don said he made some of the maps used for June 6, 1944, Normandy invasion. The Third Army headquarters crossed to Normandy about two weeks after D-Day, landing at low tide and the craft were able to drive onto the beach.
Don said the maps he made showed locations of the seven Allied armies in Europe, stuck to walls with rubber cement so they could be put up and taken down. He said the surfaces were coated so they could be written on and wiped clean.
Regarding Patton, Don said, "In my estimation, he was the greatest general the United States had. They said he spoke two languages, English and Profanity. That is true.
"I was not engaged in the aggressive part of the war, but I respect the men who lived in the fox holes, in the mud," Don said. "I was not assigned a job like that and I felt guilty when I saw a veteran with no arms or legs or heard that someone was killed.
"But lately, I've come to believe that I did what I was supposed to have done and that in my way I saved more lives by making situation maps than I would have been able to if I had to kill any one in the infantry."
When the war ended, Don was told he was fortunate.
"I was a married man, had served overseas, was a father and I was in the first group to go home," he said. "I got there in January 1943 and got to go home in October 1945."
When the war ended in the South Pacific, Glenn said, he was disappointed to learn that his company would be staying to dismantle the distribution centers while everyone else went home.
"When it was our turn to go, we got on a plane that had a six-inch gap under the door and rain water poured in," he said of the trip. "It was a rough ride. But were were promised that we'd be home by Christmas."
Glenn rode "The Magic Carpet" troop train home.
"We were coming out of the tropics, wearing summer uniforms," he said fondly remembering the time. "We pretty near froze as we went through the Rocky Mountains, but we made it to Indiana by Dec. 23.
"I didn't believe that I'd get home to Youngstown, Ohio, for Christmas but they told me 'Call your wife. Tell her to meet you at the station.' Sure enough, the bus pulled in and she was there — Dec. 24, 1945. I was home."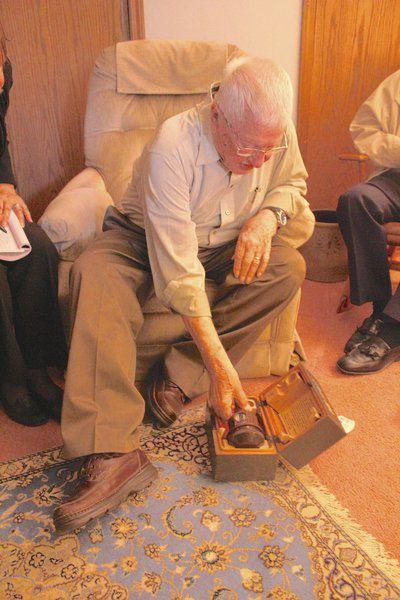 Glenn was immediately reinstated at Republic Rubber, later Aeroquip, and remained with the company for 48 years until he retired.
However, he said he quickly tired of living in a two-room apartment in Youngstown.
"My brother, Harold, lived in New Bedford and told me a field next to him was for sale," he said. "I bought 10 acres from an Amishman for $1,000 and built a brick house."
Glenn and his wife, Verda, were married for 70 years when she died in 2011. The couple raised two daughters, Elaine and Sharon, and have two grandsons.
Don came home to his wife, Mary, in Youngstown and their son, Donnie, returned to is job at Truscon Steel, where he became chief design engineer.
In 1947, they built a house in New Bedford where they raised their children, Don Jr., Dennis, Norman, Keith and Lori.
In 2007, they moved in with Don Jr. in Volant.
In 2010, Don accompanied his son, Norman, and grandson, Kent, to retrace the path he took during the war.
In 2014, he received France's Legion of Honor, some 70 years after the war ended.