The state Department of Health quietly reduced the number of people believed to have gotten at least one dose of COVID-19 vaccine by about 500,000 over the weekend, while also increasing its total of people fully vaccinated by 64,000.
The numbers include people in 66 of Pennsylvania's 67 counties. They do not include Philadelphia, which is its own vaccine jurisdiction. For all 67 counties, the percentage of people 18 and over who are fully vaccinated was 61 percent, up slightly with the 64,000 increase.
Maggi Barton, a Department of Health spokeswoman, said agency staff had been working to link both first and second doses to individual residents. As a result, they removed duplicated data that resulted from providers using software that did not include a unique patient identifier. They also cited difficulty tracking people getting first and second doses from different providers, she said.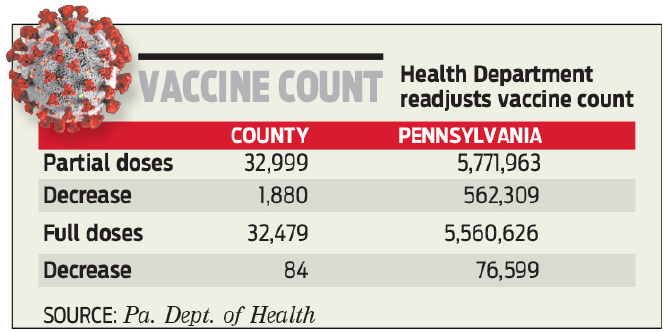 "As we encourage everyone who gets a two-dose vaccine to get their second vaccine, we also have had staff dedicated to ensure data integrity is maintained," Barton said. "We have now updated the Pennsylvania vaccine dashboard to better reflect the reality that more Pennsylvanians are stepping up to get fully vaccinated. In fact, more than 60,000 additional Pennsylvanians are fully vaccinated, and it more accurately reflects the number of people who have received the first of a two-dose vaccine," she said.
Friday's data showed just under 11.3 million total vaccine doses, down from Thursday's figure of 11.8 million.
On Monday, the Department of Health said that ​​11.33 million vaccine doses had been given and 5.56 million Pennsylvanians are fully vaccinated. According to the CDC, as of Sunday, July 11, Pennsylvania ranked 5th among all 50 states for total doses administered.
The change comes as officials in the state and nationally consider whether or how to handle vaccine hesitancy as vaccination rates have slowed.
In late June, lawmakers sent Wolf legislation that would have barred schools, most colleges and state, county and local governments from requiring COVID vaccination for service.
Wolf vetoed the bill earlier this month, calling it "misguided and irresponsible."
State Rep. Jim Rigby, R-Cambria County, on Monday, said that the change in data might reinforce skepticism among those in the community who are already distrustful about the state's COVID response and calls for more people to get vaccinated.
"I got mine. It should be everyone's choice," he said. Reports of rare negative side effects from the vaccine -- the Wall Street Journal reported Monday that the FDA and CDC are investigating whether the Johnson & Johnson vaccine is linked to Guillan-Barre Syndrome, which damages nerve cells. The side effect has been linked to males over the age of 50.
"It's been approved for emergency use. There are certainly flags" of warning, Rigby said. "And we're telling everyone to get it. What are you going to do for a college junior who because of health reasons doesn't want to get it? Are they not going to let that student finish? That isn't right," he said.