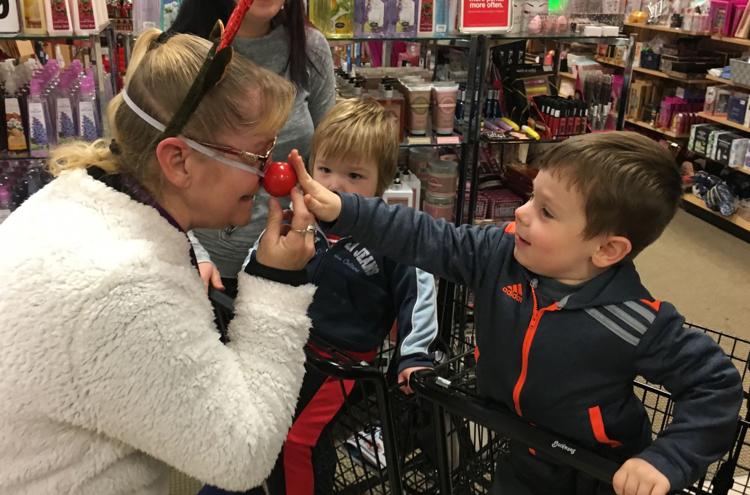 MERCER COUNTY – While temperatures have turned cold in recent days, local consumers have given a warm embrace to Thanksgiving sales.
For many retailers the day after Thanksgiving is their biggest day of the year – known as Black Friday. But in recent years shops have opened their doors on Thanksgiving to begin the rush of Christmas sales.
JCPenney's Shenango Valley Mall store is among them. There were hundreds waiting in line for the store's 2 p.m Thanksgiving opening, Sharon Loughner, the Hermitage store's general manager said. 
"It was cold, so a lot of them were wrapped in blankets and folding chairs they brought from home,'' Loughner said.
Along with sales, another attraction at the store was a chance to be handed gift cards worth up to $500. Penney's is the last anchor department store at the mall, which over the past two years saw Macy's and Sears close – a move seen nationally as well. 
But Penney's has been broadening the goods its offers, such as expanding its sportswear lines, Loughner said.
And the store is also offering items that draws a laugh, such as skirts with Christmas bows attached to the front and "onesies,'' pajamas for adults. The one-piece sleepwear mirrors the bunny-eared pajamas given to young Ralphie in the movie "A Christmas Story.'' Penneys was offering onesies that looked something like a giraffe and Chewbacca, the hairy alien from the "Star Wars'' movies.
Onesies immediately caught their eye of Sharon natives and sisters Jodi Phipps and Lori Bortner.
"This is a tradition for us – to shop after Thanksgiving,'' Bortner said.
They were studying the onesies carefully, so it isn't known if either bought a pair.
Gordmans is a new store to the area that opened in Hempfield Township over the summer. Good cheer was offered by Anita Smith, a Goodmans' employee dressed in a costume that resembled Rudolph the Red Nose Reindeer.
With a 3 p.m. Thanksgiving opening, the store offered bargains such as a 50-inch smart TV for $180. A long line had formed waiting for the store to open, said Cheryl Ferguson, the store's manager.
"It kind of comes in spurts,'' Ferguson said of customer traffic. "But it has been fairly steady.''
The company also is promoting its charitable works. Among them are it will match in-store donations on Dec. 3 for St. Jude Children's Research Hospital, a charity devoted to treating and researching childhood diseases. 
Stores at Grove City Premium Outlets in Springfield Township began opening 8 p.m. Thursday with some remaining open continuously until 10 p.m. Friday. At noon Friday it was observed the outlet's regular parking lot was filled requiring shoppers to park at an adjacent overflow parking lot.
Le Creuset, a store featuring French-made kitchen products at the mall, was seeing brisk sales, said Mark Bonnici, the store's manager.    
"This is our busiest day,'' Bonnici said. 
He talked to Jayne Stoffer, a shopper who came with her family purposely to see what the store's sales were like.
"We're from Forward Township in Allegheny County,'' Stoffer said. "It's 1 hour and 30 minutes to drive here.''
There was little chance Stoffer would pick the wrong Le Creuset item for the gift.  
"This is my Christmas present,'' she said. "I always wanted one of these.''
There was a new breed of Black Friday shoppers this year in Pennsylvania that included Caden Hinkson, 16, of Fredonia.
He was among shoppers on Friday at Waglers Camp Perry, a gas and convenience store in Perry Township. The big draw was that the store sells hunting licenses.  
Pennsylvania changed its law for the start of traditional deer hunting to begin today rather than the first Monday after Thanksgiving.
"I'm going to hunt on our farm,'' Hinkson said.
Those thinking there have been more Pennsylvania state troopers on the roads in recent days are right. The extended Thanksgiving holiday boosts road travel, said Cpl. Mark Hoehn, supervisor at the State Police Mercer Barracks.
"This five-day period is our highest travel volume statewide,'' Hoehn said. The enforcement program being used during this time is also used on other major holidays, he added.
State police aren't trying to ensnare motorists, he added.
"We have our people out to be seen and to get drivers to slow down,'' Hoehn said. "Nobody wants a ticket. But when everyone slows down, everyone is safer.''