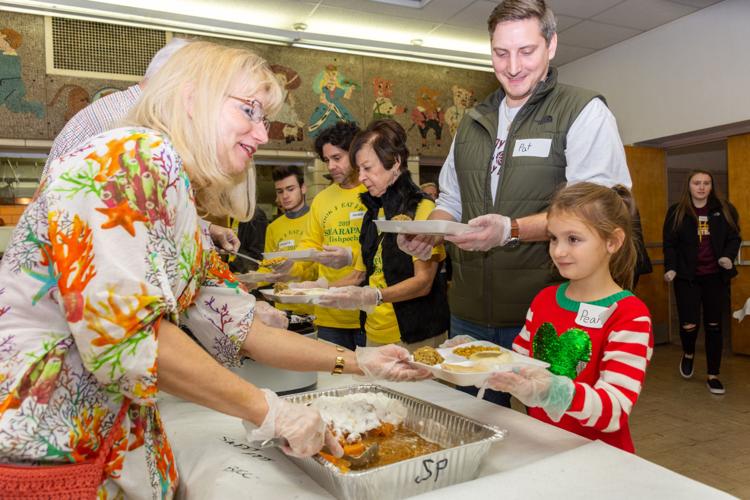 SHARON – Joe Said escorted his granddaughter and his neighbors into the Salvation Army's 30th annual Thanksgiving dinner Thursday, looking forward to good food and a great time with his friends.
"This here, Thanksgiving, means a whole lot to me because I've had a lot of illness, but God has blessed me with helping take care of her while her mother is in nursing school," he said of his 10-year-old granddaughter, Katie Said. "She's my heart right there."
"I think this is wonderful and nice," Katie said.
Said, 68, of Farrell, is a soldier of arms at the Salvation Army. He volunteers by greeting people at the doors and handing out bulletins on regular days.
Said explained that he treats everybody that he meets like he's entertaining an angel because he wants a good report with God.
"God's blessed me after seven heart attacks, three strokes and I just had my 400th surgical procedure of my life," he said. "I'm still walking and talking. I've had a trach now for 31 years. God's been so wonderful to me and I just try to pass it on."
Marta Nagel, of the Salvation Army, said the Saids were enjoying their meals along with 135 others. Another 600 meals were delivered earlier in the day, and everyone who attends the dinner will take another dinner home with them.
The Salvation Army has been serving Thanksgiving dinner to the Shenango Valley for three decades.
About 120 volunteers make the Thanksgiving meals happen, along with the Kennedy Catholic High School girls basketball team.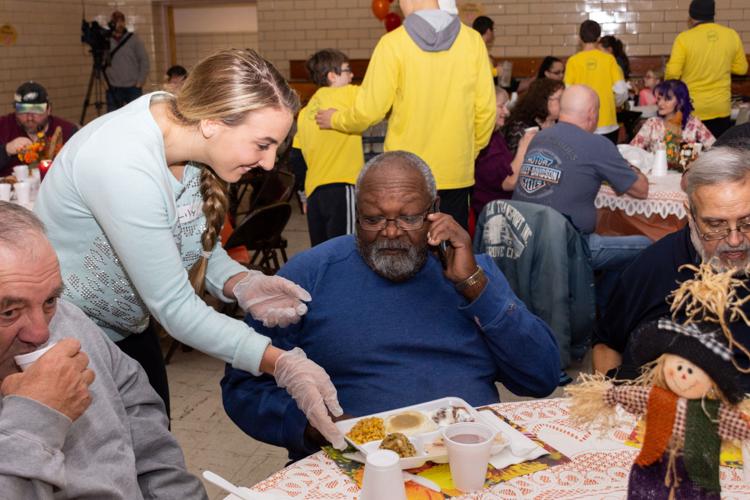 Joe Lombardi, assistant girls basketball coach, said Kennedy basketball players have been helping serve the meals for about nine years.
"We thought it would be a good idea to have the kids learn about serving other people and opening their eyes to the community and the people that need help," Lombardi said.
Senior Malia Magestro, 18, who has served Thanksgiving dinner with the basketball teams for nine years, said this opportunity means a lot to her.
"I think it's good to give back to the community and help out, and also it's good for us because we get to bond as a team, help out the community and give back," Malia said.
Senior Mariah Vincent, 18, said she enjoys serving people Thanksgiving dinner.
"It's rewarding for me to see how it makes them feel," Mariah said. "Because you give them a family feeling, if they don't have one."
Follow Melissa Klaric on Twitter and Facebook @HeraldKlaric, email: mklaric@sharonherald.com