In the New Testament book of James, the author writes that "I will show you my faith by what I do."
In other words, those who proclaim faith in God also should be doing something concrete.
Some teens visiting New Castle on a Christian Endeavor mission trip this week took that quite literally, pouring and leveling a new section of sidewalk for a Park Avenue homeowner. The work was among a multitude of tasks the approximately 75 youths and leaders from eastern Pennsylvania were performing at seven locations on the North Hill street, and at four other locations around town.
Other jobs included painting, fence repair, building a railing, yard work, porch repair and reconstruction and even building a low concrete block retaining wall.
"This our third year of partnering with Christian Endeavor," said Brett Householder, executive director of Lawrence County Youth Ministry. "Groups from churches all over the state come in for a week of mission work. We're here on Park Avenue working with code enforcement, helping folks clean up some exterior things on their homes."
DON Enterprises also provided a to-do list for the teens, while Lear Inc. provided a lift so that the teens could paint an entire house at 204 Park Ave.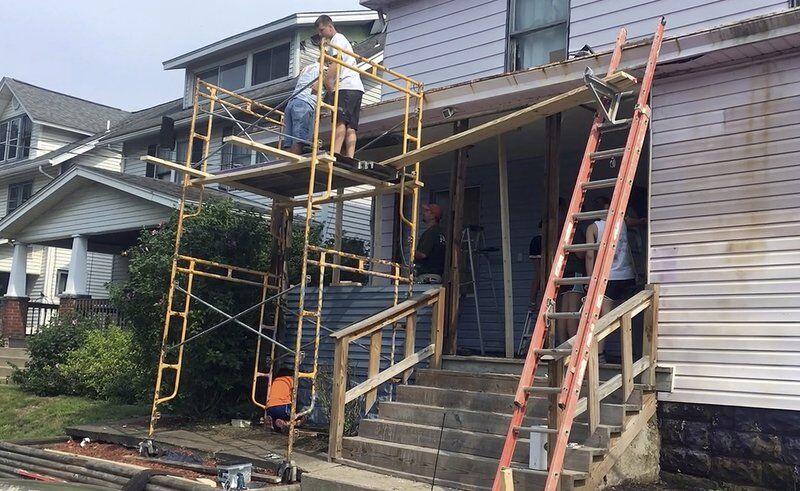 The teens are members of youth groups from five churches in Lebanon and Lancaster counties, brought together by Christian Endeavor, a 140-year-old organization that aids churches in student discipleship.
When not working, the youths were housed at New Covenant Evangelical Presbyterian Church on Harlansburg Road and fed meals provided by Christian Endeavor.
Paul Markloff, director of Christian Endeavor's Mission Weeks program, was among the adults who accompanied the teens to town and toiled alongside them.
"We're just real excited to be here," said, noting that he has been involved with the organization's field trips for around 20 years. What keeps him coming back — including three times to New Castle, with plans for a fourth trip in 2022 — is "just being able to help people out and seeing how we can be the hands and feet of Jesus."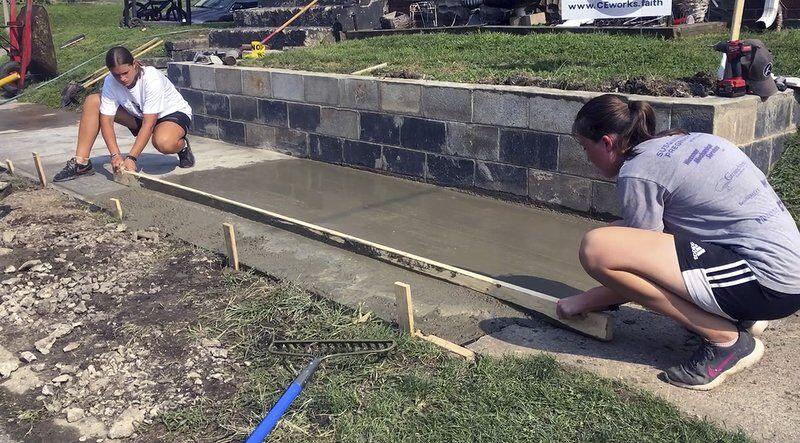 Youth pastor Eric Zwally said that getting the youths to commit to a week's worth of manual labor in mid-summer temperature's isn't difficult.
"We've done it in the past," he said. "They look forward to it. Maybe halfway through the week it's kind of a drag, but they do well. It's amazing how they step up.
"Helping other people … it makes you feel better. We're just trying to share the love of Christ."
He gets no argument from 14-year old Ayla Zwalley, his daughter and partner with 15-year-old Julia Zimmerman in sliding a piece of wood back and forth to level off the poured concrete in the sidewalk.
"I thought it would be really cool to help people", Ayla said, "seeing what we could do and helping the community be better. It's a lot more (than she thought it would be), but I'm learning a lot."
Julia echoed her sentiments.
"I've never done this before, but I'm learning," she said, adding that she also has realized "I helping people do these things. I love seeing their reaction."
Across the street, yellow-coated paintbrush in hand, 17-year-old Shawna Martin, said that her task of helping to paint a house was a lot of work, but that she was enjoying the experience.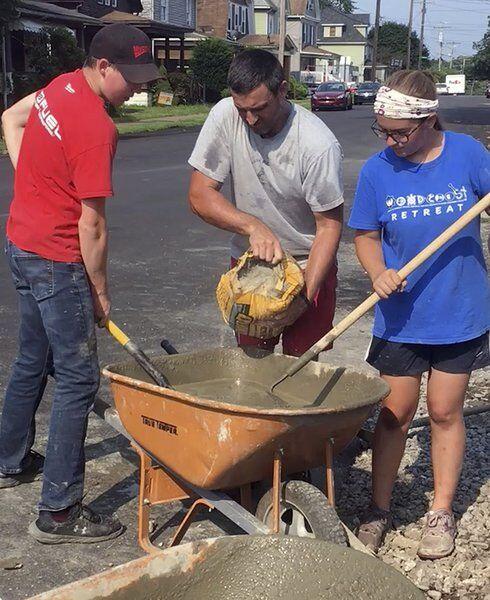 "We didn't really know what we were going into," she said. "We didn't have any idea of what we were going to be doing — like over there, they're building a whole entire sidewalk.
"But I didn't have any doubts. I came with the right heart and mind, knowing that I was going to be helping people to fix their houses."