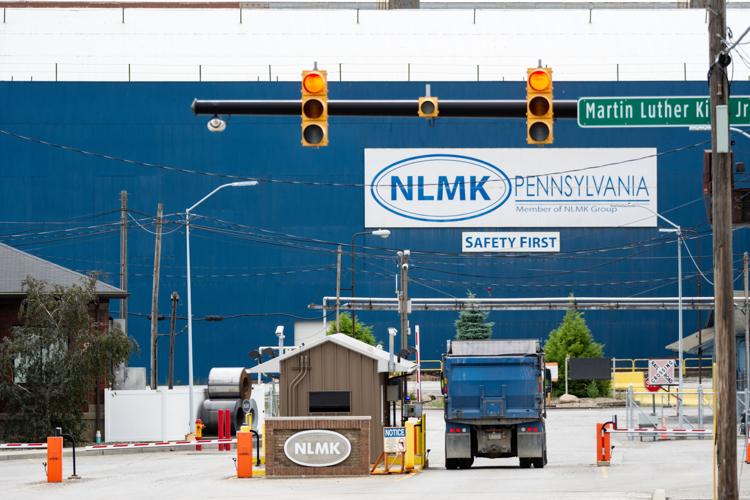 FARRELL – With health care as the sticking point, management and union employees at the NLMK Pennsylvania plant in Farrell are nearing an impasse in negotiations for a new labor contract.
United Steelworkers Local 1016-03, which represents 415 production and maintenance workers at NLMK Farrell, took out a full-page advertisement Wednesday in The Herald, accusing the company of proposing health care plans that would increase costs for workers.
The advertisement drew a frosty response from NLMK Pennsylvania President Bob Miller, who said four months of contract talks with the union has come down to what he called, "our last and final offer.''
In the advertisement, written in the form of an open letter, Wells acknowledged NLMK was offering a wage hike. But that offer, he said, was tied to a healthcare insurance plan with a high deductible of the type that members have previously rejected.
"Our members believe that their costs will be increased under the company's proposed plan to the point that they will not be able to afford necessary medical care and that their take-home pay will be diminished by the costs of the plan,'' Wells said in the advertisement.
Miller didn't hide his irritation over the ad.
"I'm very surprised they would do this given what the economy is like now and all of the things happening with COVID-19,'' Miller said. "We are offering a very good contract. Obviously the (union) leadership is leading these tactics. It's surprising and disappointing.''
Under the company's proposal, each union worker would get an automatic $3,000 signing bonus, Miller said. The pay increase, around $3 per hour over the life of the proposed four-year contract, would raise the average wage for union members at the plant to $28.65 an hour.
The company is offering workers the option of a preferred provider organization healthcare plan, known as a PPO.
This plan would have no deductibles and low co-pays, Miller said. A family health plan would cost workers $185 monthly in premiums in the first year, which is what workers pay now. There would be a $50 monthly increase in premiums each year after the first year of the contract, with a total increase of $150 by the fourth year. 
"With this plan, when you include the pay raise, workers will take home more money than they do now,'' Miller said.
The company also is offering the option of a high-deductible plan with no premiums. The family plan has a $3,000 deductible with a maximum annual out-of-pocket expense of $4,500. With this family plan, NLMK will create a healthcare account, and would deposit $2,350 annually for the first three years and $1,550 in the last year.
With the family plan, workers would have less healthcare costs for the first three years than they do now, Miller said. 
Wells said the union has asked the company for specific information about the insurance plans but hasn't gotten a response. 
"They've never said they were losing money,'' Wells said. "And we've never asked them to open up their (financial) books. We're just asking for information, like how much money they will save with these new insurance plans.''
The union offered a healthcare insurance proposal that would save what Wells said would be a huge sum in the first year, with the potential to save more money down the road.
He said NLMK rejected the offer, which would allow members to keep their current health insurance plan.
Wells said he was not authorized to provide figures related to the contract negotiations. 
NLMK's Farrell plant employs 550 workers, with its Sharon Coatings plant employing around 200, for a total of 750 workers.
The Sharon Coating employees aren't part of the labor talks — union members at that plant have a separate contract.
NLMK was Mercer County's sixth largest employer in the fourth quarter of 2019, according to the state Department of Labor & Industry.
The Farrell plant, like other steelmakers, suffered a hefty drop in orders during the COVID-19 pandemic, Miller said.
"Manufacturing is coming back,'' he said of sales. "But we're not anywhere close to the pre-COVID level.''
NLMK, subsidiary of a Russia-based steelmaker, is also dealing with tariffs imposed in March of 2018 by President Donald J. Trump. The tariffs forced NLMK's Farrell plant to seek steel from sources other than its parent company, Miller said, which was more difficult because the company could not purchase enough suitable steel slabs domestically.
"We're trying not to pay tariffs,'' Miller said. "We're buying slabs out of Brazil but we can't buy enough there to cover our needs.'' 
Since the tariffs were enacted, NLMK has forked out over $170 million. 
Union workers have a bone to pick with NLMK, Wells said, because they sacrificed wage increases in the current contract ratified four years ago to help the company invest in a new furnace that was supposed to make the plant more competitive.
"All we're asking for is for the company to be fair to us,'' he said.
Miller said the company didn't make a direct link between concessions in the 2016 contract and the new furnace, but NLMK still plans to make the investment.
"But we never expected to have tariffs and the added cost of getting slabs from somebody else,'' Miller said. 
He said the 2016 wage concessions were intended to keep the plant competitive.
The plant's current natural gas furnace dates to 1960, Miller said.
"A new furnace would use less natural gas and produce a better quality product,'' Miller said. 
In March, union members at the Farrell steel plant approved allowing their leadership to call for a strike if negotiations reached an impasse. Union employees are continuing to work under their current contract, which expired in April.
Wells said the union is open to further contract talks. 
Miller said he's willing to talk, but the company's offer is firm.
"They have to decide what they're going to do now,'' Miller said of the union. "We're giving them a darn good fair contract given the times.''