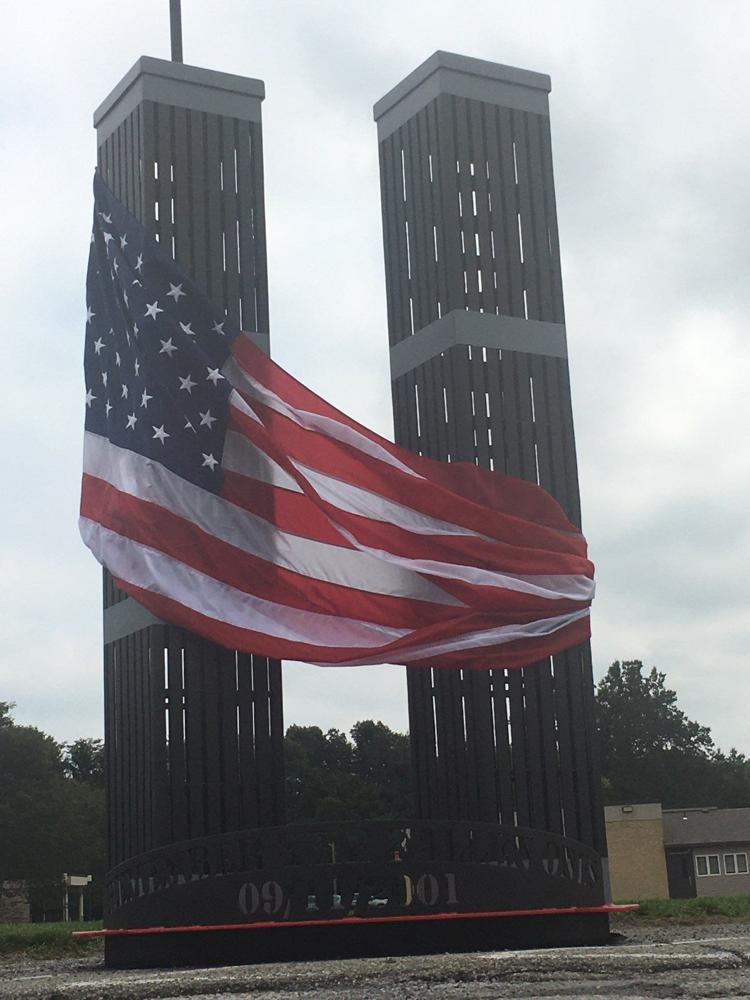 WEST MIDDLESEX — With two scaled-down twin towers and a red firefighter shield at its base, the 9/11 memorial on display today at West Middlesex's main intersection has a message — "Remember the Fallen Ones."
To help drive that point home, the memorial has the number "343" displayed on its shield, in a reference to the 343 New York City firefighters who died in the Sept. 11, 2001, terrorist attacks, said Ray Lucich, a member of the West Middlesex Volunteer Fire Department.
Today is the 19th anniversary of the attacks, when Islamic terrorists hijacked four passenger jets and flew three of them into the main World Trade Center towers in New York City, and the Pentagon. The fourth jet crashed in Somerset County as the passengers tried to overthrow the terrorists and retake control of the aircraft. 
"It makes you not forget. It makes you remember where you were on that day," Lucich said of the memorial.
Lucich said he had wanted for some time to hold a local observance of the anniversary, but it didn't happen until this year, when he mentioned it to Jeffrey Hogue of T. Bruce Sales Inc., in West Middlesex's business district.
Hogue said the COVID-19 pandemic had slowed his business and, although he kept all of his workers on the payroll, he was looking for a project.
When Lucich floated the idea about an anniversary observance, Hogue had him make some sketches. Five to six weeks later, the memorial was ready for display.
"Everyone that worked on it, they took a lot of pride in it," Hogue said. "We wanted something that was a representation of it, that would spark conversation, and would really impress on the younger generation not to forget 9/11."
Fellow firefighter Rodney Garrett said he appreciated that the company was willing to donate the time, engineering and materials to make the memorial, which can be transported to different locations.
"That business has done several things for the borough and the community, I don't think there was any hesitation," Garrett said.
For one West Middlesex fire department member, the terrorist attacks are more than a memory. Robert Lucich, Ray's brother and a former West Middlesex fire chief, was among a group of Mercer County firefighters who volunteered for Operation Clean Sweep at the crash site of United Flight 93 in Somerset County.
Operation Clean Sweep was a mission to recover debris, the passengers' personal belongings and even human remains from an area covering more than 5 square miles.
Robert Lucich said responders worked in teams of 10 to search the area in grids. Nine people would crawl on their hands and feet while one person walked behind them to monitor the line of people. The people on each end dragging toilet paper to show where they had searched.
The recovery effort was often chilling.
"We found body parts, coins, credit cards, plane parts. You start doing it and you don't give it a lot of thought," he said. "The group beside me found a notebook that had Arabic writing in it."
Robert's group was involved in the search for a couple of days, and he said it was the largest gathering of firefighters and first responders he had ever seen. Family members were also present at the site for any news or items recovered from loved ones, while the responders were put up in a local hotel and fed by the Salvation Army.
"You couldn't ask to be treated better than they treated the firefighters, but I hope we never see something like that again," Robert said.
For West Middlesex students — almost none of whom would have been born when the attacks took place — the fire department took the memorial to the school campus, right across the street from T. Bruce Sales, as an illustration of what they have been learning in class.
The fire department moved the memorial Thursday evening to a vacant lot at the intersection of Sharon Road and Main Street. Equipment and personnel from the department will stand watch today at the monument next to the intersection.
To mark the times each tower was hit, the department will sound its sirens.
After today's observance, Garrett said the department will seek a permanent home for the monument. One option would be to place at the fire department on North Street, which would require approval from council because the borough owns the fire department property and building.
"This memorial, it's our way of saying 'thank you' and trying to remind people of the past," Garrett said. "There were a lot of firefighters and police officers, and also civilians who gave their lives that day."
Like David L. Dye on Facebook or email him at ddye@sharonherald.com.