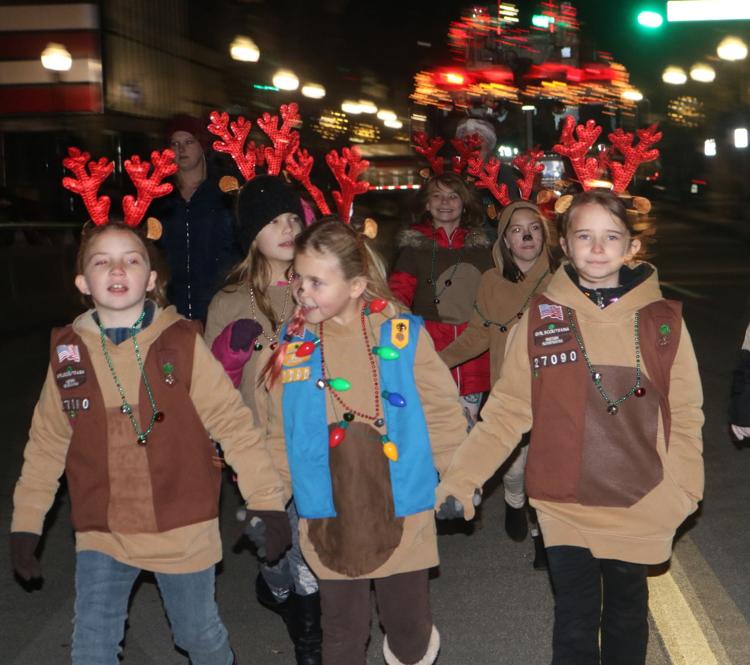 SHARON — Many holiday shoppers chose to patronize local businesses Saturday in downtown Sharon during the Small Business Saturday Holiday Extravaganza, then cap off the evening at the city's "Night of Lights."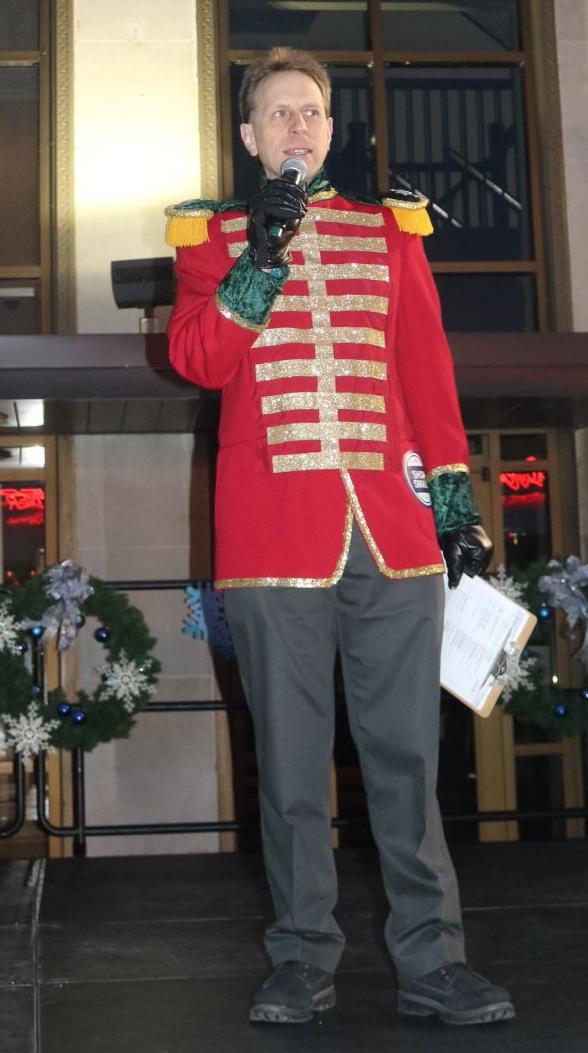 About 1,000 people attended the combination of events, said Courtney Davis, Small Business Saturday chairwoman.
In 2010, American Express created Small Business Saturday to "encourage people to shop small and bring more holiday shopping to small businesses," according to its website. The event always falls on the Saturday after Thanksgiving. 
"This is the business community of Sharon coming together to make this event happen," said Sherris Moreira, executive director of the Shenango Valley Chamber of Commerce.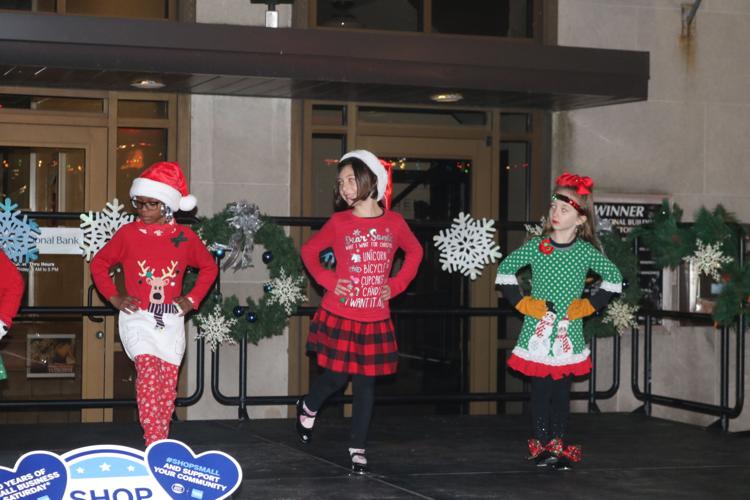 The city of Sharon has been celebrating Small Business Saturday for the past nine years, said Laura Ackley, Downtown Sharon volunteer.
Approximately 67 cents of every dollar spent at small, local businesses stays in the community, according to American Express. 
Small Business Saturday and Downtown Shop Around, which runs through Dec. 21, add an element of "quality of life" that cannot be gotten with big chain and big box stores, Ackley said. 
"The money you spend in this community stays in this community," she said.
As part of the Downtown Shop Around event, shoppers frequent dozens of stores and restaurants in Sharon, fill out a form and register to win thousands of dollars in prizes, Ackley said. 
"Every place is different depending on the location," she said. "Every participating merchant has its own prize."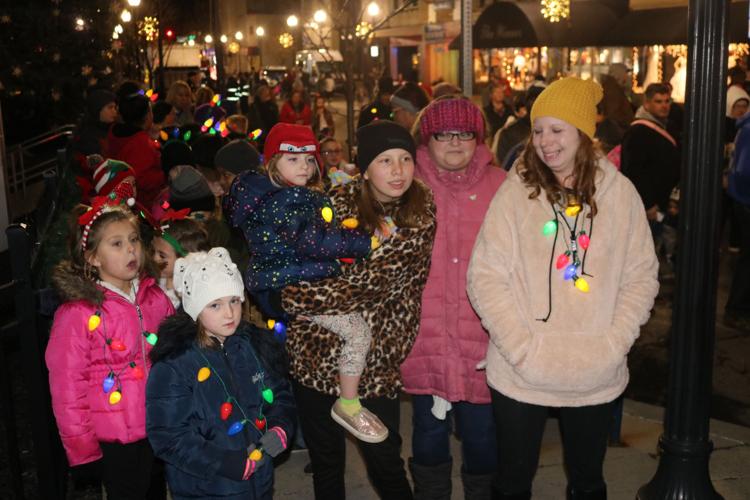 All of the participating businesses are locally-owned stores and restaurants, according to Ackley.
"None of these are chains," Ackley said. "These are your neighbors. These are your friends. These are the businesses that everyone comes to asking for donations."
Joan Gruitza of Hermitage decided to shop local on Saturday with her daughter, Rebecca, and granddaughter, Willow Phillips, 12.
"I'm amazed at all the little stores I've seen," she said. "It's been a very pleasant eye-opener. We said we felt like we were in a Hallmark movie."
Her daughter, Rebecca Gruitza agreed. 
"We just wanted to come out and support local businesses," she said. "We tried to go in every store and buy one little thing in every store, even if it's something small. We just love the season."
For Kim Conger, owner of Firebean Espresso, business on Saturday was "amazing."
"We hit 100 transactions," she said. "It's been busy. We had vendors in here too, and they were all busy."
For Leanne Ekis of Sugar Magnolia Merchandise, a clothing store in downtown Sharon, business was good, but only about half as good as in previous years, she said.
"It's still much better than a normal Saturday," Ekis said. 
The Night of Lights event featured the Drum Circle of the Emerald Tablet, Buhl Community Recreation Center dancers, a children's choir from West Hill Ministries and a fireworks finale.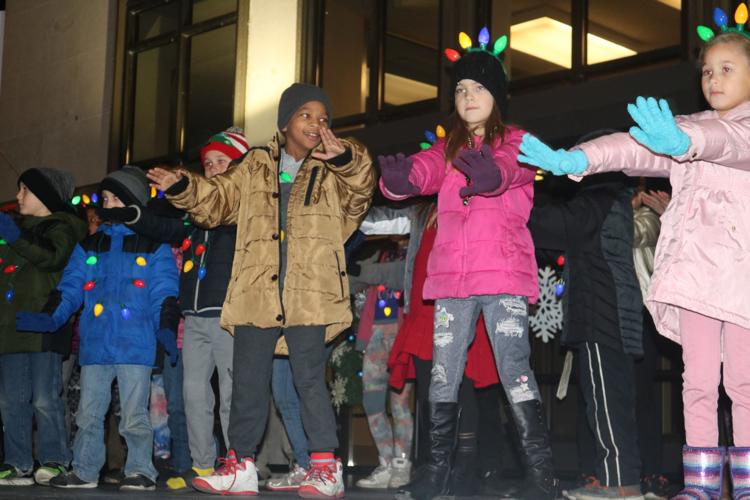 Downtown Sharon volunteers honored first responders Bob Fiscus and Mark Johnson. 
Fiscus is Sharon city manager and Sharon Fire Department chief, while Johnson serves as captain of the Sharon Police Department.
Both Fiscus and Johnson lit the angel cherub statue to light up the night.
Sharon Salvation Army handed out free hot chocolate donated by Dean Dairy, and Daffin's employees handed out free milk chocolate candy bars to event participants.
Carol and Ron Haywood of Sharpsville came out to support their grandchildren performing with the Buhl Community Recreation Center dancers and to kickoff the holiday season.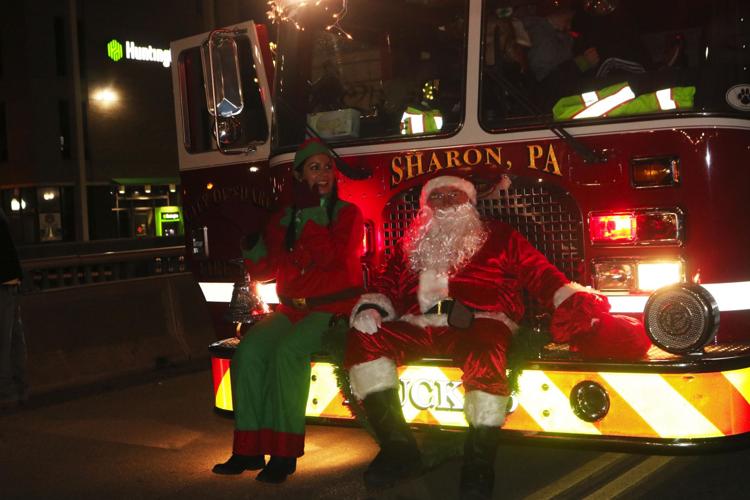 The evening concluded with Santa Claus arriving on a Sharon City firetruck. 
Despite the cold, organizers were grateful for the good weather.
"The weather could not have been more perfect," Ackley said. "That really was to everybody's benefit. The evening was perfect for Santa's arrival."