(First of two parts)
This is a tale of New Castle High School seniors.
They could not attend class at the end of their high school careers.
They were unable to see the classmates they'd grown up with for 12 years, laugh with them at lunch, talk with them in the hallways or distribute signed senior pictures to them.
But perhaps most of all, they were worried that they would have no commencement ceremony.
And they dealt with all of this 50 years ago.
It was the New Castle High Class of 1970 that experienced these things, and not because of a pandemic that has their 2020 counterparts similarly worried. Rather, the Saints of '70, as they called themselves, were the collateral damage resulting from a prolonged teachers' strike that kept 8,000 students in 14 buildings socially distant from their classrooms and classmates for virtually the entire month of May.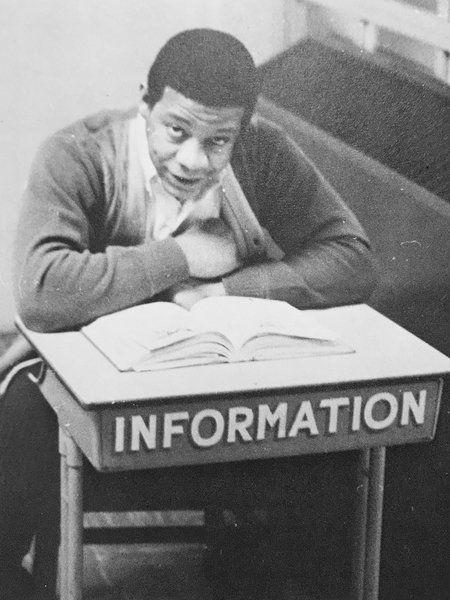 Now, a half-century later, when those 1970 seniors were planning to get together to recall these and other memories at a 50th anniversary reunion, they've been sent home again. COVID-19 concerns have forced the cancellation of the event.
The reunion is being rescheduled for next year, and the 1970 seniors ended up having not only commencement, but also their prom, dinner dance, all-night party and baccalaureate. Still, Sam Flora — who graduated that year and is now New Castle's athletic director — recalled his classmates' concerns, and empathizes with this year's senior class.
"We were all asking each other, 'What are we going to do? Are we going to graduate? Are we going to have our activities?' " he said.
"My granddaughter is a senior this year at New Castle. My wife (Connie, also a 1970 Ne-Ca-Hi grad) and I feel for her in the capacity where you didn't get to go through your May. May is probably the most important part of being a senior, because you're looking for that date and know that you're almost done.
"The difference is, we were able to have all our activities. These memories have lasted us guys and girls for 50 years. These kids, they'll graduate, but how they're going to graduate is another thing."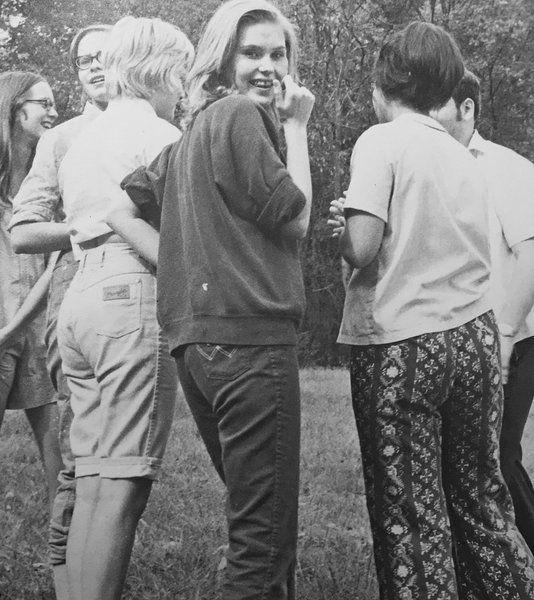 STRIKE STARTS
The strike of 1970 began April 29 when teachers voted 183-94 to reject the school board's latest contract offer. They walked out the next day, and neither they nor students returned to class until May 26.
The unexpected vacation may have been welcomed by some students, but not all. The New Castle News reported that many students reported to school on Day 1 of the walkout, and that "fruit throwing, window breaking and a small demonstration were engaged in by students."
At Ben Franklin Junior High School, head custodian Chub Pia said he saw an orange fly through the air, and assistant principal Charles Gibbons said he was hit in the head by a banana tossed from a crowd of girls.
Senior class president Lou Ross recalled a similar incident when he was part of a group who reported to the high school.
Principal Fred McLure and assistant principal Amen Hassen were atop the steps, trying to reassure students, Ross said, when a friend standing next him launched an apple toward the duo, just missing them.
"Amen Hassen was a big man, because I got swats from him in junior high school," Ross said. "So the next thing we see is Amen Hassen tearing through the crowd, coming toward us, and I look at my friend, Bill, and he's white as a ghost. I thought, 'Oh, man, he's dead meat.'
"Hassen comes by and pushes him aside, and grabs the kid behind him, and drags him off."
Ultimately, the students were taken into the fieldhouse, Ross said, where the principals again tried to speak to them.
"Principal McLure, he's a good guy and all that but he was kind of mild mannered so he couldn't get control of the crowd," Ross said. "So Hassen took over, and he'd found out that wasn't the kid who threw the apple, so he was trying to find out who did throw the apple — which he never did."
Ross would go on to draft a petition demanding that seniors not be required to make up days lost to the strike. He also went head to head with Superintendent Russell Horchler and teachers union president Delores Callahan in a live interview on WKST.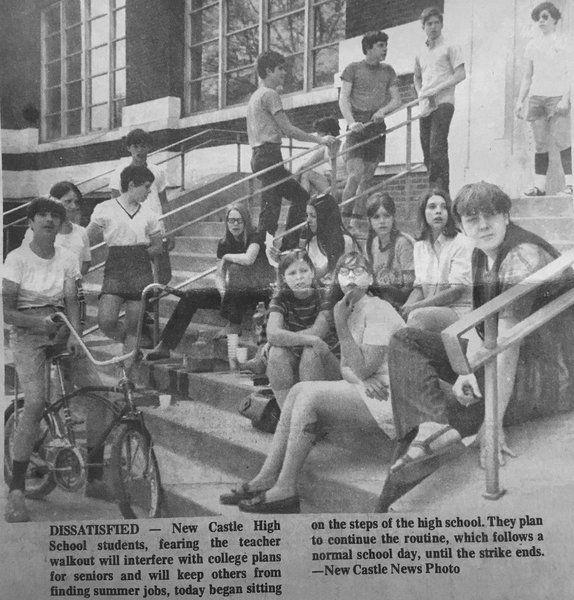 NOT JUST SENIORS
Still, the main thrust of student pushback, 1970 senior Lynn Rubenson remembered, was delivered by a pair of juniors.
"When the whole issue of the teacher contract came up, and the teachers were threatening to go on strike, two good friends of mine — Ken Love and Ben Horlick — went to the school board and called out the board for bad-mouthing the teachers," she said. "One of the radio stations was there covering the meeting, and they interviewed them."
Love recalled the meeting and the protests he helped to organize.
"We began with the notion that we wanted to finish out the school year," he said, "and we were anxious to do that, because we didn't want to be going to school in the summer. So we wanted to create a movement that moved the ball somewhat or highlighted the students' concerns about finishing school.
"Ultimately, I think we became pro-teacher. Looking back on it, it was a smart move. Who are you going to be in class with the next year — the members of the school board, or the teachers? So it's a better idea to come down on the side of the teachers. I might have had a different view of that had I been a taxpayer. But politically, it seemed for expedient to support the teachers."
Love recalled marshalling students toward the stairs of the building for the inaugural protest, and leading chants such as "Support the teachers! No strike!" He remembers no unruly incidents taking place.
He also remembered addressing the school board and being interviewed by radio station WBZY. Among those who were not pleased with message that he and Horlick delivered, Love said, was school board member Mary Elliott.
"And she was someone that I knew and my family knew," he said. "I knew her son."
As a junior, Love didn't have the concerns about cancelled seniors activities that that students a year ahead of him did.
"I just wanted to do something in student empowerment," he said. "I found that ship was a little bit tough to steer. I don't know if anyone heard us. I know the school board did, because they were mad at us. I think the teachers association did, too, but they weren't about to not strike because of it.
"I think the exact words they used were, 'this is a bread and butter issue,' and if they didn't do it now, then who knows the next time they'd have a chance."
(Monday: Teachers lose jobs, track star loses shot at title).
Memories of Ne-Ca-Hi's 1970 strike