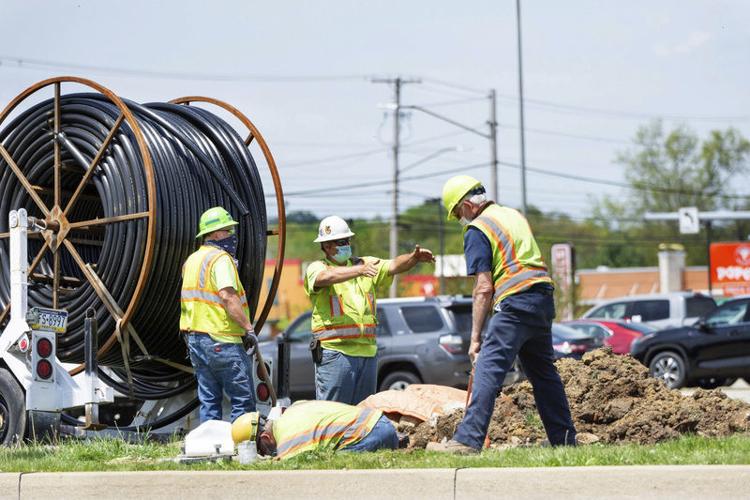 HERMITAGE – After shutting down for a few months because of the COVID-19 pandemic, work resumed this week on the planned roundabout at the intersection of East State Street and the Shenango Valley Freeway in Hermitage.
Even with the delay, PennDOT officials are still hoping to finish the project this year.
The work had stopped for two months due to the pandemic, until state officials allowed scheduled road construction work to resume.
Starting Monday, crews from one of the project's subcontractors, Wyoming Electric and Signal Inc., performed directional boring at the site of the roundabout.
PennDOT Project Manager Reggie Jannetti said the directional boring was a more efficient process — compared with the conventional method of digging a trench, laying the circuits and then refilling the trench — for drilling underground to install wiring for light poles later in the project.
"It's quicker, less intrusive," Jannetti said.
Today, another subcontractor will remove the existing pavement markings, which will require only flaggers to maintain traffic. Then on Thursday, crews will set up a temporary concrete barrier along the north side of East State Street from Sunset Boulevard to Firestone Complete Auto Care, which will allow detours for vehicle traffic, Jannetti said.
During construction, Shenango Valley Freeway will be closed from the Red Lobster restaurant to the intersection with East State Street.
Cars traveling east on the freeway toward Mercer will turn left onto state Route 18 (South Hermitage Road), then right onto East State Street. Eastbound trucks on the Shenango Valley Freeway will turn left onto Maple Drive, then right onto East State Street.
After the barriers have gone up, work crews will take a month to build a temporary road on the road's northern Shenango Valley Mall side. The temporary road will be used to maintain traffic while the roundabout is built. Eventually half the roundabout will be open to traffic, until the entire project is finished.
"During rush-hour traffic in the mornings and afternoons, we are expecting delays on East State State because it'll be down to one lane each direction, so we ask that when travelers plan trips, they allow for more time and be patient," Jannetti said.
Initially, PennDOT planned on having the project completed by Sept. 21, but delays caused by the coronavirus pandemic restrictions on construction have pushed the estimated completion date to Oct. 31, weather permitting. However, crews can work into November if necessary, he said.
"If we have a rainy season then we could get pushed back, but with this project right now, we're anticipating having it completed by this fall," Jannetti said.
The timeline for the project isn't the only thing that was changed by the pandemic.
As crews return to work, both PennDOT and its contractors must abide by safety guidelines — including wearing masks and maintaining social distancing — set out by the U.S. Centers for Disease Control and Prevention and the Pennsylvania Department of Health.
Additionally, each of the contractors are required to submit a COVID-19 safety plan to PennDOT for approval. So far, Jannetti said PennDOT had received and approved the safety plan from Kirila Contractors, and plans from 11 of the project's 14 subcontractors. But the three remaining subcontractors won't be involved in the project until later phases.
Part of these plans include asking workers certain health-related questions, including whether the employees have experienced any flu-like symptoms in the past 48 hours or been exposed to anyone who tested positive for COVID-19, prior to each shift, Jannetti said.
"I ask my own inspectors that every morning," Jannetti said. "This is somewhat new for us, and the construction workers aren't used to this, so I'm sure it'll be a bit of a learning curve."
Like David L. Dye on Facebook or email him at ddye@sharonherald.com.