The Rev. David Bell was always looking toward heaven.
For 28 years as the pastor of First United Brethren Church on Eastbrook Road, he delivered sermons that pointed people in that direction.
He also followed the signposts of nature itself.
"Some of my favorite messages were the one where he would talk about being outside in the woods, observing all of God's glory and splendor in " Allyson Calvert said Sunday. "His face would just light up when he talked about that."
Bill Dorr recalled that Bell loved making maple syrup.
"It seemed like a lot of work to me, but he loved being out in the woods," Dorr said. "He loved being out in nature and going on hikes."
Ultimately, Bell missed out on just one heavenly guidepost before losing his battle to ALS — Lou Gehrig's disease — in September 2018: a steeple.
That, though, was added to the church earlier this month, along with a plaque and a service that dedicated the new addition to Bell.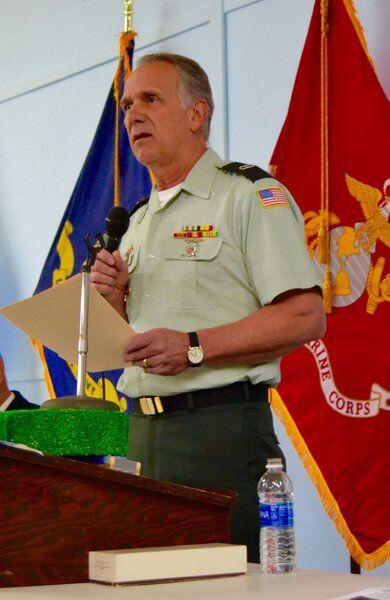 "A steeple on the church is something Dave always thought would look nice," Dorr said. "He was right. It's beautiful up there. It looks like it's always been there.
"The steeple points toward heaven, and it's a great reminder of the ultimate goal which David preached and lived his life as an example of …"
Raised on a farm in Franklin, Pennsylvania, Bell enlisted in the Marine Corps and went on to serve in Vietnam before returning home to earn his bachelor and master of divinity degrees from Asbury College and Seminary.
"Pastor Bell had the three most important jobs a person could have," said Bruce Leidy, who served as chairman of the church board under Bell and continues in that role today. "He started out on a farm as a farmer feeding people. He was in Vietnam as a soldier protecting people.
"And he became a pastor, feeding and protecting souls."
Bell also was a leader with His Hands MInistries, a multi-church initiative that provided home repairs and maintenance to those who could not otherwise afford them.
"Dave loved to tinker with things," Dorr said. "He was always fixing something. He loved woodworking, working on stuff for the kids, building things around home, working with His Hands Ministry, just helping anyone he could.
"But most of all, he loved God."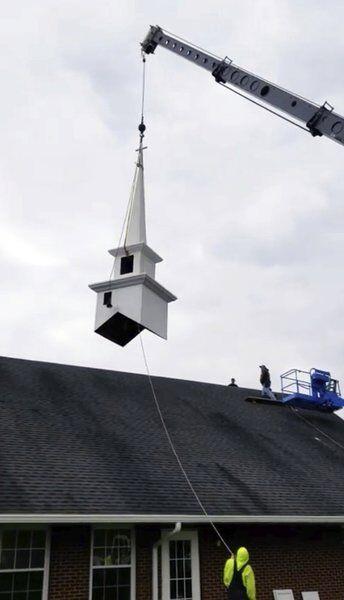 For such a man, current First UB Pastor Marc Stephenson said, it wasn't a difficult decision to add a steeple in his memory.
"When we started talking about renovations to the foyer, it came up at a board meeting, and the discussion was, 'Why wouldn't we honor a man who so faithfully served here for 28 years, not bringing glory to himself, but humbly living to bring glory to God," Stephenson said.
"He has impacted many, many people's lives, and continues to impact your life, and you're still touching people's lives. Today, we're honoring Dave and dedicating the bell tower for his 28 years of service, but we're also honoring God because the legacy of Jesus Christ still lives on."
The steeple and the service both touched the heart of Bell's widow, Ann, who attended with 33 other family members.
"I thought it was a very emotional and generous offer for the church to put up that steeple in memory of Dave and dedicate it to him," she said. "He would have been really pleased and humbled by it."
Toward the conclusion of the dedication, Stephenson presented Ann Bell with a collection of memories that had been put together by members of the congregation.
"It's like a scrapbook of letters that people wrote of memories, different opportunities they had to serve with him," Ann Bell said. "It's a very emotional book to read, and it's definitely a keepsake."