In decades past, sidewalk phone booths enabled passers-by needing assistance to get help.
Now, a structure just slightly larger than one of those all-but-extinct enclosures is providing succor for anyone traveling Croton Avenue.
And you don't even need a quarter.
Grace United Methodist Ministry on Nov. 5 dedicated its new Care Station outside its Croton worship site. At first glance, the station might be mistaken for a bus stop shelter, but within its confines are free food, children's books and a depository for prayer requests. All are available without charge.
The seeds for the station were sown not long after four New Castle United Methodist churches — including the former Croton church — merged to become Grace in July. During one of the ministry's COVID-prompted parking lot services, Jane Dean had an idea.
"It was just a time when I felt there were so many people who were feeling the darkness of the COVID, that you were feeling separated from the church family, from your own family," said Dean, a Westminster College education professor and chair of Grace's NOW — Nurture, Outreach and Wellness — team. "You were concerned about helping your child learn something when they were not going to school. And you were worried about not putting food on the table.
"So we started thinking and talking about how we could do prayer requests," Dean went on, "maybe put a box on the outside of the church because people weren't going inside."
Dean shared the idea with her team and approached Vinnie Bejgrowicz about building it.
"I said, 'OK, that wouldn't be too hard to do,'" he said. "I emailed her the next morning and said, 'Can I run something by you? I've a little different take on it.' And I threw this out at her. It ran through my mind all night, and I looked up a couple of things online and looked at different pictures, and just thought, 'What if we had this and this and this and this, and we found a way to bring it all into one, easy unit?' That's what we did."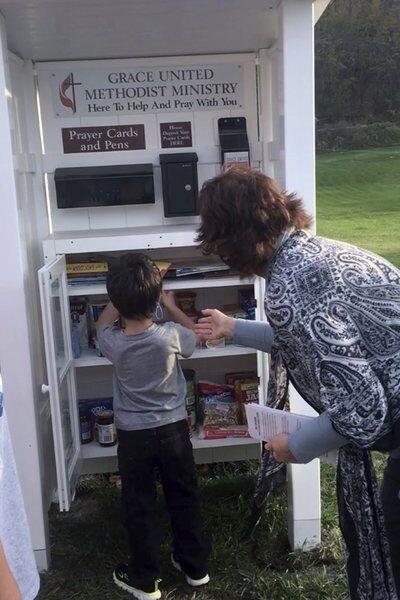 The idea, Dean says, combines the concept of her prayer request box with a blessing box offering food and a Little Free Library that provides books that she had seen along a street in New Wilmington.
"We are just trying to be a light of caring and concern in the neighborhood, and say, 'Yes, we're going to have free food for your mind, body and your spirit,'" Dean said. She urges community members not only to stop and get something they need, but also to help keep the Care Station stocked if they can.
"If they have something to share, they can put a book in, they can put food in, if they have things and want to help support the neighborhood and the community as well."
For Thursday's launch, books were provided by the Westminster College chapter of the Council for Exceptional Children, which was represented by student Chrissy Cannella.
"We decided it would be good to donate some books to the Care Station," Cannella said. "So we just ordered some books about children with exceptionality to bring awareness to the community and give children some books to read."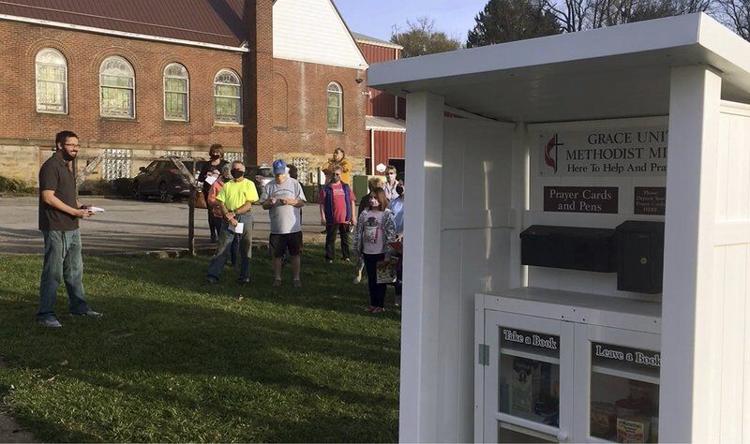 The Rev. Darryl Lockie, Grace pastor, said that he's seen the Care Station concept used in other churches, where they've become welcome community resources.
"The last one we established at the last church, probably within a couple months or so, people were stopping by it every couple of days or so and we had to fill it every couple of days or so," he said. "It definitely seems to be filling a need."
That station, Lockie noted, was stocked only with food.
"I love the fact that this one includes more dimensionality," he said, "the spirituality side with the prayer request cards, it has the hygiene stuff outside of just food and it also has the books for educational resources."
Grace United Methodist Ministry consists of two worship sites. The other is the former First United Methodist Church on Decker Drive in Neshannock Township, and Lockie said the ministry hasn't ruled out establishing a second Care Station there.
"We would be very interested in possibly setting one up at Decker Drive," he said. "Sometimes the assumption is that in Neshannock, that everybody's all well off.
"But some people on our committee were saying that there actually are more needs there than people sometimes think, and more kids on free lunches that people wouldn't necessarily think."