New Castle Mayor Chris Frye has been a busy person since taking office five weeks ago.
His packed daily schedule includes meetings, touring businesses in the city and even a trip to Washington, D.C. for a mayor's conference which ended up with him meeting President Donald J. Trump. On Friday morning, Frye had a different kind of item on his schedule — officiate his first wedding.
In city council chambers, the room mostly reserved for board meetings and presentations was transformed into a makeshift wedding venue for Paula Cain and Jeff Miller. The wooden divider separating councilmembers' desks was covered with white lace adorned with candles lit for the occasion. Chairs in the back of the room which normally seat engaged citizens for meetings instead were used by about 15 family members and friends of the newly married couple.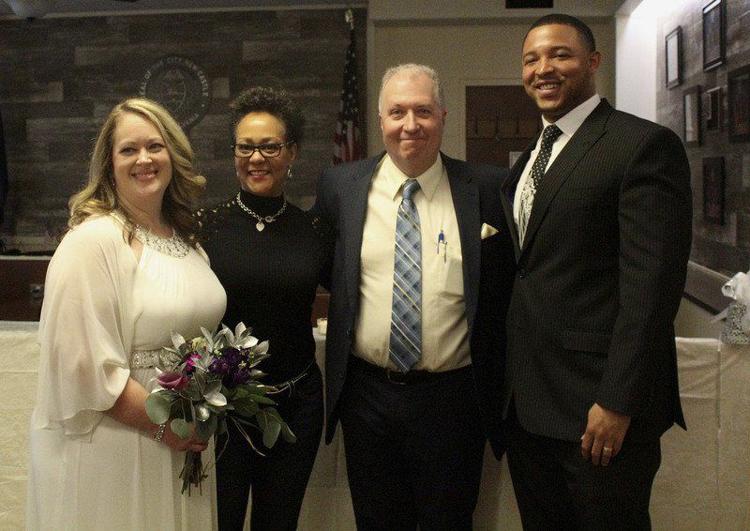 THE BEGINNING
Miller is a real estate agent with Berkshire Hathaway in Hermitage. He's selling a home to Kennedy Catholic Principal Erin Marks and the conversation shifted from houses to Frye, a KC alumnus, and his children, who attend the school.
"The principal just loves him and the family," Miller said.
Cain and Miller knew they wanted to get married and, after finding out Justices of the Peace don't really do weddings anymore, they took their inquiry to city hall.
Cain, who works as a physical therapist assistant at Washington Centre Physical Therapy, got in touch with Frye's secretary, Tammy Waters. Waters graduated with WCPT owner Norm Gabriel.
"I just decided I was going to come down to the mayor's office and ask if (Frye) would be willing to marry us," Cain said. "When I came down and saw Tammy, I was like, I know her."
Waters then had the task of getting Frye on board. He was hesitant at first and had never officiated a wedding.
"Paula was so excited about the mayor doing this," Waters said. "It literally resonated into me. I was so excited about this thing. I'm telling the mayor and the mayor was a little reluctant because he had never done one before."
That's when new city Solicitor Ted Saad happened to be around. He heard the conversation and said that Waters was right.
"You have to do this," Waters recalls Saad saying.
The date was then reserved and the venue changed after it was realized the crowd couldn't all fit into the mayor's office.
It was a relief to the couple when Frye agreed to wed them.
"We were surprised," Miller said. "And very excited," Cain added, finishing the sentence.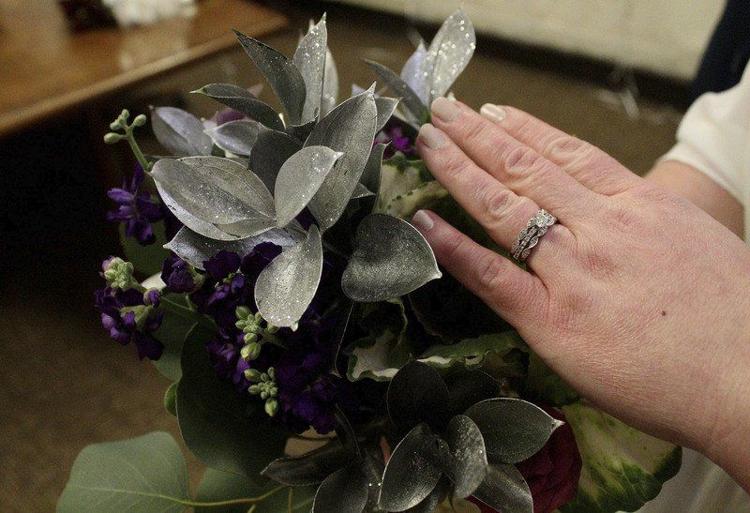 WEDDING DAY
Frye may have been the most nervous on Friday. Meanwhile, the wait from the start of business hours at 8 a.m. until the 11 o'clock ceremony seemed like an eternity for Waters.
For Cain, an early morning snow storm hampered some of her planned preparations. She did her own hair and makeup. Miller, on the other hand, started his day like normal.
He had a home inspection rescheduled to Friday morning.
He made sure it was planned first thing in the morning because he was going to be a little busy later.
As 11 a.m. approached, Cain and Miller went over last-minute preparations with Frye. Cain was wearing a white dress adorned with stones and carrying a purple flower arrangement with silver and green leaves, while Miller wore a blue suit with a cream shirt and a tie Cain's daughter, Julia, 16, bought him as a gift. Frye wore a black suit with a black and white tie.
When it was finally time, Frye welcomed the crowd which included the bride's parents Carol and Dave Sickafuse, paternal grandparents Carol and William Sickafuse, the bride's aunt Janine Sickafuse and sister Jenny Vargo — who came with her husband Frank and daughters Alaura, 6, Ruby, 4, and Josie, 11 months.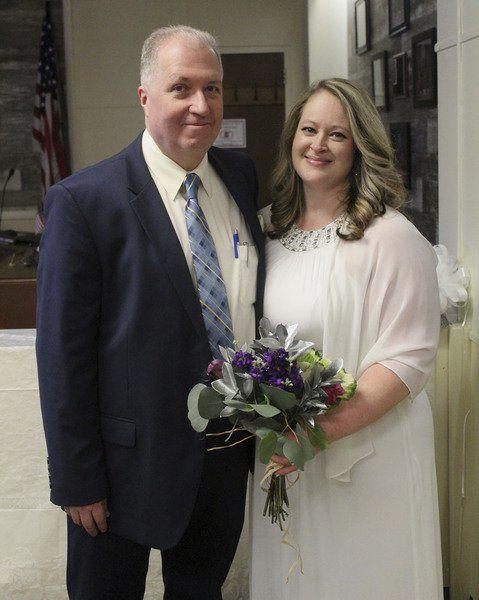 "We are gathered here to celebrate one of life's greatest moments, to give recognition to the worth and beauty of love and to add our best wishes to the words which shall unite Paula and Jeff in marriage," Frye said to start the ceremony.
The couple exchanged rings, held hands before Frye made the final announcement.
"Congratulations. This is a beautiful time," Frye said. "May you both celebrate this love forever more. You may kiss the bride."
The couple kissed before Cain turned to the crowd and raised her arms in celebration.
Waters presented the couple with a "journey jar" gift and flowers from herself. Frye gave the couple a bronze plate from Wendell August Forge in Grove City. The plate features a Statue of Liberty with a note about New Castle receiving one of 25 replica statues across the country, with the city's being dedicated in 1951.
The couple, along with family and friends, departed city hall after the ceremony to enjoy lunch at Soni's Restaurant in Neshannock Township.