McConnells Mill and Moraine State parks are in need of over $19 million in infrastructure improvements.
That point was emphasized this week when Marci Mowery, president of the Pennsylvania Parks and Forests Foundation, led a tour of Moraine in Butler County.
In a January report, the foundation said that Pennsylvania's state parks and forests need a $29.1 billion investment to preserve the infrastructure within the natural resources.
Moraine, according to the report, requires $18 million of improvements while the tab for McConnells Mill was set at $1.2 million.
The two parks attract 1.3 million and 453,213 visitors, respectively, each year, according to the report, and provide a combined annual economic impact of over $20 million.
"So this is a good investment for the state," Mowery said during her visit. "The parks play an important role in the state's economy."
Her visits, she said, are aimed at getting as many people as possible actively experiencing Pennsylvania's state parks and forests.
"I could have held meetings in Harrisburg to say parks are under funded," she said. "But it's important to come out to see the parks, See their beauty, smell the restrooms."
Sprucing up Pennsylvania's state parks, though, is no easy task.
Years of neglect, inadequate funds and understaffing all have taken their toll, she told a group who included state Sen. Scott Hutchison of Butler County, Josh Kohecheck representing state Sen. Elder Vogel Jr., tourist bureau representatives and others.
"Available funds don't meet the needs of the parks," Mowery said.
Roads must be repaved, water and sewer lines, most are beyond their intended life expectancy, must be replaced and recreational facilities must be upgraded to meet existing need and expectations.
Locally, she said, the McConnells Mill grist mill must be maintained to keep the historical perspective.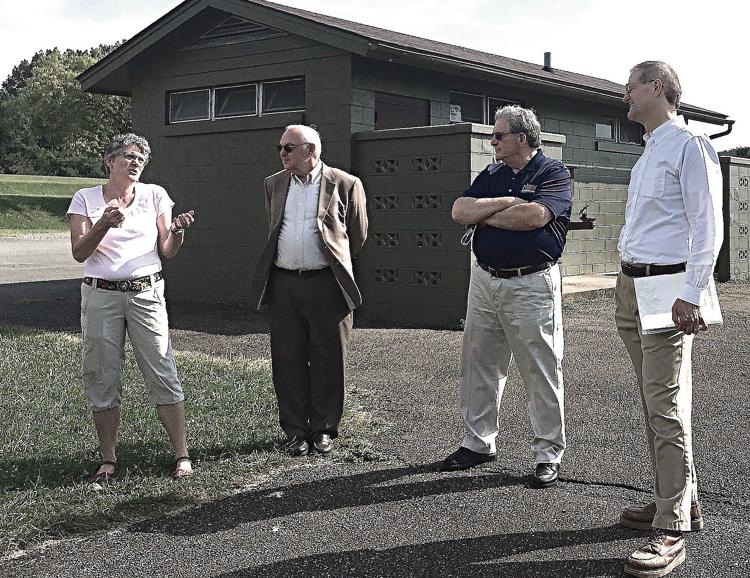 AREA NEEDS
Accompanying the group that met at Moraine's Pleasant Valley Beach was park manager Dustin Drew, who noted that facilities, installed when or before the park opened in 1970, are outmoded and must be replaced.
"Investments have been made and plans for improvements drawn up, but we've fallen behind and are not able to keep up," he said. "Water lines leak. Pump stations placed to get sewage through the park to our wastewater treatment plant are more than 60 years old and are of real concern.
"We're trying and our staff works hard," Drew said "But we're not sustainable at this point." He said roads —there are 30 miles of roads through Moraine —need to be resealed and beach areas, such as Pleasant Valley, must be upgraded to meet visitor expectations."
Drew said upgrades are required in the Pleasant Valley swimming area, one of two swimming beaches in the park. Both were designed to accommodate the lager crowds of the 1970s, before as many people had pools in their back yards. Restrooms, also dating from the 1970s, are not handicapped-accessible. Some don't have electricity, others smell.
"Family-style" facilities that are handicap accessible with large, family-friendly changing rooms and showers are needed, rather than existing separate facilities for men and women," he said.
Drew noted that the beach has severe erosion and drainage issues made more notable this year due to the rainy spring and summer. Drainage, he said, was put in in the 1960s prior to the park opening.
"There has been talk of dredging the lake, but the cost would be great," he said. He added that the dam which was built to create the lake must also be maintained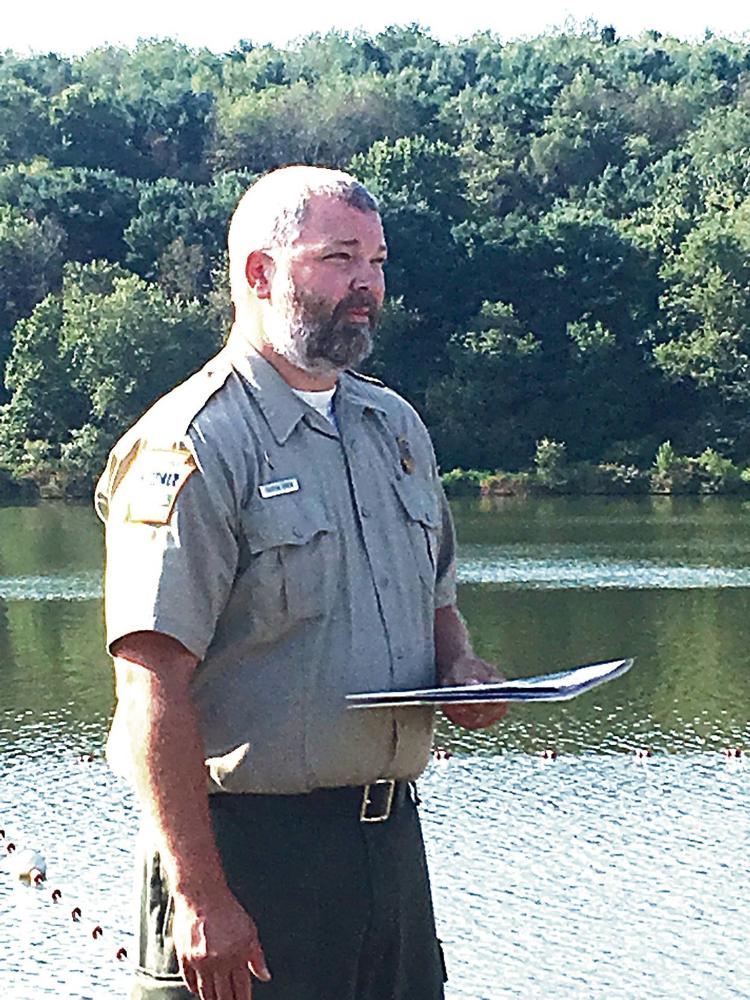 KEEPING AHEAD OF PROBLEMS
"If you don't spend the money now, you will spend much more later," Mowery said. "Resources may be lost by delaying investment in infrastructure."
The state parks, she said, have many volunteers who do projects to help the parks,, but their needs are beyond what volunteers can provide and what local fundraising efforts can provide.
Volunteer and philanthropic efforts, she said, recently relocated a trail at McConnell's Mill. Drew praised groups like North County Trails who have maintained trails at Moraine. "If not for them taking care of trails, they would not be open," he said. "People see and appreciate the work of the volunteers."
Bob Kalan of Mars, who serves on the advisory council of Pennsylvania Parks and Forests Foundation, noted that much of the state park infrastructure dates back the the Civilian Conservation Corps of the 1930s
He also praised Moraine for being "a dark park" away from light pollution where the Milky Way is often still visible.
"Ninety percent of kids born today will never see the Milky Way in their lifetime," he said.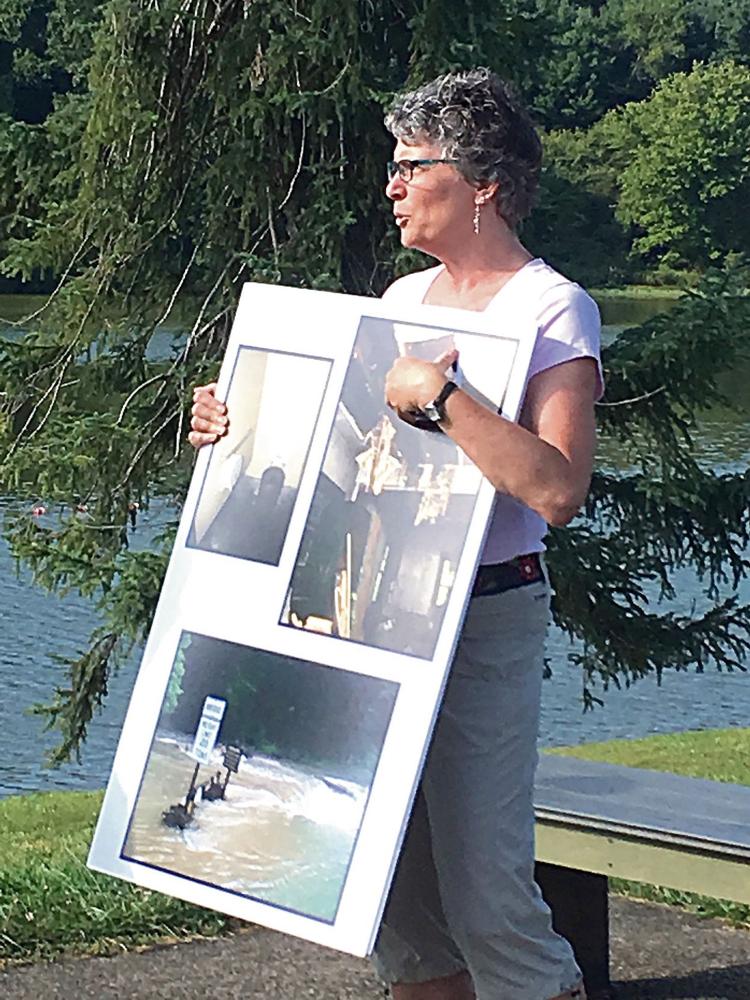 Jack Cohen, president of the Butler County Tourism and Convention Bureau, also praised volunteers but said they don't have the money needed to fix what needs to be replaced.
"Moraine is a special place," he said. "Every state park is a special place. which draw people and improve the quality of life."He noted the park will be 50 years old next year and plans are in the works to celebrate the event.
He said there is an effort to connect Moraine and McConnell's Mill via walking trail to keep hikers off busy Route 422
"This is part of a national trail," he said. "We're trying to get the state and federal governments involved.
"Moraine is the No. 1 destination in Butler County," he said, noting that 10 percent of visitors to Moraine are international guests who stay longer, often three to four weeks and want to come to these places.
"People don't realize what i in our own back yards."