She left a sparkle wherever she went.
What one can make of life in a smaller town — raising a strong and happy family, holding a prosperous career as a journalist and nurturing hundreds of friendships — was the legacy of Maxine E. Carlson, the longtime lifestyle editor at the New Castle News.
Her columns, stories, recipes and cookbook published during her career touched thousands of lives in Lawrence County over a span of 21 years.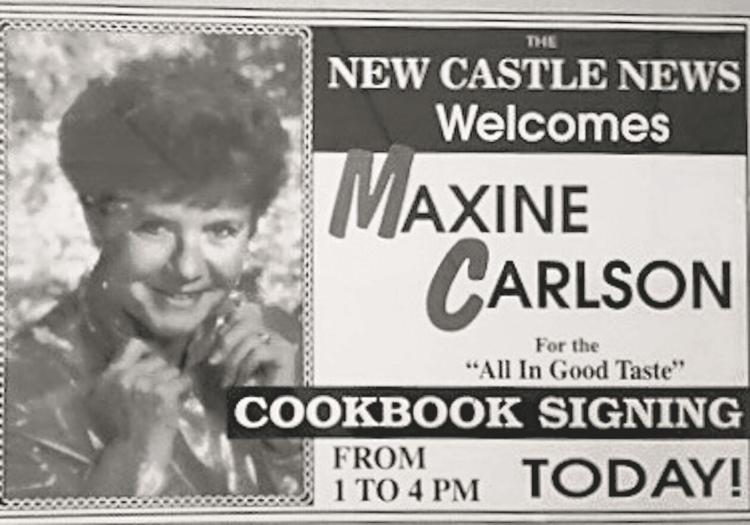 Maxine was hired as FeMale Focus editor of the New Castle News in January 1973 by late executive editor Leonard T. Kolasinski, and the paper's owners, the Rentz family, who first recognized the glint in her eye and her eagerness to make a difference. She had come from a job at the Oil City Derrick, having also been a journalist and columnist for the Erie Times and Erie Dispatch.
Her husband of more than 72 years, John R. "Dick" Carlson, was transferred to New Castle in his job with National Cash Register, so that's when Maxine joined the New Castle News staff. Through her career, she hired many young women as reporters, grooming them for their future journalism careers.
A lot of that involved teaching by example.
Her section included run-of-the-mill engagements, weddings and anniversaries, but it especially showcased feature stories, columns, fashion, food and anything about women. Maxine could find a good feature idea or column note in just about anything or anyone. She was known to approach strangers on the street for stories, photos, or merely to offer kind gestures, words and compliments, sometimes to be rebuked.
Her interviews for stories and columns often evolved into lasting friendships. She may not have realized her own celebrity status, but if you ever went to lunch or dinner with her locally, you knew ahead of time you weren't going to have much conversation with her, and she wouldn't eat much. People would constantly approach the table, telling her how much they loved her columns, engaging her in conversation or peppering her with ideas for stories, and she always carried a notebook and pen.
Her newspaper heyday was the era of pica sticks, paper dummy sheets, editing with fat pencils, writing on typewriters and eventually typing on the earliest computers – VDTs or "video display terminals" connected to a mainframe. She patiently taught her reporters how to lay out attractive pages, edit copy, write good solid feature stories with enthusiasm and to strive for accuracy. She effectively coached shy rookies on how to talk to people with confidence, both on the phone and in person.
A firm stickler for perfection, she was known to reprimand or even fire ladies who weren't doing the job right, yet that always seemed to bother her more than it did the person who was being righted. One time, she thought outside the box and hired a man whom she recognized as a good writer.
She taught all of us who worked under her the value of joining newspaper organizations such as the Pennsylvania Women's Press Association, a statewide group of which she dedicatedly held various offices, including president. She prodded us to enter news writing contests, setting an example by having won many awards herself. We sometimes traveled together to annual newspaper conventions, where she networked and had nurtured a lot of friendships among fellow newspaper men and women across the state.
Maxine gave us the tools we needed to further our careers, but she also taught us the value of longevity and staying in the business for the long haul.
Her long and loving marriage produced five daughters and a plethora of grandchildren and great-grandchildren, and she set the bar high for them to live fully. She likewise instilled that behavior in her young reporters.
She was the epitome of style, covering fashion in its glory days. Her passion was photography and writing about the bright lights and runways of the high-fashion industry in New York City and Los Angeles, where she traveled and met famous models and even some movie stars, including Telly Savalas.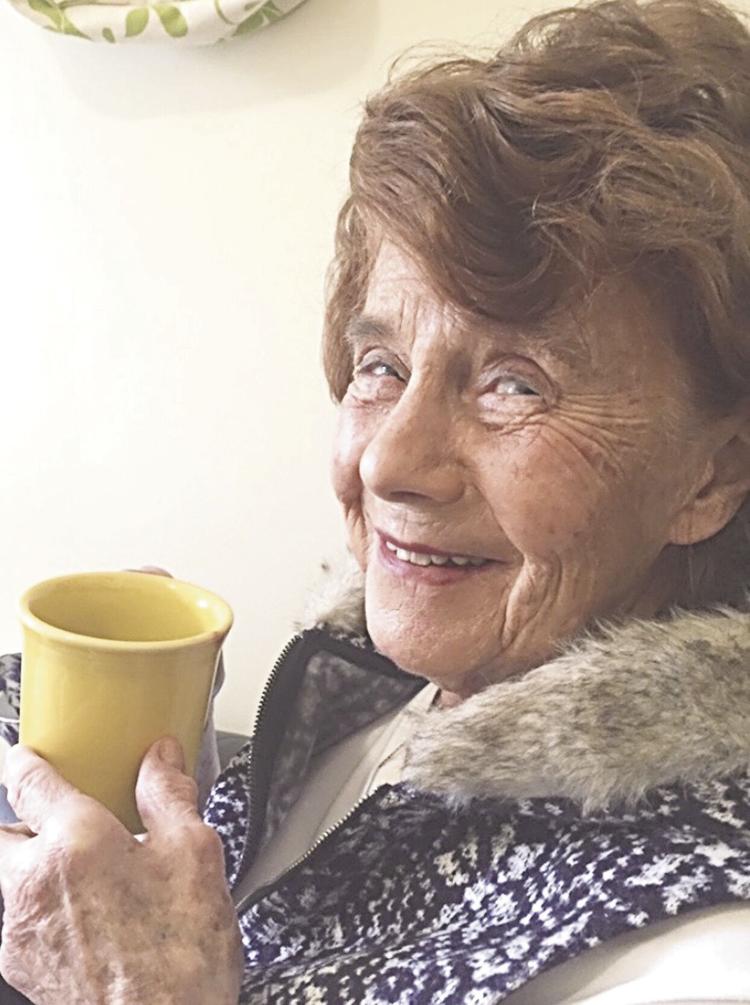 Former co-worker Dennis Bova, now retired from the Toledo Blade in Ohio, recently shared a story of how Maxine once sought him out while he was visiting New York and invited him to shoot photos at a fashion show she was covering there. He reminisced at how thrilled he was at the chance to participate in the accompanying feast and festivities with her.
Maxine penned two columns for the New Castle News — a  popular recipe column named "Potbelly Delights," and a human interest piece about people in town, called "Maxinotes." The latter catapulted her to widespread local recognition and a constantly ringing phone on her desk. She later compiled her cookbook, titled "All in Good Taste." 
She retired from journalism in the mid-1990s, among the last of the old-time journalists and editors from her era who once graced the New Castle newsroom. She loved the Rentz family, and they prided her in her work and in the example she set for the newspaper. She was key in helping them to organize the Christmas Eve community carol sing each year in the New Castle News lobby.
My friendship with Maxine sprouted during my Penn State internship for the 1977-78 winter term. I had worked in every department those three months, but working with her was most impressionable.
That was the winter of the big 1978 snowstorm, and I would ride the Greyhound from Sharon to New Castle every day to work. Then one subzero evening, the return bus from Pittsburgh never arrived at the stop at Kennedy Square. Several New Wilmington-bound Amish riders had to find their own rides.
It was dark outside, my fingers and toes were frozen, I was nauseated from smelling the vapors vented onto the sidewalk from Dan's Poultry, where the bus stop was, and I was stranded. The roads were solid ice and I trudged back to the office, fearing I'd spend the night on the restroom couch. Maxine, whom I barely knew, came to my rescue. She summoned her husband to pick us up and take me to her house, where she fed me dinner (she was a fabulous cook and could turn a hamburger into a gourmet meal) and gave me a bed to sleep in overnight — a gesture I will never forget. 
Years later, a coworker had lost his apartment to a fire, and she sheltered him at her house for several months.
That was her selfless Christian grace.
I was in my early 20s, she in her 40s, when our bond was cemented. I returned to college after my internship to complete my final spring term, and she called me there one day before graduation, telling me she had an opening in her department and she wanted me to come back and work for her, and to think about it.
There was never any question in my mind.
And boy, did I learn from her. Not only did I learn to become a better journalist, I learned about life, love, makeup, fashion, perfume, cooking and shopping — but also how to be thankful to God and how to maintain a friendship forever.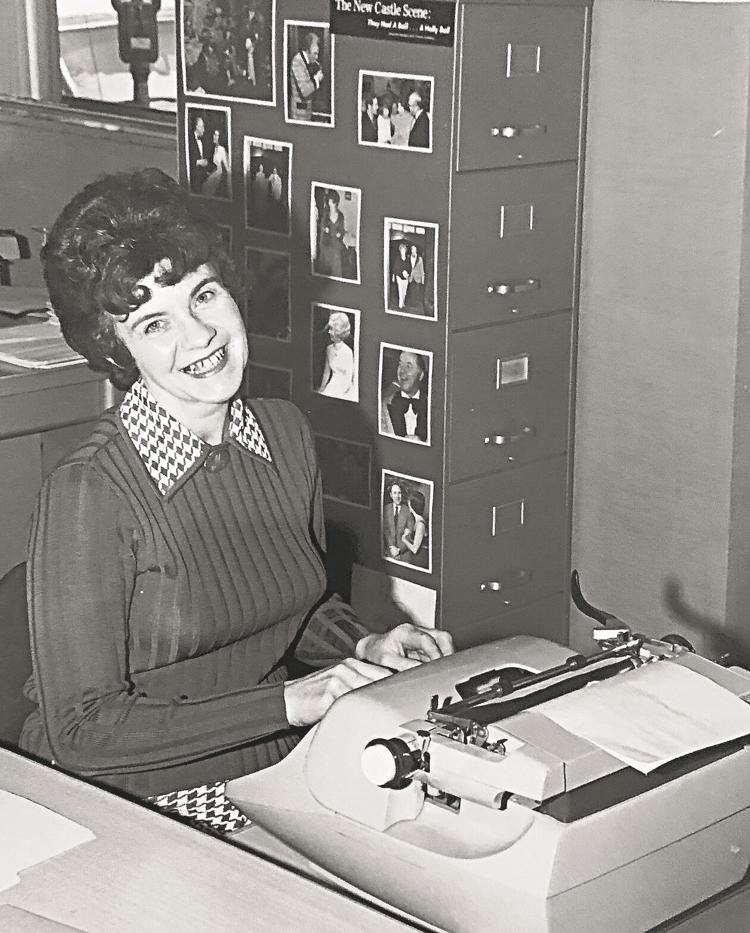 Outside of work, we took many all-day shopping and dining trips together and spent hours at cosmetic counters, sniffing all the new perfumes. She would chat up the store associates, and we would walk away smelling like French women and toting bagfuls of free perfume and makeup samples.
We spent hours in store dressing rooms, trying on fashionable styles as she decided what to buy as gifts for her daughters. She'd say, "Try this on. It would look darling on Denise..." or Lea, or Louise, or Debbie or Lynnanne, all pretty blondes.
One of my most memorable shopping trips with her was to the Ross Park Mall near Pittsburgh, where Elizabeth Taylor was appearing live to promote her "White Diamonds" perfume. My mom went with us, and while none of us loved the perfume,Maxine and my mom both had idolized Liz Taylor as a movie actress during their era, so it was a chance not to be missed.
We arrived there at 10 a.m. and our plan was to shop until lunchtime, eat, then go into Kauffman's where Liz was to speak in the men's department at 1 p.m. The long line of women had formed before 10 a.m., and we giggled at how some had donned black wigs and dotted fake birthmarks on their cheeks to mimic the idolized movie star.
We wormed our way into the men's department about 15 minutes before the actress swept her way into the store, and we managed to get near to the front. Liz stood on a podium and was rather condescending to the crowd and to questions posed by her audience. We three collectively agreed within a few minutes that we had seen and heard enough, and resumed our shopping. By that time, the entire mall was filled with the overwhelming scent of White Diamonds, as store associates cheerfully sprayed it on willing customers. I think we all went home with headaches that night, but we laughed about it for years.
Lots of people can write about best friends, but there was only one Maxine, always seeking fun, laughter and adventure. I often teased her because she perpetually had a piece of glitter stuck somewhere on her face — a cheek, a lip, an eyebrow — and not by her design. I came to wonder if it was just an ethereal extension of her personality.
And as passionate as she was about her work, her husband, her daughters and her religion were the real focus of her life. She was proud of all of her girls, scattered over the United States with their own success stories of love, marriage, family and careers. She shared many a story of family vacations to beaches in Hatteras and Florida, and visiting them in Vermont, Chicago and Washington state. I would always miss her when she was away.
She was an avid Penn State fan after four of the five daughters went to college there. One of them, Lea, became a Nittany Lions cheerleader and eventually married Roy Scott, a one-time Nittany Lion touchdown push-up mascot.
There was never a day spent in Maxine's presence — even as she advanced into her 90s and had moved from Neshannock Township into Shenango on the Green assisted living in New Wilmington with her husband — when I didn't learn from her about how to live better and love better. As I sat and held her arthritis-knotted hand and listened, she would look at me, her face sometimes streaming with tears, and tell me how much she loved me, and I'd sit there and remember all those wonderful years.
She always had an inspirational piece of advice or a prayer for anyone who sought solace in her, and while she was labeled to have had Alzheimer's, her rationale about love and family relationships was still deep and solid during our discussions, as recently as late February.
One thing she never forgot was how to love her own life and all of the people in it.
Sadly, as COVID-19 has continued to rage through the world, this dreaded virus claimed my best friend of 42 years on Dec. 16, and the angels she joins in heaven are now blessed with that special sparkle.
Rest in peace, dearest Maxine. You have left an indelible mark on this earth, of a life well lived.
dwachter@ncnewsonline.com